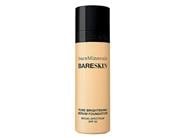 Reviews For
bareMinerals BareSkin Pure Brightening Serum Foundation SPF 20
Ordered the wrong color
The products is good but the color is terrible. I cant use it. It was a waste of money/ LovelySkin Customer
Verified Purchase
Oily
Not a fan, too oily and not much coverage. I been using BM for 12 years now , i was excited to try this liquid out but It didnt work for me.. I had to set with my original BM powder, otherwise it doesnt set.. I love the brush though !! It just slides off your face and is a oily of a mess.. Im sticking to the original powder.. Time will tell.....
I was interested in trying this product based upon the natural ingredients. I like the silky feel and it provides moderate coverage. I do find that it runs darker than I anticipated. I am fair and I ordered Ivory, but would have been better off with Porcelain. In terms of the tone correcting benefit - that is something that requires more time. LovelySkin Customer
Verified Purchase
Not Quite Sure
I am not sure what I think of this product. When I first put it on, I agree that it makes my skin look brighter. It had a dewy finish and looked which was nice. The foundation stayed on all day (I set it with a powder) and it matched my skin tone great. I used Bare Natural and am fairly fair skinned with an olive undertone but get warm undertones when I am in the sun a lot. I felt the foundation did well for staying power and not running when it is hot/I sweat/ I exercise. What I dont like is that it tends to gather in the creases of my face which makes it more apparent that I am wearing make up. Aside from the creases, when my skin is smooth it looks great but when it is dry the foundation settles in all the dry skin areas and to me thats not a nice look... Also, when using the brush that is made to apply the foundation, I ended up with brush strokes. Unless I really buffed it on - which I feel gives less coverage and sucks up the product, I am left with a brush stroke look. Lastly, the first day I wore it I did some exercising and the next day I woke up with little bumps all over my cheeks. I have sensitive skin and this has never happened before. I continued to use the product for about a week and cannot tell if it has made and more bumps or if the bumps that are present are from the initial use. So, overall, I like the color and the brightening effect but there are some cons. I will continue to search for better options or see how this performs in the long term with some more experimentation. LovelySkin Customer
Verified Purchase