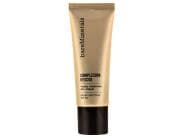 Reviews For
bareMinerals Complexion Rescue - Tinted Hydrating Gel Cream Broad Spectrum SPF 30
Nice product
I have only been using this for about a week, but already feel that its a superior product to the BB creams that I have used in the past. It has great coverage thats not too much and has a nice feel to it. Nursesea
Verified Purchase
Tinted Moisturizer
I purchased the Complexion Rescue and I really like this product. It is not drying like a lot of tinted moisturizers are and it gives you light coverage. I got the Buttercream and it blends in very well with my skin tone, it looks so natural and flawless. When I finish this tube I plan on buying another one. Also this is great for dry skin and it looks good alone or even with some powder on top on it. LovelySkin Customer
Verified Purchase
Silky smooth
Ive only used the product one week but there are many things Im loving about it: - blends well - hydrates skin - Oil-free so it wont cause me to break out The only reason I didnt give it 5 stars is because this provides light coverage and I prefer medium coverage so I have to layer on. However, thats a minor complaint/inconvenience. I would definitely order again. LovelySkin Customer
Verified Purchase
Very Happy
Wonderful consistency on face. Easy to apply and gives my face a warm moist glow. LovelySkin Customer
Verified Purchase
In love!
I love love this product! I started using the bare sling but it was too oily I changed to the complexion rescue and it has been perfect. Its light weight goes on smooth and no oily finish. LovelySkin Customer
Verified Purchase
Great Product!
I have been looking for a sun protection product that also gives light coverage on my face. This product does it all! My face is protected and I have a smooth tone all over! Light weight, nice color, and great protection...it doesnt get any better! LovelySkin Customer
Verified Purchase
Perfect coverage and protection
This product not only offers the higher SPF complete sun protection, but the coverage is perfect. The feeling is silky, not greasy, and I dont feel dried out. Its perfect for daytime outings and evening coverage, too! LovelySkin Customer
Verified Purchase
Beautiful finish!
I love this product! I used another foundation for years, but lately it had been sitting on my skin on a dry layer. I am 58 and have normal skin. The very first time I used this product I noticed a dramatic difference. It literally melted into my skin! All day I kept checking for the tell-tail signs of my wrinkles showing through as "cracks," but it stayed moisture smooth all day! Im truly impressed! LovelySkin Customer
Verified Purchase
Love this!
I love this one! I have oily/ combination skin thats prone to (adult) breakouts. This has a very smooth finish and easy application, a little goes a long way. Its so much better than the mineral powders, that for me had started to really age the look of my skin. Been using for a week, no irritation, cant wait to see if it improves the skin further with long term use. LovelySkin Customer
Verified Purchase
EXCELLENT PRODUCT
I love this tinted complexion gel. Aside from being hydrating and dewy, it feels good on. I wanted to purchase also in the Vanilla shade and mix it with the Suede, but it is sold out. This is a real winner. LovelySkin Customer
Verified Purchase
Sold On This From Day One
I have tried many different brands of tinted moisturizers, from the inexpensive to the exorbitant, and this is the first one that has performed to my expectations from the first use...it didnt have to grow on me! It goes on smooth, lasts all day, and matches my skin tone perfectly. My face doesnt feel dry by late afternoon, and I dont even need a foundation with it. This one is definitely a keeper! LovelySkin Customer
Verified Purchase