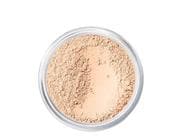 Reviews For
bareMinerals Original SPF 15 Foundation
101 Results
Can't go wrong
BareMinerals is the gold standard for mineral powder foundations. It's perfect for acne-prone skin and the coverage is buildable. I've tried others but love the fact that this has minimal ingredients. Not cakey whatsoever, and I'm so glad the variety of shades has expanded immensely for all skin tones! LovelySkin Customer
Verified Purchase
Go to makeup
This has been my go to make up for years. Can use a light base or heavier for cover ups. Never feels greasy. I have sensitive skin but can also breakout occasionally, but never have a problem using this powder based makeup. Love that there is some SPF in there as well. LovelySkin Customer
Verified Purchase
Wonderful
great coverage, easy to apply and flawless... Great coverage
Been using for years. Great coverage and not heavy. LovelySkin Customer
Verified Purchase
Natural Finish!
I love this foundation! It is lightweight and does not leave you "cakey". It gives you a nice, natural finish and the benefit of SPF. I use it on top of the bareMinerals tinted SPF but it also works well on its own - it is buildable. My skin tends to get oily throughout the day but this stays on with no issue and keeps the oil to a minimum. I suggest using it with their brush or any fluffy brush that is similar! Tiana24
Verified Purchase
Great product
I love the bareMinerals powder foundation. It feels like your not wearing foundation at all and you only need a small amount and it has spf 15. It covers well also. Will continue to use this product. Neal5860
Verified Purchase
BM Foundation
I love the original Bareminerals Foundation!!! LovelySkin Customer
Verified Purchase
The best!
No powder foundation beats bare minerals! Great, even coverage. The redness is completely masked! LovelySkin Customer
Verified Purchase
Love the Look, love the minerals for my skin
I have noticed improvements in my rosacea, less redness, faster recovery after an outbreak, and healing, using BM powder foundations on my face. I love the clean smooth look and you cannot beat the benefit of powder foundation on top of oily, acne-prone skin. I do wear contacts and used to battle Sjogrens (chronic dry eyes etc. due to autoimmune disorder). I have found that I prefer to use another foundation by BM in liquid form on days my eyes are bothering me. WONDERFUL
I have been wearing this makeup for years and love it. I have tried others but I always come back to this because it is light, and very natural, and has a large selection of colors which allows for choosing a subtle color change. The container lets out just enough so there is never a mess. This works well with their blush, which is also very light. The blush container can be tricky to open. LovelySkin Customer
Verified Purchase
Great Product
I absolutely love wearing original bare Minerals makeup. My skin looks flawless and it's easy to apply. I have oily skin and with this product, I don't have to keep checking to see if my face is shiny. LovelySkin Customer
Verified Purchase
Great Foundation!
This foundation is awesome and provides plenty of coverage without feeling greasy like normal foundations feel. Definitely recommend it! Bare mineral fan
I have used Bare minerals foundation for almost 12 years. I tried different brands and always return to my bare minerals foundation medium beige! rebecaozone
Verified Purchase
Excellent
Only thing I will use on my face! Only need this any nothing else. It's amazing. Shelly200
Verified Purchase
Love Bareminerals Original Foundation!
This is by far the best foundation. It was recommended by my daughter's dermatologist, so she started using it then I jumped on board too. She loves it because it covers very well to cover her acne marks, and I love it because it's an excellent flawless coverage to cover age spots but isn't heavy feeling on my skin. I get complements all the time! Highly recommend. LovelySkin Customer
Verified Purchase
bareMinerals Original SPF 15 Foundation
I have used this foundation for more than 15 years. It is the best for covering blemishes of any kind. It feels very light on. I use it everyday even if I am not going to leave the house. SKINTASTIC
Verified Purchase
Foundation Review
I purchased this to use over the Complexion Rescue in Wheat 4.5, which is a perfect match for me. After chatting online with a consultant she recommended the Original in #15 would be a great match however, after receiving it, I find it is too dark and a little too yellow toned for my neutral skin-tone, it's definitely not an exact match to Wheat 4.5. That being said I haven't used it very much, but it does seem to give a nice lightweight coverage on top of the Complexion Rescue moisturizer. I have oily skin, so I still need to put a finishing powder over the top. SimplyMe
Verified Purchase
love it
I love the way this makeup feels on my face, like nothing is there! I always use LovelySkin...they are the best. Tried and True!!
Fantastic tried and true product. Works best with moisturizer base and mineral veil after. LovelySkin Customer
Verified Purchase
Love the clean ingredients
I love the clean ingredients. I have very sensitive/acne-prone skin, and I don't believe this has broken me out. It's not full coverage but enough to even out my skin tone. It looks very natural and I'm happy with that. Blemishes will show through though, so I'd recommend using a separate concealer to cover imperfections. The only downside for me is I seem to get extra oily after only a couple hours. Natural coverage
I have used this product for more years than I can remember. It has a very natural not made up look but with good coverage. For evening, I just make a couple more passes over my face. It feels weightless and has a clean feel. LovelySkin Customer
Verified Purchase
Loved it then and love it now
I'm in my mid-40s and recently returned to this product. I used to use it in my 20s and 30s, but I had changed to a more expensive mineral powder foundation. I decided to try this again when it was on sale and I was reminded of why it is so great, even on my mid 40s skin. The coverage can go heavy or light, its non irritating, and the color honestly matches me well and gives just a hint of luminosity. I'll be sticking with bare minerals now again. I'm very happy. In fact, I received compliments on my skin when I began using this again. LovelySkin Customer
Verified Purchase
Nice light coverage
This foundation provides a nice, light coverage. I have to be careful not to brush on too much, though, to not look a little pasty. LovelySkin Customer
Verified Purchase
Love!
This foundation gives great light coverage, but makes my skin look great. A colleague even said my skin looks like it is glowing since using it. LovelySkin Customer
Verified Purchase
The Best Foundation
This foundation matches my skin, protects it, and doesn't clog pores or cause breakouts. Melodylyle
Verified Purchase