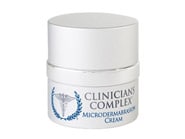 Reviews For
Clinicians Complex Microdermabrasion Cream
LOVE
I have extremely dry skin especially in the winter but this cream makes it feel extremely soft and smooth! Definitely a good investment and last a long time! LovelySkin Customer
Verified Purchase
IT REALLY WORKS!!
I got this product a few weeks ago and using it about twice a week. I have always had very bad texture on my skin. I have tried so many different products and this has been the only product that has actually worked. I still have some texture but my skin has improved. I think it with continue to smooth out over time. The smell is refreshing and I always have a nice glow after using it! LovelySkin Customer
Verified Purchase
This is great for getting rid of blackheads and reducing pores
In the past year, I've been very sick, and I believe the immunosuppressant I take for RA is responsible for a very bad case of acne (I'm 59) that I've been unable to control using benzoyl peroxide and salicylic acid washes with a less effective scrub. I checked out what I had been using previous to this breakout. This infection creates pimples and blackheads that CAN NOT be removed without severely damaging my skin and creating permanent scarring. I may have to have a dermatologist dig the worse stuff out, because it's really in there and won't come out by conventional means. But first I am going back to an old routine using this microdermabasion cream, which is the best I've ever found, and using EltaMD AM and PM Therapy Facial Moisturizers. Hopefully I can get this infection cleared up. Even with the acne still there, this exfoliating cream has removed the stubborn blackheads on my nose, and shrunk my pores all over my face. I have to use the scrub every day to achieve best results (most people will need to use it less frequently, especially with sensitive skin). My only complaint about the product is the jar that it comes in. I use this in the shower (I can't rinse it off my face over a sink without getting everything in the bathroom soaked, including me. It is very difficult to use in the standard tub/shower because, even with my back to the shower, opening the jar with wet hands, scooping out the correct amount with my fingers, and then (the worst part) trying to get the jar lid screwed on correctly without losing what I scooped out is extremely difficult. I wish this item could be provided in a pump or well made tube. Either of these options would make using it much easier, and I wouldn't end up wasting as much as I do. This product is expensive, and I can't afford to keep losing part of it down the drain. I hope the makers of this product will at least consider this. It would be very helpful. LovelySkin Customer
Verified Purchase
Great product
I really enjoy this exfoliator in between my peels. It leaves my skin polished and so smooth. Great product. It's not a gentle exfoliator which I like. There are a lot of exfoliators out there which are too gentle which do not give any results. This product works. KatGirl
Verified Purchase
Works Wonders...
This is my third jar which speaks volumes for this product. I love a good scrub and this certainly fits the bill. Having mature skin this provides a gentle yet thorough cleansing and workout for my skin. Not only does my skin glow from use but I find products absorb better after. Perhaps a bit pricey but worth it. LovelySkin Customer
Verified Purchase
Worth the Money
This product is very gentle on your face. Effective mechanical basic facial scrub
Exfoliates well not a fan of the scent. Can be drying. Will not repurchase. LovelySkin Customer
Verified Purchase
Microdermabrasion cream
Love this cream. Has tiny little beads in it, exfoliates but is not abrasive. Skin feels so clean after using it. Use it couple mornings a week. Love the clean smell. LovelySkin Customer
Verified Purchase
Love it!
This is the best scrub I've ever used! Love it. LovelySkin Customer
Verified Purchase
Holy Grail Exfoliant
This is the best at home exfoliation I have ever bought. I use 1-2x/week when my skin starts to get dull, then follow it up with a serum & moisturizer. The crystals are tiny, spread evenly with just a little bit of water, and once rinsed off, leaves your skin feeling soft, smooth, and light pleasant scent. A little goes a long way, so it is well worth the price. LovelySkin Customer
Verified Purchase
Not for sensitive skin
To be fair it could have just been my sensitive skin that did not go well with this product. Because of its great reviews I decided to give it a try. My eczema that had been controlled for years started glaring up when I switched from exfoliating with organic products to this microdermabrasion cream. LovelySkin Customer
Verified Purchase
Amazing grace
This product helps keep my skin exfoliated and smooth. It has helped keep the pores from being clogged and completely clean. LovelySkin Customer
Verified Purchase
Love the brand
Go gentle with your hands. If you're too heavy-handed this can be abrasive. I have thinner skin and use once every few weeks. I love the way it works, just be gentle. LovelySkin Customer
Verified Purchase
Feels great
I think it feels great. Not too gritty not too soft. Washes aways quickly. I'm not super excited by the smell. It smells like a lemon furniture polish. However it smells ok..just a little worrisome about chemicals. I have lots of acne scars and it has seem to fade them and definitely improved the texture of my 32 year old skin. LovelySkin Customer
Verified Purchase
Next best thing to a real microdermabrasion
I used this product before and just got another. I love the way it makes my skin feel after I use it. I try to use it twice a week. If it's your first time, you may want to use it once a week. LovelySkin Customer
Verified Purchase
Awesome results...
I have been using this product for about a year. Since the beginning people kept on asking me what I have been using for my face. "Your skin looks so smooth and healthy" or "Your skin glows"...It makes my day every time that I received those compliments. I use it twice per week faithfully. I try to have a good scrub before my microdermabrasion. The results are excellent. I order a jar when the one that I am using is half way through, just to make sure that I always have it available. I have no reservation in recommending this product to anyone. For me is a wow, wow!!! LovelySkin Customer
Verified Purchase
Can''t live without it!
Love this stuff! Feels just like I'm getting a microdermabrasion in an office, but at a fraction of the price. The only reason for 4, instead of 5 stars, is because the formula used to be a little thicker, and I preferred that. But it doesn't change the intensity of the scrub. LovelySkin Customer
Verified Purchase
Great for Sensitive skin!!!
Exfoliation is a step I skipped until this product! They were always to harsh or made me breakout. This is a keeper and use it a couple times a week without any irritation to my sensitive skin! LovelySkin Customer
Verified Purchase
Wonderful Scrub!
I use this product about 2-3 times a week in the morning typically after I use retinol the night before to help with flaking! It makes my skin have a clean surface to start my normal morning routine! The only reason why I put 4 stars vs 5 stars was due to the container when it arrived. Somehow the cream leaked out and was stuck between the plastic seal and the container so I felt like I lost some product. LovelySkin Customer
Verified Purchase
Clinicians Complex Microdermabrasion Cream
Clinicians Complex Microdermabrasion Cream Rocks! This exfoiliating cream helps to keep my skin so smooth and soft. I like to use it once a week in the a.m. my makeup them goes on like a dream. LovelySkin Customer
Verified Purchase
Soft skin
Made my skin so soft and felt clean LovelySkin Customer
Verified Purchase
The BEST!
This is the BEST scrub I've ever used! It provides a good amount of exfoliation without irritation and leaves skin baby soft! I leave in my shower and use it every other day! Guests use it when visiting and love it too! LovelySkin Customer
LovelySkin Employee
Love it!
I received a sample of this with my order and fell in love with it. It smells divine and really smooths out your skin and helps to exfoliate those dead skin cells right off. I had to buy it right away and after only a few weeks of using it 3x a week on top of my regular skin care regime, it really has helped my complexion look more uniform and radiant. Definitely recommend it. LovelySkin Customer
Verified Purchase
Best Exfoliator
Received a sample of this product from LovelySkin. This product really exfoliates and leaves your skin super smooth. I purchased a full jar soon after. This helps to remove bumps from small blackheads, which I get on my chin. I previously was using another exfoliator from LovelySkin and will replace it with this product. LovelySkin Customer
Verified Purchase
Smooths Skin
I first received this product as a sample, and realized that it gave a very lovely smooth appearance to my skin... so I ordered it and have not been disappointed. LovelySkin Customer
Verified Purchase