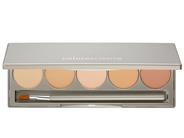 Write a Review - Receive 50 Rewards Points!
Tell us your thoughts about Colorescience Mineral Corrector Palette SPF 20 so we can help you find the right products. With your review, you'll also receive 50 Rewards Points. Please note that it may take up to 72 hours for a review to appear on site. All reviews are subject to moderator approval.
Write a Review
24 Results
Good to have.
Just started using this corrector palette. As claimed, it works well for correcting a variety of discoloration and evens out the eye area. Very natural looking, which I like.
Colorescience Mineral Corrector Palette SPF 20
Very nice product. Leaving my skin natural looking and fresh.
Strange colors and consistency
The colors in this palette are very odd. The color on the far left is the only one that doesn't go on orangey in tone, and none of the colors do anything! They don't cover anything. They don't change anything. They don't correct anything!! I had high hopes for this product but it was a total waste of money, and for the first time I had to return something to Lovely Skin which I never thought I would have to do since everything they sell is always right on!
Best So Far
I have very light skin and was hoping for complete coverage on my worst hyper pigmented areas. It works better than any other concealer I've tried, but it doesn't cover completely. I'm hoping with more practice I'll see better results.
Color Correcting Palette is Versatile
After reading great reviews, I decided to purchase for my various concealer needs on my face. After I have used cream concealer, then I will go back over any trouble spots with this. It's o.k. but I''m not "wowed" by the end result. I will continue to use, as it is versatile for various discolorations. I am hoping to get better results as I improve my technique and application. Not sure if I'd repurchase at this point.
Easy to apply
I wasn't sure if I would like this but after applying a couple of times, I learned which colors to apply and where each worked best. I do not use eye shadow or blush any longer because this palette will serve for all. A natural finish to any makeup regimen.
Best palette for touch ups
I recommend the Colorscience Palette for those of you who (like me) have purchased a number of concealers trying to find "just the right color." I have (according to my dermatologist and plastic surgeon) the lightest complexion possible, and Color Science's Light to Medium Palette works very well. I use only the three lightest colors. Please note that the Palette colors are powder, not cream, and this is the reason I am not giving the product 5 stars. The product can go on a bit dry/grainy. I make sure that my face has plenty of cream on first. I'm sure that there are other ways to hydrate the powder. Once this is done, you've got a perfect blend!
Absolute worse
I will not be using this. I've been using this line for years and thought i would try it. Didn't like it at all.
Im impressed!
I have a little hyperpigmentation, some redness under my nose, and occasional dark circles under my eyes. I have amassed quite a collection of concealers, but nothing works on all three of those issues, and since I have a dark spot on my cheek, I havent found anything that stays put on that area, especially after I add blush or powder. This slim case is the best Ive found. The bottom of the case tells you which color corrects which problem, and the powders go on smooth and blend right in to the point of being undetectable. There is NO cakeyness. The brush included is perfect for detail work. I covered all of my issues and then topped with Colorescience Pressed Powder & Sunforgettable and had the best results Ive ever had. I was going to give this 4 stars since the darkest color is too dark for me to use anywhere (I have the light/med palette) but it occurred to me that I can mix it with a lighter color. This is a great product and the packaging is very handy to use and travel with.
My favorite beauty secret
This mineral corrector palette is simply the best I have ever tried. It does a great job of concealing flaws and never looks heavy or built up. I carry it with me and retouch once or twice during the day if needed. I can always feel confident with this in my makeup box.
Love it!
This product covers well and looks so natural with the other Colorscience Mineral makeup. Love to use it on eye lids for a very natural effect.
Excellent tint selection and staying power
I use liquid primer and foundation, but find they dont cover dark spots adequately, so I decided to try this mineral corrector palette over my primer/foundation combination. Since I am covering different types of imperfections on my face, I find that having a varied color selection is wonderful, and I can mix and match as needed. In addition, the coverage is good, and it lasts through the day.
COLORESCIENCE MINERAL CORRECTOR PALETTE - LIGHT TO MEDIUM
I love this product! I use it on my eyelids, under my eyes and any spots I want to cover up on my face.
So versatile
I like this palette because it is so versatile and you can mix and match all of the colors to get the right color to cover up any flaw you might have on your face. It is a nice powdery texture and does not come off as shiny like some correctors can.
barely there
I have allergies to anything that gets near my eyes. Well, almost anything. Recently Ive been using Colorsciences products and Im having no ill effects. After 15 years of looking and another 15 years of going sans makeup, Ill be able to wear this to my daughters wedding and hopefully not embarrass her. I also have darkening of my eyelids and this corrector pallet helps reduce the darkness with little effort.
Cant Live w/o It!
You can say I"m a "product junkie". Ive tried everything on the market and this is the ONE thing in my arsenal that I cannot live without and there is no substitute for. Circles? Red spots? Contouring? Eyeshadow and blush? This is your work horse. It works on anyone with light to medium skin tones and you can mix the colors too for perfect blending.....Buy it and you too will be hooked.
High quality product!
I have dark circles around my eyes and sun spots all over my face. It is a great product that is able to hide all my imperfections. I highly recommend it!
Gives me a healthy glow!
Goes on smoothly and lasts all day long. <3 it!
Love it
nice variety, works great
Great product!
Stays put all day long. Glides on easily, very finely milled. Great product for highlighting, concealing and contouring.
Great Color Correcting Kit!!!
This is the best kit to use, I can use when first putting on my make up and then for a touch up during the afternoon if needed...I love this kit!!! So easy to carry in my make up bag..
Pquinlan
I've tried them all, hands down best concealer out there. Will cover most anything. Highly recommend.
Best concealing product on the market!
This is a product everyone should have-especially if you have blemishes,hyper-pigmentation and/or dark acne spots. I have been using this product for over 8 mos. I am VERY pleased how it camouflages all the problem areas on my face. It blends well,conceals and has a variety of shades. A must have!
Good Product
This product seems to work pretty well when paired with a liquid foundation or liquid concealer. I definitely got better results when I used to with a liquid concealer to anchor it, rather than just as a sole powder. The color combinations definitely work with a variety of skin imperfections. It worked on areas of red and hyperpigmentation for me.