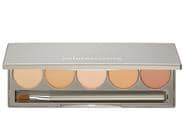 Reviews For
Colorescience Mineral Corrector Palette SPF 20
$56.00
works ok but not great
This didn't quite work as magically as I thought it would. Hoping to get rid of the "blueish" tone in the corner of my eyes—doesn't help too much with this. Does go on quite smooth over my concealer which is nice—has a velvety texture to it and does cover blemishes, so that's a bonus! It doesn't cake which is important at age 55. LovelySkin Customer
Verified Purchase
Best So Far
I have very light skin and was hoping for complete coverage on my worst hyper pigmented areas. It works better than any other concealer I've tried, but it doesn't cover completely. I'm hoping with more practice I'll see better results. LovelySkin Customer
Verified Purchase
Best palette for touch ups
I recommend the Colorscience Palette for those of you who (like me) have purchased a number of concealers trying to find "just the right color." I have (according to my dermatologist and plastic surgeon) the lightest complexion possible, and Color Science's Light to Medium Palette works very well. I use only the three lightest colors. Please note that the Palette colors are powder, not cream, and this is the reason I am not giving the product 5 stars. The product can go on a bit dry/grainy. I make sure that my face has plenty of cream on first. I'm sure that there are other ways to hydrate the powder. Once this is done, you've got a perfect blend! LovelySkin Customer
Verified Purchase
COLORESCIENCE MINERAL CORRECTOR PALETTE - LIGHT TO MEDIUM
I love this product! I use it on my eyelids, under my eyes and any spots I want to cover up on my face. LovelySkin Customer
Verified Purchase
Good Product
This product seems to work pretty well when paired with a liquid foundation or liquid concealer. I definitely got better results when I used to with a liquid concealer to anchor it, rather than just as a sole powder. The color combinations definitely work with a variety of skin imperfections. It worked on areas of red and hyperpigmentation for me. LovelySkin Customer
Verified Purchase