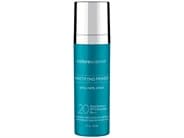 Reviews For
Colorescience Mattifying Primer SPF 20
$49.00
Amazing
I love this product - I can use it alone or with powder - either way, never disappoints...it's my go-to and will continue to be. LovelySkin Customer
Verified Purchase
Never lets me down
I have worn this product for years. It's not rare at all for me to get questioned on how my makeup stays looking fresh. But it was really tested when I was recently at my goddaughter's outdoor wedding. I live in a hot, humid climate that is tough on makeup, especially in formal clothing. But, this primer never lets me down. No matter how much I "glow"(southern girl for "sweat") as long as I pat gently, & don't rub, my makeup remains flawless. Photos started at 4:00 in the afternoon. The last one that got snapped of me was on the dance floor after midnight. It was fun to still look put together after such a big day with all the feels of a wedding gone perfect. Other than a lip refresh through the night, I never touched my face. The bonus is that it feels so lite on my skin, never cakes or creases, and keeps the aging rays of the sun at bay. I truly love this product. I think you will too. HappyFace53
Verified Purchase
Great for oily skin!
I have somewhat oily skin and this is a great product to keep shine away and oil away from your face and keeps your makeup fresh! LovelySkin Customer
Verified Purchase
It does what it says
I have very oily skin and typically can't use anything that is mattifying because I will break out. This stuff is impressive and is my go to primer now. It keeps me from getting oily, keeps my makeup in place and doesn't break me out. Plus it has SPF which is a must. I use it with the ColoreScience powder foundation and love it! LovelySkin Customer
Verified Purchase
Won't let you down
This product is perfect for creating a protective base to your face before applying other foundation or makeup. I love it and have been nothing but happy with the results. tkettles
Verified Purchase
Great All day wear
Love the way this lasts all day and keep your foundation in place. Very smooth and keeps skin silky. LovelySkin Customer
Verified Purchase
Great for my skin
I have very oily skin and this product has really helped. It creates a smooth foundation for my other products. Keeps my shine free for many hours. LovelySkin Customer
Verified Purchase
Skin Mattifying Primer is GREAT!
I have been a faithful user of the Skin Brightening Face Primer SPF 20 for many years. I decided to give the Mattifying Primer a try, and am sure glad I did. This works great under my mineral powder make up and helps keep the oil slick at bay. LovelySkin Customer
Verified Purchase
i recommend this product
Previously I was using smashbox primer but wanted one with sunscreen. I like this product but I usually wait about 10 minutes before applying make up LovelySkin Customer
Verified Purchase
Great primer!
A little goes a long ways! This primer made my makeup last all day, kept the greasies at bay, and smelled great. No breakouts, didnt feel pasty like some primers do. Highly recommend! LovelySkin Customer
Verified Purchase
Simply amazing
A bit pricey for a primer, but works like a charm, covers imperfections nicely and leaves a nice canvas to work with for apply makeup. LovelySkin Customer
Verified Purchase
Excellent product
This primer covers a multitude of my imperfections, evens my skin tone, and also can double as a quickie foundation. I use powder over it and off I go! LovelySkin Customer
Verified Purchase
Get It, It's Worth It
This is my first time using the CS line and since I have problem skin, I decided to stick with all of the Let Me Be Clear steps instead of trying a different primer/moisturizer, which could have lead to me blaming CS for oily skin or more breakouts (age 35). Don't substitute a cheaper/different primer with this CS line. If you use the 4 steps, you'll love the results. I just wish I had found this out sooner. LovelySkin Customer
Verified Purchase
Truly a clear skin primer
I have combination skin and frequent monthly breakouts & blackheads that caused me to forgo makeup during that time. Pro Let Me Be Clear primer has solved this! I am very, very happy with it. LovelySkin Customer
Verified Purchase
LOVE Colorescience
I have been using products from Colorescience for over five years and people compliment my skin every day! I LovelySkin Customer
Verified Purchase