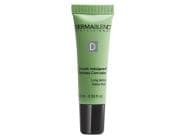 Reviews For
Dermablend Smooth Indulgence Redness Concealer
18 Results
Works okay
This helps a little bit, but for my skin it seems to dry it out more and the cream flakes. LovelySkin Customer
Verified Purchase
Works pretty well
I got this to cover moderate redness when I started using Retin-A. It worked pretty well. However, you do have to put a good amount of it on, so it wasn't ideal to cover my entire face. If you have redness only in smaller, specific areas, I think this would work well. LovelySkin Customer
Verified Purchase
Dermablend
Smooth indulgence redness concealer is wonderful for my roseasa. Makes my skin even. LovelySkin Customer
Verified Purchase
Dermablend Smooth Indulgence
I love this product. Over the years, I have spent money on products that promised to cover or hide redness. Most never delivered what they promised. This redness concealer is the best and blends nicely. It does what it says, and I will purchase it again in the future. LovelySkin Customer
Verified Purchase
Great product
Covers well. Nice matte finish while covering redness. Never will go without again. LovelySkin Customer
Verified Purchase
Dermablend Smooth Indulgence Redness Concealer
Product applies very smoothly. Helps to conceal broken capillaries as well as the occasional outbreaks. LovelySkin Customer
Verified Purchase
Name holds up to it's promise!
Smooth Indulgence Redness Concealer does exactly that. I read the other reviews and tried a tip to go against the instructions to use under foundation. Instead, I put a one or two drops with my liquid foundation on the inside of my wrist. Then took my sponge and dabbed it on. Wonderful application!!! I struggle with rosacea. The redness is on my forehead, cheeks and worst of all my nose. So much that people called me Rudolph during the winter when it breaks out. :( This product is now on my favorite list!!!!! No more Rudolph!!! LovelySkin Customer
Verified Purchase LovelySkin Customer
Verified Purchase
A little goes a long way
I blend a small drop or two with a little creamy concealer and then apply foundation. I found if I applied the green directly to my skin, it did not blend well. I use it primarily across the bridge of my nose and onto my cheeks to cover redness from sun damage. LovelySkin Customer
Verified Purchase
Works on Poikiloderma
This product works well for me. I'm Caucasian and have light complexion. I have Poikiloderma of Civatte on my chest and neck from years of sun exposure. This concealer really tones it down so it's much less noticeable. It lasts all day, sometimes two. I'll continue using it until I can afford (IPL – Intense Pulsed Light) laser treatments. I give this product high marks. LovelySkin Customer
Verified Purchase
Good Concealer
My skin problem is rosacea. I just purchased this product a month ago. I am pleased with the coverage I get from it, especially under makeup. The cost was also reasonable. My only reason for not giving it 5 stars was that it seemed a just bit difficult to smooth on. I remedied this by applying several smaller "dots" of it around my face to get the coverage I needed. LovelySkin Customer
Verified Purchase
Great for redness, very versatile!
I have oily, sensitive, acne-prone skin and redness all over my face--especially badly when I'm breaking out or my skin is irritated. I borrowed this product from a friend during a trip and was very impressed! So much so that I went and purchased it for myself when I got back home. I have used this product both underneath my regular makeup base, and on its own. Both look great! The very thin texture blends well and does not interfere with the textures of any makeup you may put on top, or with any primer or skincare you may have underneath. If you are using this product without anything else on top, though, USE A LIGHT HAND! A very thin layer will erase redness beautifully and look very natural, but too much can make you look a little sickly. If you do end up accidentally looking a little green, it won''t show up under foundation/bb/cc cream/etc at all. I would say that this product is great for people looking to cover up everyday redness, irritation, rosacea, or acne-related redness. It has not irritated my very sensitive skin nor has it made me break out. I'm not sure if it would be convenient for extreme redness on its own, because while it is build-able enough to conceal that, you would definitely need to apply a base over the concealer to cover any green hues. Best Concealer Ever
I love this concealer. It hides all those imperfections so well, and blends perfectly with foundation. It really is the best concealer I have ever used. Plus, it does not irritate your skin. Kimberly
Verified Purchase
Good stuff
Little goes a long way, wear a medium-full coverage fountain. Small package, squeeze top tube that dispenses only tiny amounts which is nice. Very opaque and works on my darker skin. Some green correctors look ashy LovelySkin Customer
Verified Purchase
Helps disguise residual redness
I suffer from mild rosacea, and while i now have it under control via both oral and topical medicines prescribed by my dermatologist, I have a few minor red-ish areas around my nose. With just a bit of this Dermablend Concealor used prior to a dab of foundation, the redness virtually disappears and lasts the entire day. Using Dermablend vs. the more traditional style of concealers found in drugstores is simply a better way to conceal the redness associated with rosacea. LovelySkin Customer
Verified Purchase
okay - not as great as expected
I dont love the consistency of this product - it caked on the red blemishes I was trying to cover making them noticeable (covered the red but was cakey and on the dry side). buffaloprince
Verified Purchase
Covers Red
I loved this! If you have post acne scars or red spots on your face from rosacea or broken capillaries, then this stuff is magic! A LITTLE goes a long way and it stays on my skin all day. I will order this when Im out. Its a little miracle in a bottle. LovelySkin Customer
Verified Purchase
End the redness
I have been using this product to cover up my Rosacea for years. It's the best thing I have ever found to cover up the redness. I would highly recommend it. LovelySkin Customer
Verified Purchase