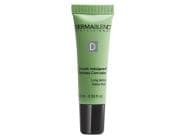 Reviews For
Dermablend Smooth Indulgence Redness Concealer
Dermablend
Smooth indulgence redness concealer is wonderful for my roseasa. Makes my skin even. LovelySkin Customer
Verified Purchase
Dermablend Smooth Indulgence
I love this product. Over the years, I have spent money on products that promised to cover or hide redness. Most never delivered what they promised. This redness concealer is the best and blends nicely. It does what it says, and I will purchase it again in the future. LovelySkin Customer
Verified Purchase
Name holds up to it's promise!
Smooth Indulgence Redness Concealer does exactly that. I read the other reviews and tried a tip to go against the instructions to use under foundation. Instead, I put a one or two drops with my liquid foundation on the inside of my wrist. Then took my sponge and dabbed it on. Wonderful application!!! I struggle with rosacea. The redness is on my forehead, cheeks and worst of all my nose. So much that people called me Rudolph during the winter when it breaks out. :( This product is now on my favorite list!!!!! No more Rudolph!!! LovelySkin Customer
Verified Purchase LovelySkin Customer
Verified Purchase
A little goes a long way
I blend a small drop or two with a little creamy concealer and then apply foundation. I found if I applied the green directly to my skin, it did not blend well. I use it primarily across the bridge of my nose and onto my cheeks to cover redness from sun damage. LovelySkin Customer
Verified Purchase
Best Concealer Ever
I love this concealer. It hides all those imperfections so well, and blends perfectly with foundation. It really is the best concealer I have ever used. Plus, it does not irritate your skin. Kimberly
Verified Purchase
Covers Red
I loved this! If you have post acne scars or red spots on your face from rosacea or broken capillaries, then this stuff is magic! A LITTLE goes a long way and it stays on my skin all day. I will order this when Im out. Its a little miracle in a bottle. LovelySkin Customer
Verified Purchase
End the redness
I have been using this product to cover up my Rosacea for years. It's the best thing I have ever found to cover up the redness. I would highly recommend it. LovelySkin Customer
Verified Purchase