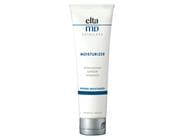 Reviews For
EltaMD "Melting" Moisturizer - Tube 2.8oz (Intense Moisturizer)
EltaMD
Great product!! I had a laser treatment and this worked really well to heal my skin. cdalakelover
Verified Purchase
Good moisturizer
I love MD products just struggle with the greasy feeling it leaves on my skin. I prefer a lotion base, but did use all my product and still love the way it makes my skin feel. LovelySkin Customer
Verified Purchase
Soothes eczema and dry feet
My husband uses it on his seborrheic dermatitis on his chest. It doesn't make his flare up completely disappear, but he loves the way it absorbs and moisturizes the dry skin. Also helps my daughters eczema. And my dry feet! SGBreeze
Verified Purchase
Affordable and it really works
This leaves your skin very smooth and hydrated. Is on the oily side but absorbs well. I use it for my elbows and feet which are my driest areas. I can't recommend this enough, already bought two more to give to my mom and sister. LovelySkin Customer
Verified Purchase
Lots of Moist but No Absorption
Trying to use this as a nightly moisturizer didn't quite work as it seems (for my oil tendency skin) does not absorb, it just sits over and probably left over my pillow. Probably work for burnt or irritated areas, but not so much as a daily product. Riverama
Verified Purchase
Wish I had bought in the jar
This is a very good product, but I find I have to shake it before applying as it seems to separate. I used a sample and really liked on very dry spots or spots prone to eczema. Butwhen I buy again, I'll go for the jar. LovelySkin Customer
Verified Purchase
As expected
I got this to use after peel and will use it once I start with retinol creams. It definitely seems to work. It's hard to gauge how much will be enough and not way too much. I expect the tubes I bought to last a long time. Love This!
EltaMD Intense moisturizer is great! It quickly mets into your skin giving your skin a shot of intense moisture. Love it! LovelySkin Customer
Verified Purchase
extra moisturize
I bought this product because my skin felt a little bit dry in some spots and it has done its work. great feel on skin Prevents Skin from Peeling
After incorporating Retinol into my routine, I've been struggling with my skin peeling. This moisturizer is heavy (and a little goes a long way), but it's nearly eliminated those frustrating white flakes and patches I was waking up to several times each week. This product is definitely for nighttime-only use because it doesn't disappear after application, but it works well following the Retinol application for me. LovelySkin Customer
Verified Purchase
"Melting" Moisturizer
When I first used this moisturizer I was a bit surprised at the "type" and consistency of it. I had planned to use it as my night moisturizer. I figured it would be a rich cream since it was labeled as "intense". It's actually more like an ointment or balm, but not as heavy or greasy. It does immediately "thin out" similar to a serum upon application. It does a nice job of moisturizing and my face does not react to it like other creams I've used. LovelySkin Customer
Verified Purchase
Creates an Effective Moisture Barrier
I'm always on the lookout for an effective moisture barrier for the drier areas of my face and neck. Elta's moisturizer works really well for having such basic ingredients, and even though it's fairly greasy, it soaks into my dry skin pretty quickly. I'll even press a bit onto extra dry areas after my moisturizing sunscreen. Very reasonably priced and you don't need a lot at one time—will definitely repurchase! LovelySkin Customer
Verified Purchase
Excellent for Moisture...
This has been my very favorite for a long time. I have very dry skin and I put this one on last, at night, and let it do its thing overnight. I absolutely love it. It was originally recommended to me by my dermatologist because any retinol product makes my face peel. Add this on top at night and it will repair any problems. Large tube, last a long time. You have to buy two tubes at a a time, so be careful not to let it get too warm or it does have a tendency to become more liquid like (oil?). AuntieKO
Verified Purchase
For recovering or extra dry skin
I use this at night whenever my skin needs extra TLC, such as after a chemical peel or when my skin is extra parched. It feels like a melting petroleum balm and creates a nice moisturizing barrier. The next morning my face usually feels more moisturized and hydrated. The product amount will last a very long time, too. LovelySkin Customer
Verified Purchase
Melts into skin
I use this as a last layer of my skin care routine at night. It literally melts into skin and keeps my layers of moisturizer underneath stay. I also use for rough areas such as elbows and knees. Great and fungal acne safe! Amazing daily and post-procedure moisturizer!
I swear by all Elta MD products and this one is no exception. I live in CO and during the winter cold and dryness, this product is a lifesaver. My feet and hands love it. It also heals my skin after autoimmune flares and after laser procedures. I love that LovelySkin carries the full line, the products are authentic and prices can't be beat! Major Moisture!
Half a dime sized amount. Overs the entire face and neck! Wow...this tube will last a lifetime. This is very rich and is perfect for dry winter months. I haven't broken out and it seems to be improving my very dry areas. RhTempe56
Verified Purchase
A must have
I've been experimenting with retinols and this is a must have for anyone going through retinization. It's also a fantastic occlusive for dry skin and burns. So much better than the French cult favorite that starts with a B. This has no fragrance and no parabens. CindyST
Verified Purchase
Great product
Dermatologist had me use this following laser treatment. Takes a while to soak into skin but very moisturizing. LovelySkin Customer
Verified Purchase
Protective and moist, but truly melts in summertime
I switched from using a heavier, stickier healing ointment from the drugstore to using this at night during my transition to using tretinoin. This is much more pleasant to apply than the ointment. It feels sheer and light on the skin but seems just as effective in helping keep my skin moist. I follow the package suggestion to apply, then tissue blot after a few minutes. A warning to those dealing with summertime temperatures: it liquefies inside the tube when it gets even a little bit warm inside my house (I don't run my central air every single day because I like fresh air!). LovelySkin Customer
Verified Purchase
Excellent Moisturizer to use with Tretinoin
I use Tretinoin every nigh for aging purposes, and I found my skin irritated and dry. So, I tried this moisturizer, and I fall in love immediately. I use it before and/or after vitamin A, and I solved the problem. Also, once a week I use only the moisturizer (more quantity) as a mask and next day my skin looks amazing. Thank you, Elta MD and LovelySkin, for the discounts. Elta MD Intense (Melting) Mousturizer
I love this moisturizer because I live in a very dry climate and my face needs a really great moisturizer that has staying power to help my skin stay soft and smooth. This intense moisturizer can be used in the daytime or nighttime. It is also perfect after a chemical peel or microdermabrasion to calm the skin and help it heal. I highly recommend this product. Cindyj33
Verified Purchase
GREAT POST-PROCEDURE MOISTURIZER!
EltaMD "Melting" Moisturizer is great to use after an "in office" peel or laser treatment. This clear gel absorbs quickly and really helps come down the irritation. I get laser procedures on a regular basis this is one of my GO TO products to hydrate and heal my skin fast. Alex369
Verified Purchase
Moisturizing
This stuff is good if your skin is dried out. It has not broken me out. I use it at night sometimes, and your skin absorbs it pretty fast! I am going to try it tonight after having my peel today & see if it helps with the dryness. LovelySkin Customer
Verified Purchase
Very moisturizing
My skin become very dry after using Tretinoin cream at night. This moisturizer helps a lot to keep my skin from getting irritated and dry. The reason I rate this 4 stars instead of 5 is because after using this moisturizer, my skin looks very shiny/oily. LovelySkin Customer
Verified Purchase