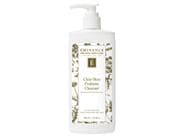 Reviews For
Eminence Organics Clear Skin Probiotic Cleanser
$42.00
Found out I'm allergic to willow bark, but hear me out
Even after developing a bit of a rash from the one ingredient, I would say if you know willow bark doesn't bother your skin, this is a great choice! I love that eminence is a clean, organic brand that is eco-conscious, and for the price you really do get a great amount of product that will last you a long time. LovelySkin Customer
Verified Purchase
just ok
Dried my skin and ended up breaking out even more! pameleon
Verified Purchase
Ok Cleanser
There''s nothing wrong with this cleanser. I just don't love it, and I probably won't buy it again. I don't love the smell, and I wish it would foam up more. However, I understand that it's organic so it's expected not to foam as much. LovelySkin Customer
Verified Purchase
Bought to replace Mineral Cleansing Concentrate
I bought this to replace the Eminence Mineral Cleansing Concentrate, which I loved but was discontinued. I wanted to love this product, but I had a bad reaction to it. Red, rash like bumps on my face, I think it may have been from the tea tree oil, but not sure. I sent it back and bought the Eucalyptus Cleansing Concentrate instead. I'm hoping this one is like the Mineral Cleansing Concentrate. I wish they would bring that one back! LovelySkin Customer
Verified Purchase