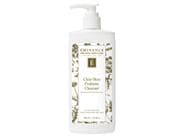 Reviews For
Eminence Organics Clear Skin Probiotic Cleanser
$42.00
61 Results
Best Ever for Sensitive Skin
This is my all time favorite, my skin reacts to almost everything I try and this cleanser makes it perfectly smooth, happy, moisturized, and evenly toned. I will never switch again... (after trying a few times and realizing what a mistake I made!) LovelySkin Customer
Verified Purchase
Love Eminence
I love this product! It's gentle and keeps my skin clean, hydrated and clear. MoonStone79
Verified Purchase
Great for calming skin down
I've been using Eminence Organics Clear Skin Probiotic Cleanser for 2 years now. It's got a fresh, clean, tea tree scent - great for problem skin. Texture is also nice a smooth and cooling on the skin. I pair it with a weekly pore scrub, and the Clear Skin Probiotic Moisturizer. RachelC
Verified Purchase
Good cleanser
Nice scent and is gentle but effective. I've combined this with a prescription acne med so not sure how effective the cleanser would be on its own. I like this brand. A good amount for the cost, will last a while. LovelySkin Customer
Verified Purchase
Good
I primarily use this as my daily face wash. I switch it up sometimes with the Eminence stone crop face wash. It lasts a very long time. I've had it for at least 6 months. I have combination skin and struggle with occasional hormonal breakouts. It is not drying at all. LovelySkin Customer
Verified Purchase
My favorite cleanser
Very refreshing and helps with my acne. Skin is soft and glowing after every wash! LovelySkin Customer
Verified Purchase
Go-To Clear-Skin Cleanser
I have incorporated the Eminence Probiotic Cleanser to my skincare routine over the last year; it has become one of my go-to clear-skin products. I use this product to maintain "sanitation", so to speak, of my skin; that is, cleanliness/detoxification of my epidermis and pores. I use this to cleanse/treat my face and neck, often following the Stone Crop Gel Wash. In doing so, I more successfully prevent periodic breakouts. I love that this product detoxifies, exfoliates, and moisturizes; a triple threat! I love the consistency/texture ("cream-gel") of this cleanser, as well as its lush vegetable garden-aroma. NMSarit
Verified Purchase
Clear Skin Probiotic Cleanser
I use this at night to clean my face and it is not drying. I had a problem finding a cleanser for my nighttime routine that would not dry out my oily skin. It is just right! Not sure what is in it but it balances out my skin so there is no shine and does not feel tight. It's pricey but worth it. GREAT 5 Stars
Since I began using this my acne has decreased 95%. I use it everyday in the shower. Scrub, let set for 4 or 5 mins then lightly rinse off. Damn I'm pretty... LovelySkin Customer
Verified Purchase
Love this stuff!
I've struggled with acne prone skin for years and this stuff has absolutely saved my skin! It doesn't strip my face of moisture but it still targets my acne and has helped clear my skin in record time. I've also noticed that my pores are smaller and my redness is almost entirely gone. I can't recommend the cleanser enough! HannahDoherty
Verified Purchase
just ok
Dried my skin and ended up breaking out even more! pameleon
Verified Purchase
Really works
This cleanser really helped with my cystic acne problem. Its very gentle too, which surpises me because of how effective it is! LovelySkin Customer
Verified Purchase
Love Eminence Organics
This probiotic cleanser is gentle, smells great (like the other Eminence products I've tried) and leaves my skin feeling healthy and soft. It really cleanses gently and clarifies as well. I leave it on as long as I can before rinsing, and I notice a difference when I use this versus other, more drying cleansers. LovelySkin Customer
Verified Purchase
Soothing
This cleanser is super creamy and very refreshing and soothing to the skin. It helps control oil yet non-drying. Leaves a slightly cooling effect on the skin just like the moisturizer. Have noticed it helps heal blemishes quickly. LovelySkin Customer
Verified Purchase
Perfect for problem skin
My 15 year old daughter loves this face wash. It is the only face wash that clears up her acne and doesn't irritate her sensitive skin. LovelySkin Customer
Verified Purchase
Great cleanser
I use this product about twice a week. I sub this product for my daily cleanser. Refreshing, light product, easy to apply. Especially good cleanser for hormonal breakouts. Will continue to use in my skincare routine. Spouse also uses this product. LovelySkin Customer
Verified Purchase
Soothed my Skin
I recently broke out with really bad hormonal acne. I looked online and was trying multiple top rated cleansers and acne products to help clear my skin, but my skin just kept getting more and more irritated. My esthetician finally recommended I switched to this and instantly my skin was less irritated and itchy and my acne has slowly started to disappear. Total life saver. LovelySkin Customer
Verified Purchase
Silky smooth
Very good cleanser, not to drying great for acne. Feels very silky on the skin. Best Cleanser Ever!
If you have not tried this cleanser, you are missing out! It is gentle and appropriate for all skin types. I have combination skin with some mild adult acne from time to time, and this cleanser works wonders to clear up any minor hormonal break out. The texture and smell are lovely, and it leaves you with a light tingling sensation. My friend who has rosacea used this cleanser while visiting me, and fell in love with it, and she claimed it helped to calm her rosacea. This one is worth a try, and the bottle lasts a long time. LovelySkin Customer
Verified Purchase
Say goodbye acne
This is the one acne cleanser that really works great for my daughter without drying out her skin. LovelySkin Customer
Verified Purchase
Probiotic Cleanser
This product worked great for my daughter, and her acne along with the other probiotic treatments from the Eminence line. I strongly recommend. LovelySkin Customer
Verified Purchase
I like it, not love it
I ordered this because of so many great reviews, I thought OMG, this is new skin in a bottle, right? nope. So, for me, it wasn't any different from any other facial soap. The consistency of this soap is like watery lotion. The texture of it on your skin is thicker, like yogurt. It cleaned okay, and that's pretty much it. (no wow factor) This product has tea tree oil. I've used a face wash with tea tree oil in the past, so I'm not excited about the "fresh/mint" feel. I wish I could've sampled this product before buying, I would not have purchased a full bottle. I don't see or feel any difference in my skin since using this (it's been about a month now). I wash twice a day with my Clarisonic. I have adult hormonal acne oily skin with hyperpigmentation. I'm a black girl. I don't recommend this wash, however, I do recommend trying a sample to see if you get a different experience. Since I'm a huge EO lover, I'm willing to keep trying their facial washes. LovelySkin Customer
Verified Purchase
Ok Cleanser
There''s nothing wrong with this cleanser. I just don't love it, and I probably won't buy it again. I don't love the smell, and I wish it would foam up more. However, I understand that it's organic so it's expected not to foam as much. LovelySkin Customer
Verified Purchase
Great for breakouts
I really like the gentle yet tingly feeling of this face wash. My face feels very clean yet not stripped. Will definitely buy again. LovelySkin Customer
Verified Purchase
Bought to replace Mineral Cleansing Concentrate
I bought this to replace the Eminence Mineral Cleansing Concentrate, which I loved but was discontinued. I wanted to love this product, but I had a bad reaction to it. Red, rash like bumps on my face, I think it may have been from the tea tree oil, but not sure. I sent it back and bought the Eucalyptus Cleansing Concentrate instead. I'm hoping this one is like the Mineral Cleansing Concentrate. I wish they would bring that one back! LovelySkin Customer
Verified Purchase