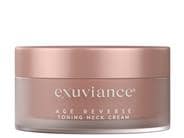 Reviews For
Exuviance Age Reverse Toning Neck Cream
$82.00
43 Results
This is working
I have been using this product for a month and people are commenting that my neck and décolleté looks good. I'm 63 and live near the ocean and even with lots of sunscreen I've been unhappy with how skin is aging. This has made a noticeable difference LovelySkin Customer
Verified Purchase
Excellent!
I bought this product based on positive reviews and have not been disappointed. It has firmed my neck and addressed wrinkling. I am very pleased with the results! Redginger
Verified Purchase
pleasantly surprised
I have tried many other top-rated neck care products that claimed to firm the neck area with mostly unsatisfactory results. Exuviance worked the first time that I used it and the results get better every day. My neck isn't wrinkled but it is getting saggy and this worked immediately to firm the under-chin area. Since I am over 65, I was very pleasantly surprised. I also tried it on the saggy skin under my upper arms and it helped there, too. LovelySkin Customer
Verified Purchase
Love this neck cream
This neck cream has a very light scent and is silky, smooth to put on. It's not oily and heavy like some creams. I feel like my skin is moisturized but can still breathe with this cream.. I haven't noticed a huge difference in lines and texture at this point but I do believe with consistent and continued use I will. Exuviance has some great products at a great price point. LovelySkin Customer
Verified Purchase
Well worth the money
I was surprised by how large the container is. You definitely get your money's worth with this product. I little goes a long way and I know that it will last me quite a long time. The lines in my neck have diminished already using it day and night and I am very pleased with this product. LovelySkin Customer
Verified Purchase
Luxurious
When this arrived I was amazed at how large the product was! Definitely worth the money! Most products are always so small with tiny amounts & very disappointing. This cream is very luxurious. I use it every morning & night. I really like the fact it absorbs so quickly feeling like silk on your skin. Not sure if I have used it long enough to see lifting results but my skin does appear softer with less lines. I will continue to keep this product in my beauty regieme AngDen11
Verified Purchase
A lot for the money
You get a lot of product for the money. It really works, I already see a difference in the appearance of my skin, the fine vertical lines are as good as gone. And it smells great. No kidding
I read most of the reviews posted, and everyone was right. It's so silky and not greasy. So wonderful to apply. It's indulgent, but priced so right that you feel like you've gotten a real deal on it. I use it on my face as well. This will probably be a permanent staple in my skincare regime. Great so far
I have been using for almost weeks, and I like it so far. I have been searching for something for my neck and décolletage. I'm in my 30s and wanted to start extra TLC with those areas. It's moisturizing and smells nice. I don't have a comparison product, but I think it's helping. It looks like it will last a while because there is a lot of product in the has. Sbolivas
Verified Purchase
no Better than Exuviance
Feel so luxurious. Smooth and silky. This is my favorite neck cream so far. I would love to give 10 stars if there's option. I also want to check other products from Exuviance. LovelySkin Customer
Verified Purchase
Good Results
This cream comes in a large size, that's the first benefit. The second is that it works well on the creases in the neck area. I can't say for certain that it lifts as much as more expensive products, but with time, you will notice a difference. Best ever
This is best for crepey skin. I am 62 and feel this absorbs best and keeps moisture in all day. Got the sample and then bought product. Couldn't ask for more bang for the buck. LovelySkin Customer
Verified Purchase
Yummy smell
I have used this product for about 2 weeks. Love the cucumber smell. Not sure yet if I've noticed a difference yet in skin texture. This product will last a long time based on how little I've used. LovelySkin Customer
Verified Purchase
Great product
This is a nice neck moisturizer. It is not greasy and does not have a heavy fragrance scent. Also exuviance does not have a lot of harsh chemicals in their products. I'm very happy with it. LovelySkin Customer
Verified Purchase
Best Firming Cream Ever!
I began using this in my late 50s. Sure wish I'd found it earlier but it has still made a significant difference in the skin of my neck. Initially, I noticed the lines in my decolletage diminishing. Now, I not only have no appearance of lines the skin is flawless. It took about 4 weeks to see a noticeable difference in the firmness of my skin under my chin and on my neck but it was such an improvement that my husband, who won't use ANY products, asked me if he could try it. Now in our 60s, we still continue to use it every day (I use it 2x a day). I have told many friends, including one who asked if I've had "work" done) that it really does what it says on the label-"age defying". Beverly
Verified Purchase
Noticeable difference
I have used several toning neck creams, and this is the best. It is very smooth LovelySkin Customer
Verified Purchase
Exuviance Age Reverse Toning Neck Cream
Very moisturizing and goes on and soaks in the skin well. It has perfume scent that is pretty strong, but I like the smell. LovelySkin Customer
Verified Purchase
cool and creamy
I love the size and the creamy feel of Exuviance Age Reverse Toning Neck Cream. I can't say that I've seen a definite change, but it feels nice. I like it. LovelySkin Customer
Verified Purchase
Love this!
This is a great product for the price and result! It tightens and lifts the delicate skin of your neck and keeps it looking youthful. Love!
I started using this neck cream about a month ago and I am on my second jar. I'm not sure yet if it is reversing the aging on my neck, but I love how soothing it is and it smells wonderful. The cool cream feels great on my neck when I use it each morning and night and I can''t imagine not using it now. Hoping it keeps any further wrinkles at bay too! LovelySkin Customer
Verified Purchase
Exuviance Age Reverse Toning Neck Cream
Absolutely love this cream, it has done wonders with my neck LovelySkin Customer
Verified Purchase
Exuviance
I was very surprised what a difference it made to my neck in a very short time. Will be re ordering. Thank you LovelySkin Customer
Verified Purchase
Exuviance Toning Neck Cream
Have used for 3 weeks. Noticeable improvement of neck. Increased firmness and hydration. Will purchase again. LovelySkin Customer
Verified Purchase
big help
This product helped a lot. Right away I noticed the crepiness of my neck and the tone getting better. It was about a 75% improvement in the crepe texture going away and 50% in the tightening. I used other products and this one worked much better! I am 52 years old. LovelySkin Customer
Verified Purchase
Gift
I bought this for my mom. She has been using twice a day. She likes the formula and feel. I don't think there's been any miracles yet… But her skin is definitely more hydrated and looks less wrinkled. LovelySkin Customer
Verified Purchase