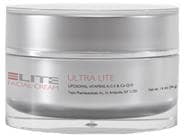 Reviews For
Glycolix Elite Facial Cream Ultra Lite
Nice moisturizer
I have only used this product a few times so far, but I like the texture. It is creamy and light when applied to the face. It absorbs quickly and provides a decent amount of moisture. I have oily skin and this product is not too heavy. LovelySkin Customer
Verified Purchase
Nice moisturizer.
My skin is tricky, but then who doesn't have complicated skin. I am 65 but am still somewhat prone to breakouts if I use the wrong products. With age my skin has behaved as most aging skin—it has gotten thinner and more sensitive. Sometimes, a product will burn or cause a rash. So, I have a checklist that I follow—NO fragrance, no essential oils, no known irritants such as menthol, witch hazel, etc. When I want a nice mild moisturizer this fits the bill perfectly. It doesn't have anti-aging bells and whistles, but when I reach for this that is not what I am looking for. It doesn't create any problems for my skin and is very moisturizing. I took away one point because it is in a jar as opposed to a pump container. LovelySkin Customer
Verified Purchase
Lightweight and hydrating
I've been using this cream for months. Very lightweight LovelySkin Customer
Verified Purchase
Recommended by my dermatologist
Great daily moisturizer. It was recommended years ago by my dermatologist, and I have been using it ever since. Nice and lightweight and not at all greasy. Doesn't clog pores. Works really well under makeup and other products. LovelySkin Customer
Verified Purchase
Wish it dispensed via pump
A beautiful, gentle moisturizer with a nice complement of ingredients. I deducted a star because the knock on jar packaging is that the product loses its efficacy each time it's exposed to air. LovelySkin Customer
Verified Purchase
Lightweight non pore clogging
After buying the doctors private label of this product for 3xs the cost that LovelySkin sells it I have been using this facial cream for 2 years. Its a lightweight nice moisturizer. Not performing any great miracles but its not clogging my pores and goes on nicely. If all you require is a simple moisturizer this product is for you LovelySkin Customer
Verified Purchase