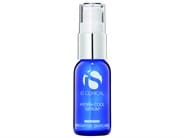 Reviews For
iS CLINICAL Hydra-Cool Serum
$60.00
Hydra-cool
I love how this product is so easy and lightweight. I had been using a heavier HA and recently switched over to the iS Clinical line and I'm very happy. I use am and pm. LovelySkin Customer
Verified Purchase
This is a great skin calming product
I've used this serum for years and it definitely helps calm down redness in my cheeks +. It's my base layer every day. Keeps skin hydrated
I have combination skin that can get really oily or really dry depending on the weather or skin care routine. I love this serum because it hydrates your skin without getting greasy. I feel like I can add as much as I want without that greasy look. Lindseyct16
Verified Purchase
Soothing, Cooling Sensation
This is probably my 10th bottle of this stuff; it just WORKS. Hands down my favorite hydraulic serum. You instantly feel a cooling, soothing sensation when you put it on. I almost never skip a day with this serum, and layer it often with other iS Clinical serums. But it's also so good that sometimes wear it just on its own. Beautiful, light hydrator
Beautiful product. Very lightweight, but effective. Just a little thicker than water, but it slides on so well that you only need to use 5-6 drops to cover your whole face. Love that it has a variety of ingredients in there too. Not your standard hydrating product. NRanner
Verified Purchase
Hydra cool serum
My aesthetician switch up my skin care routine and I'm using iS Clinical products only now. And hydra serum is so perfect for me. My use to use SkinMedica HA5 but it would irritate my face. Hydra cool delivers! I just wish it came in a bigger bottle! Best serum
Because of the price, I tried other product but I always have to come back to this serum. This is a great serum for sensitive skin. LovelySkin Customer
Verified Purchase
My favorite serum
This serum provides quick absorbing moisture and is wonderful to mix with any iS Clinical serum to provide for improved absorption. Love this product and highly recommend. COOLING
This serum is hydrating and helps reduce redness. I'll definitely buy it again! Favorite moisturizing serum
I was without this for a short while and began to notice creepiness on my cheeks. It diminished within a week of getting back on my routine - 2 x a day! LovelySkin Customer
Verified Purchase
Great serum with any vitamin c serum
I have very sensitive skin so most serums make my skin red. This serum is perfect to calm my red reaction. Now I can use the pro heal serum, which I love. The Hydra cool serum cools my skin after the pro heal. The two are a great combination. BunnyGirl
Verified Purchase
iS Hydra-cool Serum
Have used this product for over a year. The product goes on extremely smoothly alone or when combined with iS Genex-C or iSActive Serum. No sticky feeling after applying. After application, my skin has a nice feel and has helped maintain my skin's smoothness and texture. Don't let the price of this product put you off, as a very small amount of this product goes a long way, especially when combined with other products as noted above. LovelySkin Customer
Verified Purchase
Pretty Good
I first received this as a sample and loved it. My skin was glowing. I then bought a bottle and thought it wasn't doing anything so I stopped using it and my skin became super dull. I couldn't believe the difference so I am back on using it daily in the morning. Super thin formula and it doesn't leave me sticky. Very mild smell. I like it. Dyermaykker
Verified Purchase
Great enhancement to tinted sunscreen
Really enhances the application and look of my tinted moisturizer. Love it. Frenchthings
Verified Purchase
So Many Benefits, So Many Uses!
This has been a great addition to my skin care routine. I'm 60 years old and use it nightly for increased hydration. In the morning, I mix a couple of drops in my liquid foundation. I read that tip from the original sample card. About a week ago, I had a Fraxel Dual treatment and found the Hydra-Cool Serum very helpful with healing! First Time Trying This Serum
A water-based serum that hydrates, calms, soothes and cools skin, and provides antioxidant protection. It also keeps any adult acne in check. I only use this twice a week and do not have any issues with acne. lmsarbach
Verified Purchase
Super hydration
Great product! Love iS Clinical products. Will buy again LovelySkin Customer
Verified Purchase
Hydra cool
Love for summer use especially after being outside in sun LovelySkin Customer
Verified Purchase
Great!
I really love this serum. I use it during the day over active serum, and it gives great hydration without causing me to break out (during the day I break out from almost anything). I've always been breakout prone (though not always oily), and I really appreciate IS clinical products - their serums are light as water and don't cause congested skin, irritation, or breakouts, but still work so well! I use many of their products, but my can't-live-without ones are this one, active serum, poly vitamin serum, and youth complex. LovelySkin Customer
Verified Purchase
Is clinical hydra serum
Love love love!!! So good if your dehydrated!! Still use a moisturizer but super good as a base serum! LovelySkin Customer
Verified Purchase
Liquid youth
I've only been using this for a few weeks, but my skin has never felt as hydrated till I used this. The consistency of the serum is absolutely like silk. This has become my favorite serum. LovelySkin Customer
Verified Purchase
Amazing!
This serum is the best. I use it in place of a moisturizer! LovelySkin Customer
Verified Purchase
Cooling
Wonderful cooling serum Good product
Been using for a month. It has reduced my redness. Skin has better tone overall. Really lightweight, non greasy. Will purchase again LovelySkin Customer
Verified Purchase
My go-toest go-to!
I'm in love with this serum! This magical product keeps my skin hydrated and glowing (I almost stopped using a highlighter!) Kateryna
Verified Purchase