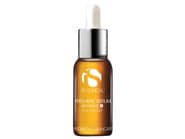 Reviews For
iS CLINICAL Pro-Heal Serum Advance+ 1 oz
$155.00
I use it daily
This Pro-heal serum is great post facial, but also helps combat redness with daily use. It does not have an offensive smell, unlike other serums containing vitamin C. My skin is sensitive, but not irritated by this product. SarahAnne
Verified Purchase
Hydrating Serum
I thought this serum was hydrating and did make my skin feel softer. I applied it before bed. It was not an oily serum, it absorbed nicely. I would definitely buy this product again! LovelySkin Customer
Verified Purchase
Absorbs Well
This product is on the thinner side so you have work fast to get it on otherwise it can slip right through your fingers. I haven't seen much of a difference with this serum. No problems at all either though. Seems to absorb easily into my skin and it hasn't caused any irritation. LovelySkin Customer
Verified Purchase
Tightens pore
I use this on a regular basis. It tightens up my pores upon use. I do not see that I have any improvements in pigment or fine lines and I have been using regular for a year or so. Hopefully it is preventing more! DaisyLu
Verified Purchase
Is clinical
This serum is strong but doesn't help my skin improve much. The price is too high. I will buy another that's cheaper. LovelySkin Customer
Verified Purchase
Help with my redness
This serum helps my redness a lot. I gave 4 stars because it is pretty pricey in my opinion but it really helps my sensitive skin. Great product
Great product, my only issue is that you need to be careful if it is really warm when you first open. It can fizz out and you can lose product. LovelySkin Customer
Verified Purchase
Feels great but smells funny
I love the way the product feels, but it smells kind of like burnt wood. LovelySkin Customer
Verified Purchase
Works but expensive
This product came highly recommended by my aesthetician since I have rosacea. It helps calm my sensitive skin and also reduce the cystic acne due to rosacea. I noticed a difference in my skin when I tried to stop using it to save money. It does have a weird smell, but since it helps my skin, that isn't a deterrent for me. The price, however, is really high, which is why I did not give it 5 stars. LovelySkin Customer
Verified Purchase
Good eye serum
I love most of IS clinical products. This is a great eye serum and can be used under makeup because it soaks in very quickly. It does not hurt my eyes and seems to work well for tiny lines and dark circles. LovelySkin Customer
Verified Purchase
A staple!
I have been using this product for five years, and I love how it refreshes and rebuilds my skin. My breakouts are less, and my skin feels healthier and more smooth. The only thing I dont like is how expensive it is. Beauty comes at a price I suppose. However, you dont have to use a lot of the product each day, so one bottle will last a while. LovelySkin Customer
Verified Purchase
Love this one!
Always come back to this tried and true serum. Helps keep my skin soft and nourished, even has a slight tightening effect, but does not break me out like other skincare products. Only reason not to give it five stars is the expensive price!! LovelySkin Customer
Verified Purchase