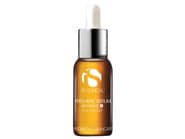 Reviews For
iS CLINICAL Pro-Heal Serum Advance+ 1 oz
$155.00
63 Results
THE only serum I cannot live without
This serum is my go to for my clients as well as for myself and family. It's worth every penny! My rosacea and sporadic acne always calms and clears immediately post application. Esthetician
Verified Purchase
Skin vitamin
I have rosacea and sensitive skin, while also have occasional breakouts and anti-aging concerns. This really feels like a vitamin for my skin! It's smoother, clearer and calmer. I've been using every day for about 2 months and am so happy I talked myself into purchasing. LovelySkin Customer
Verified Purchase
Healing potion
This serum along with the iS active serum is so good! It's helping with my acne pigmentations and scars. It's helping to brighten my skin tone as well. The price point is high, but I can tell the ingredients are very high quality! rihanna
Verified Purchase
Instant Beauty
Love this serum, had a trial size and noticed a difference in my skin. I use other products in conjunction but this serum is a staple for sure! Cristal
Verified Purchase
IS Clinical is Fantastic
My wife and I have tried multiple serums from different manufacturers and iS CLINICAL Pro-Heal Serum Advance+ for us it absolutely is the best facial treatment we have ever used. We have used it for 3 years now and the results are really noticeable. We don't think there is anything better. inthbiz
Verified Purchase
The best for my sensitive / oily combination skin
Going on my second bottle! And plan on keeping this in my skincare regimen, always. I honestly didn't understand why it costs so much but after finishing an entire bottle, I've become obsessed. It helps with the texture of my skin, and overall brightness. Also, the most important part for me is, every time I have breakouts, this heals my skin so much faster than when I didn't use this serum. It has also reduced scarring. Highly recommended :) sandylieu
Verified Purchase
Decent, but overpriced
IS Clinical Pro Heal Serum Advance was an intriguing product from a very hyped up brand. I often read about celebrities' love for IS Clinical. For my first purchase, I chose this serum. I am always aware of the limitation of topical treatments, but also know that a well-formulated one can still make beneficial improvements. This product is well-formulated. It has (mostly) great, nourishing ingredients and penetrates easily, leaving a slight silken (not greasy) feel to the skin. However, it does seem a bit overhyped and certainly overpriced. I admittedly haven't been using it more than a few weeks, but there has been NO marked difference in my skin, minus the nice feeling it gives to it upon application, and there are a few iffy ingredients. I will probably try another IS Clinical product, but doubt I will repurchase this one. Cotzedog85
Verified Purchase
Best Vitamin C serum for oily, acne-prone skin
This product is fantastic. When I apply it there's no sticky feeling on my skin, so it is ideal for oily skin. And the olive leaf extract inside provides anti-inflammation effect, which helps control acne. My skin was very stable during the usage. ACNE
I wanted to love this product due to it being recommended from an aestitician, however it gave me horrible acne. I used it for a few weeks to see if the acne would clear up/my skin would adapt since it stated how it was meant for acne prone/rosacea skin. Acne just kept getting worse and spreading. I stopped this product and my acne after a few days cleared up. I do NOT recommend. The only reason it received two stars was because a little does go along way and it didn't burn my skin when applied. Sebmama
Verified Purchase
Hydrating Serum
I thought this serum was hydrating and did make my skin feel softer. I applied it before bed. It was not an oily serum, it absorbed nicely. I would definitely buy this product again! LovelySkin Customer
Verified Purchase
Beautiful Glow
This serum delivers beautiful results! It gives skin a nice, healthy glow. Nice consistency and texture that stays put under other products. LovelySkin Customer
Verified Purchase
Absorbs Well
This product is on the thinner side so you have work fast to get it on otherwise it can slip right through your fingers. I haven't seen much of a difference with this serum. No problems at all either though. Seems to absorb easily into my skin and it hasn't caused any irritation. LovelySkin Customer
Verified Purchase
Best!
I have been using this for years. Love it, and Lovely Skin makes reordering easy. LovelySkin Customer
Verified Purchase
Great
I like this serum a lot. My skin is sensitive, dehydrated, and very acne prone (menopause stinks). This serum works well for me, keeping things under control and breakout free. LovelySkin Customer
Verified Purchase
miracle
It's just a miracle serum!! I never see anything work in even one day thank you so much!!!! LovelySkin Customer
Verified Purchase
Loved product hated packaging
Liked the product but the eyedropper doesn't fit the bottle well and traveling more than half of it leaked out. LovelySkin Customer
Verified Purchase
Works great
Works wonders for rosacea and acne Courtney
Verified Purchase
Tightens pore
I use this on a regular basis. It tightens up my pores upon use. I do not see that I have any improvements in pigment or fine lines and I have been using regular for a year or so. Hopefully it is preventing more! DaisyLu
Verified Purchase
Love it
Great serum. Love the way it makes my skin feel. I have sensitive skin and it doesn't irritate. LovelySkin Customer
Verified Purchase
Still loving this
This really helps calm inflammation and promotes healing with my skin. Definitely stronger than some other formulations I've used, but my skin is still very happy! Khughsie
Verified Purchase
Is clinical
This serum is strong but doesn't help my skin improve much. The price is too high. I will buy another that's cheaper. LovelySkin Customer
Verified Purchase
My skin has brightened up
I've been using this morning & night for about 6 months now and I notice a big change in my skin! I love it and will always use it. You can feel the benefits when you put it on your skin. Jordann
Verified Purchase
Works as described
My 60 something skin still has a tendency to break out, so I'm always looking for products that can do double duty and prevent breakouts. I first used this as a sample I received and liked it so much I bought the full bottle even though I consider it on the expensive side even on sale. However, it has kept my skin as breakout free as it's been in years without undue drying or irritation. I love this product and I can't imagine being without it now. LovelySkin Customer
Verified Purchase
Love it
My skin needed this! Feels and looks a lot brighter and smoother LovelySkin Customer
Verified Purchase
Help with my redness
This serum helps my redness a lot. I gave 4 stars because it is pretty pricey in my opinion but it really helps my sensitive skin.