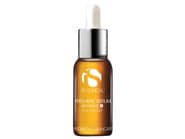 Reviews For
iS CLINICAL Pro-Heal Serum Advance+ 1 oz
My skin has brightened up
I've been using this morning & night for about 6 months now and I notice a big change in my skin! I love it and will always use it. You can feel the benefits when you put it on your skin. Jordann
Verified Purchase
Works as described
My 60 something skin still has a tendency to break out, so I'm always looking for products that can do double duty and prevent breakouts. I first used this as a sample I received and liked it so much I bought the full bottle even though I consider it on the expensive side even on sale. However, it has kept my skin as breakout free as it's been in years without undue drying or irritation. I love this product and I can't imagine being without it now. LovelySkin Customer
Verified Purchase
Love it
My skin needed this! Feels and looks a lot brighter and smoother LovelySkin Customer
Verified Purchase
Help with my redness
This serum helps my redness a lot. I gave 4 stars because it is pretty pricey in my opinion but it really helps my sensitive skin. Great product
Tried this product because my aesthetician suggested it. I was a little hesitant as first because I have really sensitive skin. After multiple uses my skin has no redness or shows no signs of irritation. So, I am happy with the product being gentle enough to be used on sensitive skin. I haven't used it long enough to see results, but I have faith it's working. LovelySkin Customer
Verified Purchase
love this serum!
I've been using this product along with is clinical gentle cleanser, hydracool and active serum for 15 months. My skin has never looked better. It has helped my acne prone skin, scarring and hyperpigmentation so much! It is soothing when it goes on and honestly worth every cent! Great serum
I have rosacea, and I was hesitating to use a vitamin C serum because of possible skin irritation but I have no problems so far. I have been using it every other day and my skin looks brighter and healthier. I recommend this product even for sensitive skin like mine. Lulunop
Verified Purchase
Worth every single penny.
Is Clinical has been a life changer for me. From the wash to this and several other products. I have skin that is sensitive, breaks out and is starting to show my age. It has tamed my acne and scarring. Melissao
Verified Purchase
One of the best
This is one of my favorite Vitamin C serums because it has so many more beneficial ingredients. Highly recommend. This Changed My Skin
I am almost 40 and have rosacea and hormonal acne. I've used so many things the dermatologist suggested, and none of them truly worked. I thought my next step was laser treatment. I saw this reviewed highly for rosacea and acne and always hesitated because of the cost. I've used it for about a month, and my acne is basically gone as is my redness. I actually stopped wearing foundation because of it. I've never liked my skin and now I do! Everyday Daytime Routine
Used it for many years! Worth every penny LovelySkin Customer
Verified Purchase
Feels like a protective veil for my complexion
I'm getting effective results with this product. Others don't believe I'm 66 years young. Consistent use in the morning helps. Great product
Great product, my only issue is that you need to be careful if it is really warm when you first open. It can fizz out and you can lose product. LovelySkin Customer
Verified Purchase
acne healing!
Got this where I get my facials, and it seriously increases healing time for acne! I love using this in the morning and the active serum at night. Miracle product!
This product is oily, has a funny smell, and dries feeling sticky on my skin...but none of that matters because this product is a true miracle! I love putting the product on at night and then waking up noticing all of the corrections it made to make skin while I slept. Consistent use will help keep away cystic acne as well. Worth every penny! LovelySkin Customer
Verified Purchase
iS CLINICAL Pro-Heal Serum Advance
My dark spots are beginning to fade in the first few weeks of using it. Will continue to use! brittanycorin14
Verified Purchase
Feels great but smells funny
I love the way the product feels, but it smells kind of like burnt wood. LovelySkin Customer
Verified Purchase
Clarify and Sculpt
This is my favorite Is Clinical serum: it's not as aggressive as the Active Serum, but it still retexturizes and sculpts and has more of a healing factor that reduces rosacea. I highly recommend it! LovelySkin Customer
Verified Purchase
Not worth it
At first, I thought this product was working. Then, I started to have dermatitis, and my face became super red and more inflamed. Feel as though it cause cystic acne. Expensive product and not good results, unfortunately. LovelySkin Customer
Verified Purchase
Just ok
I have been using this product for a month and while it hasn't caused any skin issues or irritation, it hasn't done anything special either. So for that, I rate this product 3 stars . LovelySkin Customer
Verified Purchase
iS Clinical Pro-Heal Serum Advance+
I decided to try this serum to try to diminish redness, flakiness, and help with perioral dermatitis. It did help with redness and flakiness which was great. But, unfortunately it made my perioral dermatitis flare up pretty badly after consistent use. I think it may be great for others if you have other types of eczema/dermatitis issues though. LovelySkin Customer
Verified Purchase
Excellent Serum
Helped many issues I was having with my skin, including Rosacea. A Sure "C" Skin Protectant
My skin feels so soft after applying IS Clinical Pro-Heal Serum Advance. I love it!!! I feel confident that Pro Heal is working throughout the day. It is a "must have." LovelySkin Customer
Verified Purchase
Great Product!
I've been using Proheal for a few years and it is amazing! I've tried several other products and nothing compares. It keeps my skin bright, acne free and smooth. LovelySkin Customer
Verified Purchase LovelySkin Customer
Verified Purchase