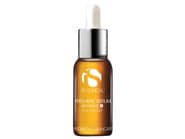 Reviews For
iS CLINICAL Pro-Heal Serum Advance+ 1 oz
$155.00
Great Product especially for Scars
I get a lot of bad deep acne. I also have a scar on my face from a dog bite. The Pro Serum reduced my scarring at such a fast rate. You can't tell that my face was bit. It reduces inflammation, dark spots and healing time dramatically. Expensive but highly recommended, if you suffer from scarring and acne. LovelySkin Customer
Verified Purchase
iS Pro Heal Performs!
I began using iS Pro Heal over a year ago, at the suggestion of my aesthetician. She explained that iS uses superior botanicals--this serum evens out my skin tone and has firming qualities. I've since expanded into iS skin care regime for a.m. and p.m. This is my go to a.m. product, and can't imagine life without it! iS has simplified and taken the guess work out of taking care of my mature skin. Love! LovelySkin Customer
Verified Purchase
Wonderful
I really like this serum. Mixing it with a moisturizer works very well and makes it easier to use. I am new to this brand, but am really liking it. Thanks LovelySkin Works but expensive
This product came highly recommended by my aesthetician since I have rosacea. It helps calm my sensitive skin and also reduce the cystic acne due to rosacea. I noticed a difference in my skin when I tried to stop using it to save money. It does have a weird smell, but since it helps my skin, that isn't a deterrent for me. The price, however, is really high, which is why I did not give it 5 stars. LovelySkin Customer
Verified Purchase
works pretty well but...
it helps with acne and breakouts but it has a strange smell, oily consistency, and leaves a sticky residue. I prefer to use the IS clinical active serum. It feels more powerfel and effective and absorbs instantly so no sticky feeling like this one. Game changer!
This serum has drastically helped the appearance of my melasma spots by evening out my skin tone (the spots will never go away, but this really has lightened them). It also has improved my skins texture and after a couple months of using it, my unbalanced skin (oily, with dry flaky patches along my t-zone) has now normalized (no more flakiness!). Highly recommend to anyone wanting glowy, dewy, brighter skin! LovelySkin Customer
Verified Purchase
Best product to control cystic acne!
This product doesnt only heal skin after laser/facial treatments, its excellent in controlling cystic acne. Ive suffered from acne my entire life (50+ years) and never had a product that worked as well as this one does. Six drops is all it takes to pat on a damp face! Love it! LovelySkin Customer
Verified Purchase
My holy grail
I use this daily to keep my skin hydrated and bright. This has never broken me out and keeps my redness at bay. This is my holy grail product Skin85258
Verified Purchase
Good eye serum
I love most of IS clinical products. This is a great eye serum and can be used under makeup because it soaks in very quickly. It does not hurt my eyes and seems to work well for tiny lines and dark circles. LovelySkin Customer
Verified Purchase
Great product
I have been using a c&e serum for years and believe in the benefits. I recently reluctantly switched to pro-heal after my aesthetician recommended I try it as I also tend to have dry skin. I do love the addition of the olive oil and love this serum. LovelySkin Customer
Verified Purchase
A staple!
I have been using this product for five years, and I love how it refreshes and rebuilds my skin. My breakouts are less, and my skin feels healthier and more smooth. The only thing I dont like is how expensive it is. Beauty comes at a price I suppose. However, you dont have to use a lot of the product each day, so one bottle will last a while. LovelySkin Customer
Verified Purchase
Love this one!
Always come back to this tried and true serum. Helps keep my skin soft and nourished, even has a slight tightening effect, but does not break me out like other skincare products. Only reason not to give it five stars is the expensive price!! LovelySkin Customer
Verified Purchase
Excellent!
Excellent antioxidant for daily use, and gives my skin a very healthy/natural glow! LovelySkin Customer
Verified Purchase
is clinical pro heal serum
i really recommend this product. i have some scarring on the side of my face from acne that has gone away but the area has stayed quite red and blotchy and the daily use of this has really helped clear up the redness. LovelySkin Customer
Verified Purchase
Love it!
This product came highly recommended by my aesthetician. I have been using this nightly for about 2 years and see amazing results. Would highly recommend this. Very Good Results
This product is hard to apply, because the liquid is very water-like and it runs between your fingers before you can get it on your face, which is quite a waste. However, I now mix it with my moisturizer which has made it easier to apply. I can definitely see a big difference in the redness of my skin (from rosacea) and will definitely continue using it. Another word of warning, if you get it under your nails it will stain them brown, so rinse after applying. LovelySkin Customer
Verified Purchase