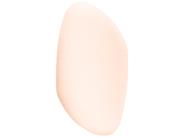 Reviews For
jane iredale Flocked Sponge Makeup Blender
Great for makeup and cleansing
I would give it five stars, if I could easily get it clean. After a month, in starts to feel a little rough on my skin. PatriciaEE
Verified Purchase
Nice to have on hand
I like the Jane Iredale flocked sponges. They come in handy when I want to apply powder in harder to reach areas, like around my nose. I also like them for blending my makeup after it's applied helps impart an extra glow. I wouldn't mind if they were a bit softer on the skin, but I do have sensitive skin. LovelySkin Customer
Verified Purchase
Flocked sponges
I am a big fan of Jane Iredale products and have been using them for years. I try to get them on sale as they are pricey. Used the flocked sponges a few years ago and they do last a long time. Then they wore out and I didn't replace them for awhile. Used drug store sponges but recently ordered the JI sponges again. Interestingly I am finding them a little hard after using the cheap sponges. I still enjoy them but they are very different. I know they will last a long time. Would recommend. LovelySkin Customer
Verified Purchase
Use Regularly for Compact/Powder Foundation
Great sponge for applying compact mineral foundations. It glides easily on the sponge without needing to use too much and glides on face smoothly. Great for blending and applying. I use this on a regular basis and haven't really found any other type of sponge much better. After a while of use they need to be replaced but last long enough for price. Overall, a must have for me using mineral foundation! LovelySkin Customer
Verified Purchase
Good blending
Blends well, doesn't just remove the makeup. LovelySkin Customer
Verified Purchase