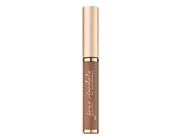 Reviews For
jane iredale PureBrow Brow Gel
$19.00
11 Results
Easy to use
I like the ease of using this product and it looks so natural with my light brown brows. It adds just enough color and keeps them combed nicely. The only downfall is that I occasionally get a glob on my wand brush and then I just use a Q-tip to remove it. I definitely will buy this again! LovelySkin Customer
Verified Purchase
Excellent color for blondes
Very pretty natural looking color!!! LovelySkin Customer
Verified Purchase
Easy to use
Easy to use. Makes the brow look thicker. I have narrow eye brows and this product is amazing. Love it! LovelySkin Customer
Verified Purchase
Works as advertised
But not a product I will use. I have a few "Wild" hairs in my brows but one of the brows has a sparse spot. This product is great for my full eyebrow, but I have to use a filler and then this on my other brow. I faithfully apply my products but have to admit I don't want to spend a lot of time doing it. This just isn't the product for me. LovelySkin Customer
Verified Purchase
nice for brows
I like everything about this product except the way to apply it. it seems to me it would work better if the applicator was more like a pencil than a mascara wand. The color is good and stays on good, but the application is a bit awkward. LovelySkin Customer
Verified Purchase
Adds a hint of color and adds definition..
I use a mechanical blonde brow liner first on the mid to outside edges of my eyebrows and then use the Blonde Brow Gel to blend and brush my brows up and outward. I like how the product can add some fullness and make the brows hold their shape. Unfortunately, later in the day, my eyebrows start to itch. You don''t want to scratch them because they look so nice but you do. There must be an ingredient in the product that doesn't agree with my sensitive skin. I do like the look the product provides and will try to use it more for special occasions. LovelySkin Customer
Verified Purchase
Taming the Wild
I was told this product would help tame my wild hairs, i.e. my eyebrows are a little crazy because of the gray hairs. This product really helped give me a finished look. LovelySkin Customer
Verified Purchase
Nice Product
I like the feel and texture of the PureBrow Eye Gel as it goes on my brow. It has stay power as I wore it all day in the Texas summer heat and did not smear. The gel went on nicely on the heavier part of my brow and the arch but was little tricky applying on the thin area near the end of my brow. A small comb for applying might be better than the brush applicator. My brows are dark brown so I thought brunette would be the best choice, but even so, it goes on pretty dark. Overall I like the product. LovelySkin Customer
Verified Purchase
Nice product - Auburn is slightly orange color, however
I love this product. It's easy to use/apply (but also TOO easy to overdo - fair warning - I've had some really dark - too dark - eyebrows when learning to use this properly.) But once you get the hang of it - it's easy to use and easy to shape. My "problem" was some free-styling eyebrows that grew straight up (they had fallen out on the outer edges - classic Thyroid problem symptom) when they grew back. So a gel works well when trying to tame them. But that's also when I would over-apply this product as I was trying to get misbehaving brows back in line. But for normal use, it's a SUPER easy product to use. My hair color falls somewhere along a spectrum. My stylist tells me I'm a true blond - albeit DARK blonde. But I have some natural red highlights and it frankly just looks light brown overall to me. So I've tried Brunette and Auburn in this product - figuring the Blonde would be too light. They both work. I was a bit put-off by this color at first but learning the right amount and seeing it in more natural light than my bathroom - it looks nice. My husband says it actually compliments my hair color nicely. SO... I had to get used to it but Auburn is a fun color. (Brunette is the basic shade you might assume and works very well too.) TJDwyer
Verified Purchase
Nice product
I like this product, however, I think the applicator could be different. It is like a mascara brush which makes it more difficult to apply. If they would change to a comb type applicator it would be much easier to use. Other than the applicator, I think this is a great product! LovelySkin Customer
Verified Purchase
Brow Gel
This product is great. The color is complimentary and stays put. It takes a little practice to get the amount correct. I found using just the tip of the brush works best. LovelySkin Customer
Verified Purchase