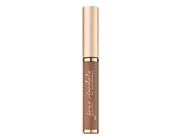 Reviews For
jane iredale PureBrow Brow Gel
$19.00
Good brow tamer
Like this product very much. Have been using it for years. I have thick eyebrows and it tames them and puts them in place. Went with the brunette even though my brows are dark. It works. Jane Iredale is a product I trust to be pure. Great
Love the brush, color, product Easy up work with Enhances brows and they look very natural. I've tried several brow products and this one wins, hands down! Love the color
Love the color for my totally blonde eyebrows. I am a redhead and this is a great color & consistency. LovelySkin Customer
Verified Purchase
Best I've found!!!
I love this easy to use brow gel. It is so easy to use. Just swipe on and go! It's foolproof. Globalgypsy
Verified Purchase
Just OK
I'd been using another brand of eyebrow enhancer for a while and decided to try this one for a change. It's not terrible, but tends to be goopy. Like my former brand better and will be purchasing it again when I need a refill. LovelySkin Customer
Verified Purchase
Didn't work for me
I have used similar products like this in the past and thought I'd give this one a try. I have very sparse eyebrows and this brush is way too big. I had the product everywhere and my eyebrows did not look natural. Tried a number of times to make this work but to no avail. It also makes the hair on my eyebrows feel very stiff. May work if you have more eyebrow hairs. Best Brow Product EVER
Not only does it work perfectly but finally a true Copper red/Auburn shade. I have tried all the rest and none can compare Kcchrome
Verified Purchase
Brow Gel
I purchased this brow gel based upon the favorable reviews and I am glad I did! Not only is it easy to apply, but looks more natural than a brow pencil. I WILL be buying this again. Jane iredale's very best!
Third time I have bought jane iredale brow gel and wouldn't be without it. Glides on smoothly and makes makeup adhere. I really appreciate this product. Easy to use
I like the ease of using this product and it looks so natural with my light brown brows. It adds just enough color and keeps them combed nicely. The only downfall is that I occasionally get a glob on my wand brush and then I just use a Q-tip to remove it. I definitely will buy this again! LovelySkin Customer
Verified Purchase
Excellent color for blondes
Very pretty natural looking color!!! LovelySkin Customer
Verified Purchase
Jane Iredale Purebrow
I am so glad I decided to give this a try, I absolutely love it! I had been using the Jane Iredale powder brow kit, and while I liked it, it wasn't covering up any gray hairs that have begun popping up. This brow gel covers and looks so natural and is so easy to apply! I really can't say enough good about!!!! applicator brush wastes too much gel
The gel itself lasts all day and looks natural when applied lightly. The brush seems too big for the thickness of the gel. It comes out of the tube loaded with so much gel that I wipe off most of it with a tissue, then use the small amount left on the brush to apply to my brows. LovelySkin Customer
Verified Purchase
PURE BROW GEL
This Pure Brow Gel is excellent!!! It fills in any empty spaces and keeps brows neat!!! Auburn is perfect for my hair color. I will continue to purchase this product!!!! Thank you!!! LovelySkin Customer
Verified Purchase
Best product for great eyebrows!
Very natural looking and am loyal to this product. I haven't found anything better. LovelySkin Customer
Verified Purchase
Ok, but not Great
It is very difficult to find eyebrow gel in the shade of dark auburn. This gel is a little redder than I would like to use, so I have to use a browner eyebrow pencil over it. When you use it make sure to take most of the gel off of the brush first. It is stickier on my brows than I'd like to see. LovelySkin Customer
Verified Purchase
The Best!
This brow gel goes on evenly and with ease. Doesn't rub off, once dry. I love that JI products are clean and not tested on animals. LovelySkin Customer
Verified Purchase
Brows on Point!
At first it seems like too much product comes out, but that's a good thing because it will last all the longer. I just use a tiny amount and then use a different brow brush to blend and shape. Fantastic color and doesn't flake or itch! LovelySkin Customer
Verified Purchase
Natural brows
Nice color. Brushes on smoothly with no clumps. Light enough to alow brows to appear natural. LovelySkin Customer
Verified Purchase
Easy to use
Easy to use. Makes the brow look thicker. I have narrow eye brows and this product is amazing. Love it! LovelySkin Customer
Verified Purchase
Good Brow Gel but Color Is Not
This gel does what it is supposed to in terms of functionality, but the color is much lighter than what would be expected for most brunettes. LovelySkin Customer
Verified Purchase
Great natural look!
I have dark brown hair, and I ordered brunette for my eyebrows. It looks much more natural than eyebrow pencil, and it covers the white hairs perfectly! Great product! LovelySkin Customer
Verified Purchase
Works as advertised
But not a product I will use. I have a few "Wild" hairs in my brows but one of the brows has a sparse spot. This product is great for my full eyebrow, but I have to use a filler and then this on my other brow. I faithfully apply my products but have to admit I don't want to spend a lot of time doing it. This just isn't the product for me. LovelySkin Customer
Verified Purchase
Great brow gel
The jane iredale brow gel is a good quality product that goes on nicely- not too much or too little product comes off the spooly brush. At first I thought that the brush should be more tapered at the end, so it would not get on the surrounding skin around the brows. But it ended up working well for me. I like the color, it looks natural, and enhances my brows. The last one I bought lasted a long time. I decided to purchase it again. LovelySkin Customer
Verified Purchase
nice for brows
I like everything about this product except the way to apply it. it seems to me it would work better if the applicator was more like a pencil than a mascara wand. The color is good and stays on good, but the application is a bit awkward. LovelySkin Customer
Verified Purchase