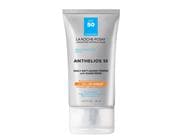 Reviews For
La Roche-Posay Anthelios 50 Daily Anti-Aging Primer with Sunscreen
$39.99
Perfect Primer
I purchased the SPF primer for myself.I have mature dry skin and it is a perfect match for my foundation. Makeup glides on easily and stays put all day. Love the fact that I am protected from the sun. I will be purchasing it again in the summer. Thank you LovelySkin for excellent customer service. LovelySkin Customer
Verified Purchase
Best Primer Ever
La Roche Posey Anti Aging Primer keeps my skin supple and soft. Makeup glides on smoothly. It is also a sunscreen, doing double duty. I love the way it blurs my fine lines, making my skin look flawless. I highly recommend this product. LovelySkin Customer
Verified Purchase
Best primer/suncreen I've used
Since I've had melanoma, I am extremely careful and selective about products. As the many reviews before this have stated, it's thick but I found goes on smoothly, hides pores, and then I put a SPF 30 tinted product on top! Perfection! LovelySkin Customer
Verified Purchase
Very smooth.
This goes on smoothly and feels non greasy. Easy to apply make-up on top. LovelySkin Customer
Verified Purchase
Double duty
This is a texture smoothing primer and sunscreen in one product. If you are going to be out doors and you don't want several layers of heavy product this is it. You can wear this with out makeup and your pores and texture will look smooth all day. You can reapply this with out feeling oily throughout the day. This primer does not slide around and it works nicely under powder and liquid makeup and matte with out drying out your skin. This is just a great product for anyone with texture. La Roche-Posay Anthelios 50 Daily Anti Aging Primer with Suncreen
Second time I ordered and I love it. I love it because it is very gentle on my sensitive skin. Also, if I am in a hurry, I can use it with powder (no makeup), and it covers and smooths my skin beautifully. It's a winner! LovelySkin Customer
Verified Purchase
Just like normal primer
I have tried multiple sunscreens for the face. Generally, I opt for a lotion with sunscreen and user a lesser SPF primer or make up product to finish. I have tried other face products and they flake off or clump with perspiration. On a farm, there is a lot of sweat, dust and wind. But, this product holds up through the day, stays on and I have had no sunburns! LovelySkin Customer
Verified Purchase
By far my favorite product for concealing age
Love this product! I am 57 yrs old and use this after moisturizer for the most smooth looking skin. It's amazing how this conceals fine lines & wrinkles when you put it underneath your foundation for a flawless look. Great product and I will be ordering more when this is gone. LovelySkin Customer
Verified Purchase
Made to block out sun rays
This is a highly effective cream to block out harmful rays from the sun. It doesn't irritate your skin and helps to keep in moisture. My skin is loving it! LovelySkin Customer
Verified Purchase
My favorite go-to product
Love this product. I use it daily. I have melasma so products with a high SPF are a must for me. It's a little weighty but being in my 50s, all moisture is good. Love to dab it under my eyes during the day as a pick up. By the way, when you think you've finished the product, take scissors and cut the plastic container in half, you may be surprised at how much is left. LovelySkin Customer
Verified Purchase
Amazing multitasker
This product is THE best thing I've come across in a long time. Between my terribly sensitive skin (which is still prone to breakouts) plus my aversion to typical sunscreen smell, I had about given up and relied on SPF in makeup. Primer was another issue, as it always made me look shiny or broke me out. Therefore, I'm floored that this product does it all. I now don't need a primer and separate sunscreen, and because of the consistency, I don't have to wait on it to dry. It is definitely of a more solid consistency but blends in easily. A little goes a LONG way, so price isn't an issue. Please don't stop making this product! Once I apply it, I have flawless skin! Best I've ever used.
I have had cancer on my nose which when removed came back many times worse and had to have Kohls surgery to remove it. My dermatologist suggested using La Roche Posey sunscreen products to protect my skin. I found the anthelios 50 Antiaging Primer w/sunscreen and religiously use it daily. At first when you squeeze it from the tube it seems extremely thick. Once massaged into the skin your face not only looks better, but it is also very smooth and silky to the touch. For a seventy year old woman to feel this happy about her face, you know this product has to be wonderful. LovelySkin Customer
Verified Purchase
Best face sunscreen I've tried
I'm very fair skinned and burn easily. I've tried dozens of facial sunscreen and this one is hands down my favorite. When it first comes out of the tube it has a thick consistency, but melts right in my skin and is so smooth. I wait about 5 minutes to apply my makeup. I let a friend try it and now she loves it too. Highly recommend! LovelySkin Customer
Verified Purchase
Best facial sunscreen
I have used many, many sunscreens for my fair skin and this is by far my favorite. According to Consumer Reports La Roche-Posay is just one of 3 sunscreens that actually work. After reading that I had to try it. I use the Anthelios 50 Daily Anti-Aging Primer with Sunscreen and I won't be without it. The primer gives my skin a smooth, soft appearance and my foundation glides on easily. I am 58. LovelySkin Customer
Verified Purchase
LaRoche Posay Anthelios 50 anti aging primer
Love the look and feel of this product. Minimizes pores great under foundation. Skin feels hydrated all day. LovelySkin Customer
Verified Purchase
Best Primer
Goes on very smooth and gives good coverage. Little goes a long way and actually I only need less foundation. I've tried several primers and this is by far the best. LovelySkin Customer
Verified Purchase
Great primer
I've just started using this product and have already decided it's the best primer I've found for my dry, mature skin. I use a moisturizer first, then this primer, and then my liquid foundation. It seem to keep my foundation fresher for a longer period of time and my face is protected from the sun's rays. LovelySkin Customer
Verified Purchase
Athelios 50 anTo aging primer and sunscreen
I love this! It was recommended by a friend and I love it. Looks natural and gives a smooth appearance while offering protection at the same time. Non greasy and no breakouts at all. LovelySkin Customer
Verified Purchase
Absolutely love this!
This is my favorite primer not only is it sunscreen and anti-aging but it leaves your skin looking flawless with a nice matte but not dry look. Makes a perfect canvas for face powder! I love it! LovelySkin Customer
Verified Purchase
My search for the right primer is over
I have sensitive, combination (oily T-zone) skin and this is the ONLY product that visibly smooths, doesn't clog my pores or cause me to break out, and gives me the UV protection I want. It is also provides a great canvas for makeup, though I often skip the foundation altogether and just use this with a light dusting of powder on top. I won't try another primer again I've found the one for me. LovelySkin Customer
Verified Purchase
Unbelievably Wonderful!
I am so glad that I purchased this product! I have a drawer full of primers and none of them have really worked for my 50+ skin. The only reason that I decided to try this one was because of the sunscreen element. Often with sunscreens, I find that they pill up when I apply any kind of foundation over them. I was about to return ANOTHER foundation because I didn't like the way it clung to dry patches and this primer made it behave perfectly! This definitely has a strange consistency but as other reviewers have said, a little goes a long way. I squeeze out a little and warm it up between my fingers and it warms up further as I smooth it over my skin. Love it! LovelySkin Customer
Verified Purchase
Perfect Primer
Id never used a primer before this one. Ive been using it for 3 years now. Leaves a perfect matte finish to use alone or under foundation. Smooths over my large pores. Sunscreen is a plus. Comes out of the tube very thick, a little goes a long way, it sort of "melts" on your skin. LovelySkin Customer
Verified Purchase
another great product from LaRoche Posay-great for shine control
anthelios 50 sunscreen+primer-I have been using this product for years! Not only does it have sunscreen(spf50), but the primer controls oily shine All Day w/o being greasy, even better than mattifying silicone products Ive tried. I mix it with another moisturizer in winter for dryness and it works just as well. Your skin looks SO even and beautiful
I LOVE this product and have used it for years. Its amazing and you can literally see a "before" and "after". Its almost as if you had the "blur" function from Photoshop in reality. LovelySkin Customer
Verified Purchase
Great Sunscreen
I have been using this product for 3 years. I have oily skin and it keeps my makeup fresh all day. It is one product that continues to work. LovelySkin Customer
Verified Purchase