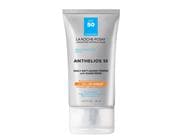 Reviews For
La Roche-Posay Anthelios 50 Daily Anti-Aging Primer with Sunscreen
$39.99
Good choice
Really like this brand. Lightweight feel on skin. Absorbs well. La Roche-Posay Anti-Aging Primer
I love this product. Makes my skin look smoother and more even. I of the better products I know for doing this. Thank you La Roche!! LovelySkin Customer
Verified Purchase
LaRoche-Posay Anthelios 50 Daily Anti-Aging Primer
This primer is incredible and I have been using it for years. Not only does it provide high sunscreen protection, it also provides an excellent pore covering primer. My makeup goes over this primer smoothly with no peeling. I will definitely continue to use it daily, but there is an important reason I did not give it 5 stars. The reason is that toward the end of the tube the consistency of this product changes. It starts to come out of the tube in small balls that makes it hard to apply to your face. The balls literally fall off your face to the floor if you don't mush them down. It's very annoying and many times I just open a new tube and throw away quite a bit of primer in the end of the tube. Believe me it's getting expensive. Just wish LaRoche-Posay could fix this problem. LovelySkin Customer
Verified Purchase
Matte Sunscreen
I use this alone when I'm running errands or after I workout at the gym. It comes out of the tube in a thick blob that you'll have to warm up before you put on your face and it feels a little thick. I've accidentally dropped product because it come out so thickly. Once you get the hang of it, it goes on smoothly and ends up being lightweight. It does not leave a chalky white film that some products do. This was my second purchase, great as stand alone sunscreen and good as a primer. AmberJean
Verified Purchase
Very good primer plus sunblock
I like this product because it combines two products: primer and sunblock. It has a very matte finish so I use a good moisturizer underneath it. It comes out very thick. At first I wasn't sure if I liked the thickness of it but it makes it easier to smaller quantities, thus not wasting any product. It is also fragrance free. LovelySkin Customer
Verified Purchase
So nice!
This goes so nicely under my powder foundation. I am def not a primer person, but LRP makes acne-prone skin friendly products. I even wear it alone, and it diffuses those little imperfections. Best of all, high spf for a fair skinned girl like me. Stops the shine as well. Good primer
This primer with sunscreen is the only one I can use that doesn't break out my sensitive skin. I've tried many and keep coming back to it! Good Protection
I would recommend this product for use by all ages. I apply it either before I put on my mineral-based powder/foundation or use alone after I apply my morning skin care products. The coverage is great, I am able to apply my make-up smoothly, and I don't find it ''melting'' as the day goes on. My only difficulty is that as I got down to the end of the tube, I had a difficult time getting the product out and then it came out in clumps. Guess it was time for a new one! LovelySkin Customer
Verified Purchase
Effective SPF and Foundation for Makeup
tldr version: Despite its quirks, this product provides the priming and protection I want, and unless I find something else I'll probably buy it again. This is the most recent step in my pursuit of primers that provide the SPF I want to slather all over my face, while helping rather than harming the application of the light coverage I need. The product's consistency surprised me. It's certainly not something you could slather, that's for sure. It's thick, more like a paste than a lotion or even the richest face cream. Rather than stick to your skin in globs, you're rather in danger of loosing bits as it rolls off between your fingers and skin. It won't spread easily. However, with very small amounts applied at a time, you can spread it thinly and evenly over your face. Because it requires a little more pressure, I'm worried about pulling more at my skin that I do with, say, the very runny SPF I also wear. But that could just be my body dysmorphia and anxiety. I actually don't think it requires any real pulling. You just have to work in small areas. I can't really tell if the primer has a mattifying effect, as it claims. Let's put it this way: I don't want to look matte and didn't notice a problem. If that's what you're going for, this product and some powder or mineral foundation would probably do the trick. On its own, it's neither matte nor shiny. I can't tell if it does much in the way of "blurring," another of its claims. I think it would feel too sticky without a layer of makeup, however thin, over it, like the adhesive side of tape left uncovered. This all sounds mediocre, but the truth is I really like this product. It doesn't impair my foundation the way other SPFs gave and provides the protection you can't get from most primers. I would still recommend wearing another SPF around your eyes and on your neck, as this is pricey, mildly sticky when left bare, and should only be used where you need actual priming. LovelySkin Customer
Verified Purchase
Best combo sunscreen and primer
This is a great, high 50 SPF sunscreen and primer combined. Although it is broad spectrum it is not a sunblock. When I used it I did NOT need my mineral powder as my complexion was "blurred" quite nicely. My derm recently told me I should use a total sunblock so I began blending a little of my Anthelios 50 Primer with a total block and it was perfect. No breakouts, no shine and very pretty skin with great protection. By the way I used Replenix Sheer Physical Sunscreen to blend with my Anthelios. LovelySkin Customer
Verified Purchase
Decent
I have been addicted to using Clearisil to help combat my oily skin. This was my replacement product in my attempt to wean myself off. I was interested in this product because it is supposed to help with oil control, has a high spf, and is a primer. It does not absorb/control the oil as well as Clearisil. However, it does a decent job in priming the skin. I would recommend it because it has a high spf and can just be used by itself if you don't feel like putting on any makeup. LovelySkin Customer
Verified Purchase
Great product
I expected this product to be make my skin greasy and breakout. I was wrong! This is a great prodcut! LovelySkin Customer
Verified Purchase