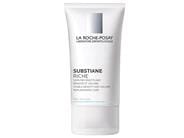 Reviews For
La Roche-Posay Substiane Riche
$56.99
Nice texture and noticeable results
This is a moisturizer with body. It's a rich cream that melts into the skin on contact and just smoothes everything out. It's subtle but the result is noticeable. I like it very much. LovelySkin Customer
Verified Purchase
LaRoche-Posay Substiane Riche
I have been using this product for the last two years. I use it mainly at night after cleansing my face. It feels great on my skin, and give my skin enough moisture for overnight benefits. The climate is dry where I live and this nightly treatment works great. I will continue to use it. LovelySkin Customer
Verified Purchase
Lovely Creme!
I was looking for a convenient sized, easy dispenser, rich product to use for my night creme when traveling. This is really perfect. It fits in my carry-on, is in a safe tube and is very rich and luxurious. It is very moisturizing yet not sticky, massages easily into clean skin. I really love it and may swap out my very expensive at-home night creme and start using this La Roche-Posay product permanently, not just for travel. Highly recommend! LovelySkin Customer
Verified Purchase
My all time favorite....
I have used this product for about 5 years on and off. I'll try something new but always come back to this—-it really does firm my 48-year-old skin and offers just the right level of moisture. Love this product. LovelySkin Customer
Verified Purchase
sustiane
I love the texture & how good it makes my skin feel I have mature, sun damaged skin & since I started using this & other La Roche-Posay products I have noticed a very improved appearance w/ less wrinkles & softer skin highly recommend. LovelySkin Customer
Verified Purchase
The best thing for aging thinning skin
I always thought those expensive 200.00+ jars must have something special to help you with your anti-aging, but never found the Holy Grail. I bought the La Roche BB foundation on a vacation and tossed out my regular foundation since this blurred lines and evened out my skin and has sunscreen what else do you need. So I thought, why not try another item in this line and so I bought this, wow, after 5 weeks my skin took on a thickness or maybe better to say, plumpness like I had 10 years ago. (I'm 55) My flaking from Retin A came to a halt and everyone who saw me said I looked like I had a peel, I looked Fresh. I use this every morning and night. LovelySkin Customer
Verified Purchase
Excellent Moisturizer!
I have been using La Roche-Posay for about three+ years. Recently I decided to use all the samples I received and I could see dry areas peeling on my face and decided to stop the freebies I take pride on my radiant skin. People are surprised when I tell them my age. They think Im ten years younger! I love La Roche-Posay and will continue using this Substiane + as long as its available. This is my first purchase from Lovely Skin and I think its the beginning of wonderful relationship! LovelySkin Customer
Verified Purchase
Wonderful face cream
Very rich, only need small amount and in the morning my skin is soft and I can see a difference. Do your research on this cream and you will read all the wonderful qualities LovelySkin Customer
Verified Purchase