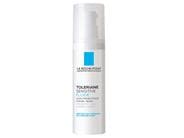 Reviews For
La Roche-Posay Toleriane Sensitive Fluide
$29.99
90 Results
Fungal Acne safe
Came across this product while looking for something with minimal ingredients, and was fungal acne safe. It's a light moisturizer, which is not ideal but workable with my normal/dehydrated skin. This is enough for me when I use it with other hydrating toners and serums, during the more humid seasons. If you have dry (as opposed to dehydrated) skin, this won't be enough unless you were planning on following it up with an occlusive. The texture is somewhere in between a "fluide" and a cream. It's very lightweight, spreads amazingly, and it's super soothing when I apply it. I've been using it for a little over a month now, on my second bottle, and I've been really enjoying it so far! I feel like the week I started using it, I noticed less milia around my eyes, less congestion, and an improvement with the little bumps that would form when I used heavier creams. Can't say for sure it was all due to this product alone, but it definitely helped. Dreading when winter rolls around and I have to switch back to something more moisturizing. I wish it came in a larger size, I went through my first bottle in ~3 weeks. Also, the pump is a bit aggressive, I would recommend dispensing it very close to your hands unless you want it to projectile across your bathroom :) LovelySkin Customer
Verified Purchase
Perfect for daytime
I was looking for a daytime moisturizer that wouldn't feel heavy on my face. This moisturizer is super lightweight and applies really nicely. Very pleased with my purchase! MandyPeach
Verified Purchase
love
this is the only lotion I use on my face. LovelySkin Customer
Verified Purchase
It's ok
Not that crazy about it. Doesn't bother my sensitive skin but it's very liquidy. Gentle and soothing
This is a very light moisturizer, and very calming. I love it but I need to use a LOT of it in order to get the hydration that I need. It's very gentle and never irritates my sensitive skin or causes breakouts. I have bought more bottles than I can count and will continue to buy them. I just wish the bottle went a bit further for me. It's not a super expensive product, but it becomes a pricey product for me at the rate that I use it up. LovelySkin Customer
Verified Purchase
Light moisturizer
This is a nice light moisturizer. I like to use it after applying serum(s) at night. Not 5 stars as I don't believe it has any benefits other than being a simple moisturizer - i.e., I would not use it alone. geegee1
Verified Purchase
La Roche-Posay Toleriane Sensitive Fluide
A nice lightweight moisturizer with minimal ingredients. Works great on oily skin. LovelySkin Customer
Verified Purchase
Love this easy glide fluid!
At first I didn't know what to think. Then I realized what a wonderful product this is. I have problem skin and this was made for me. Routine Staple
I use this year-round, but it's especially good during summer humidity. It's moisturizing but lightweight, so I can use actives under it and sunscreen on top without feeling heavy. It also doesn't make me break out, a big plus. LovelySkin Customer
Verified Purchase
Great product line for sensitive skin
I started using La Roche Posay products a year ago, starting with the Toleriane Sensitive Fluid. I had struggled with a variety of skin issues, including rosacea. Since using this line (and expanding into other products), not only have I seen a drastic reduction in redness, dryness, and itchiness, but my skin has become clearer and brighter. The Sensitive Fluide is light and airy and is my go-to moisturizer. Excellent moisturizer for sensitive skin.
I discovered this product years ago and love it--its name has changed but its still the light, moisturizing, fluid skin cream I know and love. I have sensitive skin and live in a hot, humid climate, but still need a moisturizer for my again skin--this is not tacky like most moisturizers, goes on with a silky, non-sticky feel, and does not make my skin greasy. Don't let the light feel of the product fool you, even though its not heavy, it still provides a lovely moisture to the skin (again skin like mine=age 63). I am very particular about my moisturizers and I totally recommend this. Zelcookie
Verified Purchase
Best moisturizer ever
After two days of using this moisturizer 2x a day my skin was already hydrated. My dry skin flakes were gone. I have tried so many moisturizers and this one is seriously the best, didn't clog my pores or leave my face sticky/greasy! DaniKirk
Verified Purchase
La Roche-Posay Toleriane Sensitive Fluide
This is a light weight moisturizer that goes on smoothly, absorbs quickly, and is not greasy at all. Since I use a Retin A product, it keeps my skin from drying out and flaking. PhyllisC
Verified Purchase
nice eye cream
I have sensitive and dry skin around my eyes. And this cream doesn't give me any irritation . It moisturize ok. But doesn't absorb very well. LovelySkin Customer
Verified Purchase
Found my HG!
This lotion has been a game changer for me. I have gone through a million moisturizers. From cheap to ridiculously expensive. When I first tried it out I knew I had found my HG. I have sensitive skin that likes to breakout or react to a slew of different ingredients. It has never broken me out or caused redness. This hydrates and calms my skin like no other. It is lightweight and absorbs quickly. And perfect under my makeup! No piling. I have tried other La Roche Posay products but the combination of ingredients in this are perfect for my sensitive skin. After years of loyally using this, I introduced my mom to it and now it's her HG too. LovelySkin Customer
Verified Purchase
Great light moisturizer!
I have combination skin and I love this light moisturizer! I will definitely purchase again! Best lightweight Sensitive-skin moisturizer in humidity
I love this lotion! My aunt works at a dermatologist office and recommended this La Roche-Posay Toleriane Sensitive Fluide for my sensitive skin in the high humidity weather where I live. I was skeptical until I tried it. It's so lightweight that my skin can still breathe through it. It doesn't irritate my skin at all, but calms it and moisturizes just enough to stop the itchy, tightness that I get if I don't use anything. LovelySkin Customer
Verified Purchase
I'm Spoiled when it comes to LaRoche Posay
I love having the options of moisturizers that this company gives for sensitive skin. I have sensitive skin and a mild case of rosacea in my T-Zone. This particular moisturizer is the best for use in the summer months because of it not being as creamy as my other ones. I really have almost all the moisturizers they carry for my skin type and I use the one I think I need at different times. I just love there products and they have done wonders for my skin. 2nd Order
This is my second order. Though some may not like the reformulation, it is only because of the ingredient change that my sensitive, rosacea- and acne-prone skin can now use it. I use it like a serum during colder months (with a heavier moisturizer on top) and a moisturizer in warmer months, and it never congests my T-zone. LovelySkin Customer
Verified Purchase
Calming but definitely shiny
I like this but I don't love it. The description says that it 'hydrates skin without leaving it oily or greasy. It definitely leaves a shine or a glow which is not what I was really looking for. If you're looking for a moisturizer that's more matte then this one isn't it. As a result I've been using this as my night-time moisturizer. I will say though that in the morning my skin looks GREAT. The niacinamide is really wonderful at calming any irritation. Severine
Verified Purchase
Love
My face loves the ingredient list. I had a hard time finding this anywhere else reputable, and am so glad LovelySkin carries it. Not as moisturizing as some others but the application is flawless under make up. Love this stuff
My skin is very sensitive and prone to redness and this doesn't irritate it at all! I did deduct one star, just because I would prefer it to be a little bit thicker consistency. LovelySkin Customer
Verified Purchase
Very pleased
I like this stuff more than I initially thought I would. It doesn't break me out and absorbs well. Makeup goes on well over it and I feel like I stay moisturized until evening. LovelySkin Customer
Verified Purchase
Best moisturizer for sensitive and acne prone skin!!!!!
Love this!! It feels so light but moisturizes great! Awesome for my sensitive and acne prone skin. Will repurchase. mariemarie8686
Verified Purchase
Relief for Sensitive Skin!
I have very hormonal acne prone, rosacea skin that feels like it's burning. I tried this product in the summer and it was soo soothing to the skin. The texture is thin and applies easily and stays well under makeup. It didn't break out my skin, and stopped the redness and burning on my face. I have combination skin, so I'm going to try the Double Repair in the winter since it's a little creamier. Danielle133
Verified Purchase