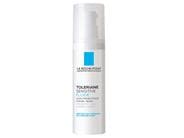 Reviews For
La Roche-Posay Toleriane Sensitive Fluide
$29.99
Love
My face loves the ingredient list. I had a hard time finding this anywhere else reputable, and am so glad LovelySkin carries it. Not as moisturizing as some others but the application is flawless under make up. Love this stuff
My skin is very sensitive and prone to redness and this doesn't irritate it at all! I did deduct one star, just because I would prefer it to be a little bit thicker consistency. LovelySkin Customer
Verified Purchase
Very pleased
I like this stuff more than I initially thought I would. It doesn't break me out and absorbs well. Makeup goes on well over it and I feel like I stay moisturized until evening. LovelySkin Customer
Verified Purchase
Best moisturizer for sensitive and acne prone skin!!!!!
Love this!! It feels so light but moisturizes great! Awesome for my sensitive and acne prone skin. Will repurchase. mariemarie8686
Verified Purchase
Relief for Sensitive Skin!
I have very hormonal acne prone, rosacea skin that feels like it's burning. I tried this product in the summer and it was soo soothing to the skin. The texture is thin and applies easily and stays well under makeup. It didn't break out my skin, and stopped the redness and burning on my face. I have combination skin, so I'm going to try the Double Repair in the winter since it's a little creamier. Danielle133
Verified Purchase
Safe for problem skin
This is a very light moisturizer, safe for acne prone skin. I checked the ingredients on Cosdna.com. Some of La Roche-Posay's products have problematic ingredients, just like most every product line, and it's very challenging to find clean, safe products. LovelySkin Customer
Verified Purchase
The only thing I've found that doesn't burn my sensitive skin!
I've always had sensitive skin, but it got worse after I had my second baby. I could not find a lotion for my face that didn't burn and make my skin red all over. Until I found Toleriane Sensitive Fluid! It's been a life-saver. It's so light, doesn't burn at all, and my face stays moisturized. taylor704
Verified Purchase
Nice texture, but irritated my skin
I like how lightweight this moisturizer is, but, unfortunately, it left my skin feeling tight and irritated. The older formula of this product was one of my favorite light moisturizers, but the reformulation doesn't work for me. It has great ingredients and might be good for someone with very oily skin. LovelySkin Customer
Verified Purchase
HG moisturizer
I have searched high and low and nothing has worked especially for my tzone area. Thank you LRP and LovelySkin for this product! I am sooooo grateful!!! LovelySkin Customer
Verified Purchase
Great Moisturizer for Sensitive Skin
This oil free moisturizer has really helped with my acne-prone, oily T-Zone. I do not have a shine by mid-morning like I do using other oil free moisturizers. I am also impressed with how long it has lasted applying it in the morning and at bedtime every day although it is seems to be a small bottle. I'm on my second bottle and will definitely continue to purchase this oil free moisturizer. LovelySkin Customer
Verified Purchase
Good product
I alternate this product with another of La Roche-Posay treatments. This is thinner and goes on smoothly. I feel it nourishes my skin without causing excess oil. I will repurchase. LovelySkin Customer
Verified Purchase
All moisturizers break me out and clog my pores, except this one
Literally all moisturizers break me out. My skin is very acne prone and clogs easily. This does NOT! It is very lightweight and liquidy but feels great. I find it's a little too light alone for winter, so I mix a few drops of hemp seed oil in (which is a 0 on the comedogenic scale), and it works perfectly. Will use alone in the summer. Glad I found this! Just wish it was a little cheaper for the small size. LovelySkin Customer
Verified Purchase
Light Moisturizing
Until I moved to San Diego, I did not need a moisturizer—the La Roche-Posay Anthelios SPF 60 ultralight sunscreen was sufficient. So pleased with the Toleriane Fluid as I did not want to add anything heavy on my skin and wanted it to be compatible with my sunscreen and other products. This works great. I am 78. LovelySkin Customer
Verified Purchase
Works for me
I have re-purchased this moisturizer several times as it provides adequate moisture for my oily acne prone skin without irritating me or causing any breakouts. It doesn't have any luxurious or indulgent attributes necessarily, that are fun to have in skincare,however, it is very effective which is the ultimate purpose. LovelySkin Customer
Verified Purchase
Please make a glycol free version!
I loved the way this felt on my skin! It felt soothing and just great! Unfortunately, I am super sensitive to petroleum ingredients and glycol ingredients. This gave me welts! I wanted to love it, just wish these intolerant products actually left out the yuck stuff. Glycols are known irritants. LovelySkin Customer
Verified Purchase
Great lotion
Non-oily! Love this moisturizer! LovelySkin Customer
Verified Purchase
Nice, Basic Product
This is a nice, basic product. Does not irritate the skin and has no smell. The only "complaint" is that it is hard to tell how low the product is getting because of the pump and inability to remove the top. LovelySkin Customer
Verified Purchase
Lightest moisturizer
I love the way this moisturizer quickly sinks into the skin completely and doesn't leave a greasy or sticky feeling on the surface. It's gentle, fragrance-free and doesn't clog pores. I really like the pump packaging, it distributes the perfect small amount and seems more hygienic than most moisturizers! Good for sensitive or acne-prone skin! LovelySkin Customer
Verified Purchase
Simply good
This product is for my teen daughter, and she loves it. I think this is her 3rd bottle. I been using this La Roche-Posay for years, and it is one of my favorite brand. LovelySkin Customer
Verified Purchase
My favorite face lotion!
I cannot go back to any other face lotion now. This one is amazing for sensitive, combination skin and doesn't feel or look greasy AT ALL. It feels like nothing is on your face! LovelySkin Customer
Verified Purchase
Great as a moisturizer
I really like using this after La Roche's 3 step acne system as a moisturizer. Keeps my face moisturized and feels soothing. I feel it doesn't break me out. I knocked off a star because I'd like there to be a little more product. The bottle is pretty small. I will be repurchasing. LovelySkin Customer
Verified Purchase
Suitable for extra-sensitive skin
Recommended for my daughter by her dermatologist - daughter has super sensitive and problematic teenage skin. The other products she needs to use dries out her skin and this moisturizer is the only one that takes care of the dryness without adding extra oil to the skin. She uses this product sparingly. I wish it came in a larger bottle but the product itself has been an answer to our prayers! LovelySkin Customer
Verified Purchase
Moisture without Acne
I've tried different moisturizers for years, but with heavily acne-prone skin, I knew if I used moisturizer I was guaranteed to break out. This product is the exception. It leaves my skin feeling hydrated, and yet, my acne has started to go away rather than worsen. This product was a breakthrough for me, I would absolutely recommend it! LovelySkin Customer
Verified Purchase
Great moisturizer for oily skin
I just found this a couple of months ago and decided to try based on the reviews, and I am impressed! I have an oily t-zone and acne prone skin, and this non-oily lotion has been the best thing I have used to combat oil but still moisturize. There is still a little oil build up at the end of the day but nothing close to what it used to be. I pair it with a mineral based sunscreen to face the day. LovelySkin Customer
Verified Purchase
wonderful product
I am so pleased to have found this product. For years, I have been using a very expensive, prescription to help with my rosacea. I did some searching on LovelySkin site and found this product, read the reviews and ordered it. All I can say is that I am amazed that it truly works. I have been using it am and pm daily, my rosacea is no longer an issue. I am thrilled to say the least. Thank you, La Roche-Posay. LovelySkin Customer
Verified Purchase