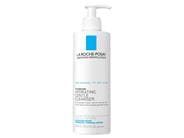 Reviews For
La Roche-Posay Toleriane Hydrating Gentle Cleanser
$11.99
Good 2nd cleanser for sensitive skin
I have been using La Roche-Posay Toleriane Hydrating Gentle Cleanser for the past few months as my evening 2nd cleanser. It is very hydrating and gentle as advertised. My skin does not feel tightened and dehydrated after washing, even in cold weather months. LovelySkin Customer
Verified Purchase
Very good product
This cleanser is not oily and very gentle for dry, sensitive skin. I use it before Nuface treatment and it works effectively. LovelySkin Customer
Verified Purchase
Nice Cleanser Good Price
What's not to like? This is a perfectly fine, somewhat creamy cleanser. It is not as luxurious or rich as some cream cleansers, but absolutely does the trick, and leaves skin clean and fresh. Excellent to use with a clairisonic brush. LovelySkin Customer
Verified Purchase
Great For Dry Skin
So far it's good, bought it because it had a lot of reviews and I'm happy I did. My skin is dry I'm 29. Bellabella
Verified Purchase
Gentle Cleaner
Great for skin that is very dry. However, no foaming action and therefore my skin does not feel completely cleansed. Frugal51
Verified Purchase
I changed
I received this cleanser last year as a free gift. I was using a much more expensive facial cleanser. I have now changed...it is equal to my more expensive brand and half the price. I am very pleased. LovelySkin Customer
Verified Purchase
Moisturizing cleanser
This is the first time ordering this and I'm very happy with my purchase. It leaves your skin feeling clean and soft without a drying effect. LovelySkin Customer
Verified Purchase
Good cleanser
This product does a very good job of removing all makeup thoroughly and is creamy and gentle; however I have extremely sensitive seborrhea dermatitis skin so if my skin is flared, the rubbing of ANY cleanser into my skin will cause burning and stinging. LovelySkin Customer
Verified Purchase
My go to face cleanser!
This is one of the best facial cleansers I have ever used. I sometimes stray from it to try others, but always end up reordering this because there is nothing better for sensitive or problematic skin! It is fragrance free and creamy. I have combination skin and deal with adult acne and redness. This is so soothing! Removes makeup. Doesn't leave your skin feeling stripped and tight. I love that it comes in a pump and it is very affordable for the quality and amount of product you get! DanielleSara
Verified Purchase
Favorite cleanser
This removes make up and doesn't dry out my skin. I've been using it for years and I love it. LovelySkin Customer
Verified Purchase
Dehydration be gone!
This cleanser is wonderful! I was using a gel based cleanser prior and my skin began breaking out, not purging, but red and angry. This cleanser has healed all of it nearly now after using faithfully for several weeks now. My skin is supple and smooth again. Love it! Tuckie39
Verified Purchase
Ultimate Skin Regimen
I love this lotion! It's lightweight and smells fresh! It is apart of my go to daily skin regimen. LailaLjMommy
Verified Purchase
Great value
So, I've been using this twice a day for a few weeks and it's mild and gentle on my combination skin. It does not foam up like many cleansers and I sometimes need to repeat washing to remove all traces of make up. However, it doesn't strip my skin, it doesn't make it feel tight and I love that it doesn't dry my skin. I was looking for a gentle cleanser similar to SkinCeutical's clarifying cleanser but with a better price point and I believe this might be it! Hopefully it will work just as well during the summer months.... overall, I'd buy it again. LovelySkin Customer
Verified Purchase
Works great!
I have to admit that the lack if bubbles threw me off. But I love it! I have rosacea, eczema and recently perioral dermatitis. This is so gentle but still cleanses my face. LovelySkin Customer
Verified Purchase
La Roche cleanser
Love it. I buy it over and over again. So gentle that you can put it on all over your face and eyes, open your eyes and it won't sting. I refuse to buy a face cleanser that says to avoid the eye area; my eyes happen to be on my face. It's like saying when using a shampoo to avoid the scalp area. LovelySkin Customer
Verified Purchase
Gentle cleanser
Very gentle, good for sensitive skin type. I rated a 4 because your skin doesn't feel as clean as compared to other cleanser. Gentle yet effective cleanser
I use many products from La Roche Posay because I have sensitive skin. Time after time I am never disappointed with my choice of picking affordable french dermatology line. This cleanser is light, foamy and gentle on my skin. I use it regularly if not daily. And I recommend this hydrating cleanser for anyone with sensitive skin. LovelySkin Customer
Verified Purchase
Thoroughly cleans but is very gentle
This cleanser is gentle enough to use every day, even with sensitive skin. I find it to be non drying and and non irritating. My dermatologist recommended the line to me. I've used many la roche-posay products and was impressed. You get a lot of cleanser for the price. It can stand up to high end products too. LovelySkin Customer
Verified Purchase
WELL...WELL...WELL!!!
It does not foam, I had heard about this before but I'm not sure I was ready for it, especially coming from using foaming cleansers. This is perfect for dry skin especially because it does not leave the face feeling squeaky after cleansing...this means it doesn't dry you out further by stripping your natural oils while removing the sunscreen, oil and dirt that piled up on your face through out the day. 10/10 would recommend. LovelySkin Customer
Verified Purchase
Gentle cleanser
I recently started double cleansing and bought this cleanser for my second cleanse. It is very gentle and leaves my akin feeling clean but not dry. I love the la roche posay line and use several of their products. They are high quality but very affordable. LovelySkin Customer
Verified Purchase
Good daily cleanser
Very gentle cleanser, it does the job! It removes impurities gently leaving skin soft and moisturized. The only thing that I don't like about it is that it doesn't create a foamy lather, but that doesn't mean that it is not removing impurities, I just like cleansers that make a foam. LovelySkin Customer
Verified Purchase
Hydrating cleanser
I have combo skin that cannot handle fragrance or essential oils in skincare. I have been using this cleanser for a couple of years and will continue to do so. LovelySkin Customer
Verified Purchase
Great cleanser at a fantastic price
I've been using on my skin for a week and found it does a great job at clearing clogged T-zone, but still gentle on my sensitive rosacea cheeks. Would definitely repurchase and have recommended to friends, especially given the price. LovelySkin Customer
Verified Purchase
Great for dry skin
I'm very happy with this cleanser. It's moisturizing, gets my sunscreen off, and the price is reasonable. Will purchase again. Good for the price
Does a good job of cleaning and has a great price, I thought it was more hydrating for my dry skin. Katiahn
Verified Purchase