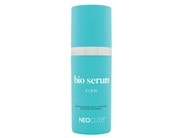 Reviews For
Neocutis Bio Serum Firm Rejuvenating Growth Factor & Peptide Treatment
$275.00
Fabulous product!!!
I cannot say enough great things about this product! Yes, it is spendy; however, Neocutis is probably the only company that offers a serum this powerful that doesn't have a fragrance in it. To someone who is highly allergic to ALL fragrances AND has rosacea, this is extremely important, This product has become a holy grail product. It is hydrating and it has diminished age spots within weeks of starting use. I've had absolutely no adverse reactions to using it, which is an easier said than done proposition in the skincare arena, unfortunately. I couldn't be more impressed. I wouldn't hesitate to recommend and I intend to continue using this product. LovelySkin Customer
Verified Purchase
Ridiculously small amount of product
It works. The product itself appears to have some beneficial effects on skin smoothness and possibly tightening- enough for me to want to explore this brand further; however, imagine my surprise when after less than 1 month of once daily use, i discover the bottle is absolutely empty. That is crazy at this price. LovelySkin Customer
Verified Purchase
Neocutis Serum
I love this serum. I like it even better now with the combination of growth factor and peptides. LovelySkin Customer
Verified Purchase
Youthful Serum
I like this serum and felt my skin looked more bright and youthful. I've used two bottles so far and see improvement but wonder if there are better products for the price. Until I find them this is a good serum! Tflower
Verified Purchase
Expensive
My Vitamin C serum tends to be drying (use it twice/day). So added this to my regimen to assist with moisture. It definitely helps to soften my face. It's expensive so be sure you're ready to make the investment. LovelySkin Customer
Verified Purchase
Noticeable results almost immediately!
I was reluctant to purchase this product because of the price. I took a risk and I am so glad I did! I noticed results almost immediately. Love this and will be purchasing again. LovelySkin Customer
Verified Purchase
Neocutis products are the best
You can't go wrong with Neocutis products. I started using the eye cream years ago as recommended by my dermatologist and have since started using the bio cream. If a dermatologist continues recommending a brand for many years and carries it for purchase in her office then it's got to be good. LovelySkin Customer
Verified Purchase
Must have
I love this product - it's worth every penny. In my book it's a must have! Buy again!!!!
I was VERY SATISFIED!!!! IT WAS WORTH the money for older skin!!!! I was seriously impressed!!! LovelySkin Customer
Verified Purchase
Skin care staple
I have been dabbling in various products that contain growth factors, peptides and antioxidants. Through my research I came across Neocutis and the Bio Serum Firm. This product has become one of my top 2 in this category! It makes my skin feel smooth. My pores are less noticeable. My complexion seems to be more radiant. I do notice a slight decrease in my fine lines. I use this in conjunction with getting hydra facials and most recently micro needling. My 54 year old skin looks great and I often get compliments referencing that I don't look my age. LovelySkin Customer
Verified Purchase
Great product
Great product but I find it a little drying on my forehead. Very expensive so not sure if I will buy again but wanted to try. Love their gentle cleanser though. Great Product!
A friend of mine had recommended the Bio Serum and I am loving this product! Goes on very light and I am seeing great results from just using it a month now. A must buy!! LovelySkin Customer
Verified Purchase
Great serum
I have only used the product a few days, but seems to give results. Skin feels more hydrated and smooth. I do get monthly facials and appreciate being able to use great products that come with a $$ but often am able to purchase with specials through LovelySkin. Dogladydi
Verified Purchase
Too Early to Tell
The serum goes on well, it does not interfere with makeup. It has no fragrance, and has not caused my skin to react in any way. Feels good, and I hope it works. I just have not been using it long enough to review properly. Broncobarb
Verified Purchase
Bio Serum
This is amazing! I have many products from Neocutis and everything they are all game changers in skin care! Love them!!! Wow and Oops!
I received a sample of the Neocutis Bio Serum with another order and liked it so much I ordered it. I continued to be impressed and ordered two more last week. They arrived yesterday and it was only when I received the request for a review on the serum that I realized I'd accidentally ordered the cream. The serum is great, I've seen and felt an improvement within two weeks and want to stick with it. I'll be returning those for the serum. I've always liked Neocutis products, but this is my favorite so far. LovelySkin Customer
Verified Purchase
Amazing but pricey
This serum produced pretty immediate results, I wish it was less expensive but you get what you pay for! Glowing
This serum does make your skim dewy and glowing. Not a heavy serum. LovelySkin Customer
Verified Purchase
Great product
My first time purchasing and really see the difference in my skin LovelySkin Customer
Verified Purchase
The Best Serum!
I can not live without it! It keeps my skin looking amazing. Love it! KK62yrsold
Verified Purchase
Doesn't play well with other cosmetics
Haven't used long enough to see results but it does not work well under either of my two sunblocks, which I have used forever. Pretty disappointed because it will only be used at night now. LovelySkin Customer
Verified Purchase
Neocutis Bio serum is a great product!!!
Very nice serum. My skin texture looks more supple and smooth. I have been using for 2- weeks and see a difference already. I will recommend!!! Robycarr
Verified Purchase
Bio Serum is great!
This product works extremely well on my older (80) skin, with great results and no irritation. I am completely committed to this line of products which was recommended by my dermatologist. LovelySkin Customer
Verified Purchase
Great Serum
Love this product. My 68 yr old skin feels so soft & is glowing. Worth the money! NeoCutis Bio Serum
For years I have used NeoCutis Bio Cream and loved it. Recently, I added bio serum to my routine, and my skin feels wonderful, smooth and firm. I use the serum in the morning as it works well under makeup and the Bio Cream at night. LovelySkin Customer
Verified Purchase