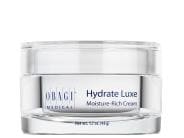 Reviews For
Obagi Hydrate Luxe
22 Results
Not light
It doesn't feel light on the skin when you put it on, but in the morning my skin feel so soft and hydrated. brightparadise
Verified Purchase
Great Night Cream
Very moisturizing. Love this!
I've been struggling with dry skin for months. I'm not sure if it's the cold weather, or the stronger Obagi retinol I've been using, but my skin has been so dull and dry. I now use this at night and then put oil on top of it and I feel like my skin finally has the moisture it's been needing. I wish I had tried it sooner! My only complaints are that you have to dip your fingers in to get the product (I wish it was a pump like Obagi Hydrate) and the price is high. LovelySkin Customer
Verified Purchase
Not my favorite product, but wanted to try something different
I really enjoy Epionce products but thought I would try this for something different. I don't see it doing anything particularly magical for my skin, but as a woman of 48 with dry skin, this seems to be moisturizing well. Suitable as a night cream. GardenGal
Verified Purchase
Feels luxurious
I enjoy using this moisturizer for the night. It is rich without feeling heavy on the skin, has a very subtle fragrance, and my skin feels silky soft in the morning. No breakouts or irritation. I just wish the packaging was more environment-friendly, the thick heavy plastic container is such a waste! LovelySkin Customer
Verified Purchase
Excellent moisturizer
Excellent moisturizer, and the service and price were great. I used this at nighttime, and it was the best product that I have ever used. LovelySkin Customer
Verified Purchase
Experimenting With SkinCeuticals & Obagi
I'm not sure it's hydrating enough. I might have to try a stronger product to see a difference. I usually switch between SkinCeuticals & Obagi, so the jury's out. Both are good. LovelySkin Customer
Verified Purchase
Great product!
I have always had very dry skin. Now that I'm in my 50s I need hydration more than ever. I have tried so many products that claim to hydrate but did nothing for me. I decided to give Obagi Hydrate Luxe a shot. I'm so glad that I did! This facial moisturizer is what it claims to be, HYDRATING. I use in the evening after cleaning my face. I have used for 6 months and the only complaint I have is the packaging, it a jar type packaging which makes it hard not overuse the product. I would give the product 5 stars if they would package as a pump type dispenser. LovelySkin Customer
Verified Purchase
Moisturizing
This product is moisturizing, but not greasy. Can be worn during the day under makeup or used as part of a nighttime routine. LovelySkin Customer
Verified Purchase
Thick
This is VERY thick and I think might have contributed to a few pimples on my forehead area. But it is nice to have a thick moisturizer over Retin-A over on days that you have flakey skin from Retin-A. LovelySkin Customer
Verified Purchase
Great Stand Alone Night Cream
I love most of the Obagi products. This one is no exception. I do recommend it for a night cream only unless your skin is extremely dry during the day, and you won't be wearing makeup. I also don't recommend layering it with any other serum or products, nor applying it to heavily as either of these things has caused it to (for lack of a better word) "pill up" during application and I don't like that at all. It is thick and it takes a long while to completely absorb but it easily glides over skin and used before bed, I wake up with fine lines smoothed and my skin looks great and perfectly moisturized. LovelySkin Customer
Verified Purchase
Rich cream
If you want a rich moisturizing cream, this is it. This cream is very soothing and gentle. I alternate between Hydrate and Hydrate Luxe. LovelySkin Customer
Verified Purchase
Use this day and night!
I rarely review products but felt all of you need to hear about the Obagi line of skin care products. I am reordering it because it really works for me! I had facial surgery and have dry skin. I needed a product that was really emollient and hydrating. OMG I am so happy with the Luxe! I use it day and night. LovelySkin Customer
Verified Purchase
A Little Too Rich
I have dry skin and always have. When I told my esthetician I wasn''t "loving" my moisturizer she recommended that I try Hydrate Luxe morning and night. Although it does moisturize it unfortunately leaves my skin feeling somewhat "tacky." It never seems to soak in completely. This is not as much a problem at night as it is in the morning when I need to apply makeup and/or sunscreen. My skin doesn't have that moisturized but dry to the touch finish. LovelySkin Customer
Verified Purchase
obagi luxe
this product helps hydrate my very dry skin. not greasy yet moisturizes my aging skin and looks nourished. LovelySkin Customer
Verified Purchase
Perfect for dry skin
Provides great moisture and leaves your skin super soft. I use this product at night because it doesnt absorb into skin quickly. LovelySkin Customer
Verified Purchase
Very helpful combatting the latest polar vortex
With temperatures in the single digits last week, this moisturizer kept my skin soft and I was able to avoid the painful dryness of last winter. On those days I used it both at night and in the morning. LovelySkin Customer
Verified Purchase
Rich and luxurious
You will feel like youre using what celebrities use. This is top-notch cream. I will be using it from now on for my night cream. LovelySkin Customer
Verified Purchase
Very thick and hydrating
I bought this product because there was a promotion running and I was very happy with it. It didnt necessarily give me top results (I didnt notice any less wrinkles) but I though it was a nice, thick hydrating cream and very gentle on the eye area. I would recommend this product if youre looking for a nice under eye cream. However, if you want good results, you might want to try something with more active ingredients. WHendricks
Verified Purchase
Hydrate Lux
Hydrate Lux is thick, I like to use it at night & on extra dry days. It goes on smooth & feels divine. Affordable option for Obagi Face Cream. LovelySkin Customer
Verified Purchase
hydrate luxe
My skin tends to be dry in winter so I use this after applying retin A A little goes a long way. LovelySkin Customer
Verified Purchase
Obagi never steers you wrong...
Ive always been a loyal fan of Obagi products, and this moisturizer just validates it all. Super moisturizing, great for fine lines and smoothing skin. I use it at night and during the day, definitely recommend it! LovelySkin Customer
Verified Purchase