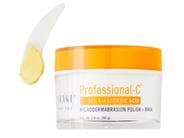 Reviews For
Obagi Professional-C Microdermabrasion Polish + Mask 30%
93 Results
Tingling
This is a Good scrub but I can't keep it on to long. I have sensitive skin. The smell is Citrus smelling which is great due to the vitamin C I am sure. Use the lil spatula to dig it up as it comes with it. Saturate ur face with some water. I do see a smoother, brighter skin. It does its job. But for my skin & being sensitive is a tad rough. I do see a difference with my pigmentation. I have used it around 3-4 times & I believe I need to get my skin adjusted to the strength. Afterward I use a facial oil as anything strong chemical could irritate my face after the use of this product. LovelySkin Customer
Verified Purchase
Great alternative to getting a facial
I use this product sometimes three times a week now, before when I first started I used once a week to get my skin use to it. Makes the skin smooth, nice and taut. I will diffidently being buying more before it runs out. I put on the Obagi Lux night cream afterwards to keep skin from drying out. JackieO
Verified Purchase
Extremely disappointed
Too hard and thick to apply and very oily feeling during application and very hard to rinse off. It is like putting oily clay on my face. Very dissatisfied and wish I had returned. LovelySkin Customer
Verified Purchase
Great exfoliating mask and smells great!
This is my new go-to product for quick exfoliation before applying other products. Also, the citrusy smell perks me up. LovelySkin Customer
Verified Purchase
Spa substitute
During this stressful period of social distancing, I suspended. my regularly scheduled facials. As a long term Obagi fan, I decided to try this product and I have not been disappointed in the results. My face feels and looks smooth. Excellent
I wouldn't of purchased this microdermabrasion but for the fact it was from Obagi. I'm glad I did! It really is effective. Goes on thick but really works. My skin was renewed and tingling after I used it. Making this a weekly habit for sure!!! Ladycady
Verified Purchase
I love how this product preforms.
This is an excellent product for polishing and removing dead skin. It does leave a bit of a "film" so I use it in the evening so the treatment can "soak in". I do wish it was softer in the container as it must be scraped and warmed up before applying. LovelySkin Customer
Verified Purchase
Not for me.
I like to use scrubs once in a while to have nice refreshed skin. Unfortunately this is too heavy/oily for me. Second ingredient is oil, and I think this would be better option for dry skin. It's a very gentle exfoliant and it left some film on my skin afterwards. Marlena
Verified Purchase
Nice Mask
I like how my skin feels after this mask, moist and rejuvenated. I agree with other reviewers that the consistency is very thick and looks like it may be spoiled. However, it is not spoiled, just needs to be blended with a bit of water and applied. It tingles on my face but is not unpleasant. Brightening and exfoliating mask
Slight tingling effect, but not uncomfortable. Skin is super soft after use & noticeable brightening. I use this at least once per week. Love this mask! LovelySkin Customer
Verified Purchase
Professional Product
I love Obagi products and have been getting facials for years by aestheticians who use them. This product is at that level. That said, I would be very careful the first time using it. Make sure your face is clean and apply it LIGHTLY. It will tingle and even burn, so don't try to make it 15 min. I got through 5 and my skin is used to chemical peels. Next step is to wash thoroughly with a clean cloth. A few minutes later my skin looked and felt great. I put on a night moisturizer. When I woke up in the morning my skin was very fresh. This product is very much a professional treatment. If you have trouble tolerating it, go slowly with it. Let your skin recuperate for a week before using it again. I honestly think it's great though and I will keep using it. TizzyLiz
Verified Purchase
Drying
I love Obagi products so I gave this a try. I've only been able to use this mask once a week because it is do drying. I tend to have drier, dull skin naturally. Was hoping I could exfoliate and have a brighter glow. It does tingle afterward and a little goes a long way. Will probably not repurchase as it is expensive and haven't noticed a huge difference. Brewnette
Verified Purchase
Wonderful Scrub/Mask!
This mask is amazing! Fabulous exfoliating and it gives my skin a wonderful glow. I love this product so much! AnnieLori
Verified Purchase
Smooth
I absolutely love this! My skin feels amazing. I really like the citrus smell. A little goes a long way. Will definitely be purchasing it again! Ariel2344z
Verified Purchase
Love the smell, love the results
This combines several items I was looking for - Vitamin C, microdermabrasion and a mask. Smells like citrus and for my skin, no sensitivity. It is important to use water when applying for it to go on smooth. Best Face Scrub I have ever used
Couple of months ago, I came across Obagi products, and I must say so far I am in love with all of them, specially the microdermabrasion polish mask. Great packaging, useful small spatula for the application. And the smell once you start rubbing the mask in your face, is just pure enjoyably eatable. It has a slightly itching sensation in the first applications but it lasts for few seconds only. The moment I washed the mask away, my skin was amazingly soft and It felt so well hydrated. I have tried various masks, keep changing brands from the most expensive to the cheapest, as I struggled with acne, but this one is far my favorite one. I'll keep purchasing it. LovelySkin Customer
Verified Purchase
obsessssssssed
This mask is THE BEST!!! I see such a difference after each use! blown away by how much it helps with my dark spots and uneven skin. BUY IT! You wont be disappointed I promise you! SO fresh and so clean!
Just love the smell and feel of this masque! Recommended by my esthetician, when it tingles it really feels like its working for the good of my skin. LovelySkin Customer
Verified Purchase
Love my obagi
Recently purchased this professional-C Microdermabrasion polish mask. I can tell you that my skin feels smoother in the morning when I put my makeup on and I can see a difference. So excited about my Obagi products and can't wait to purchase the entire line. LovelySkin Customer
Verified Purchase
Love it!
Tingles like crazy but works sooo good! I leave mine on about half the suggested time because if not I noticed I don't tolerate my other products for several days. But my skin feels so soft after using! It leaves a film which it is SUPPOSED to do- so just be aware that you aren't to scrub that off. AshJack
Verified Purchase
Obogi
I love it! First time trying and leaves my skin smooth and clean. I was worried it might irritate my skin but not at all! Put on clean face and neck and let it do it's thing for about 15 minutes then rinse. I'm very happy with this product. What a difference!
Bought this off of a recommendation from a friend. I've used it for about 2 weeks and I can tell a little bit of difference! Not a major one but my skin looks brighter than before. Hopefully with continued use it will continue to get better! Thank you for such a deal! Will continue to buy from LovelySkin! LovelySkin Customer
Verified Purchase
Love this scrub
You have to be patient when using this scrub as it doesn't apply easily. You need to make sure your face is damp. Then I usually have damp fingers when applying it so it will smooth on easier. It smells great. Like orange citrus. It does get tingly which I like because than I know it's working. My face glows after using this product. Microdermabrasion Polish
I've been using this product about a month and still haven't worked up to 3 times weekly. My skin is beginning to adjust to it, but still only using 1x per week. After using at first my cheeks would get very irritated with what seemed like a rash for a day or two then dry out and it would go away. After the 4th or 5th use they didn't do quite as bad so will be moving up to 2x weekly now. Does brighten skin after use though. LovelySkin Customer
Verified Purchase
I really enjoy this product!
This product makes my skin feel baby soft and smooth. I like the way it feels and smells and I have not experienced any irritation from using it. It's gentle, but effective.