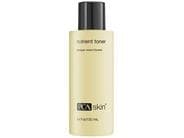 Reviews For
PCA SKIN Nutrient Toner
$40.00
4 Results
Nice but not a home run for me.
If you are looking for a toner to remove any after-cleansing residue, this is not it. This is a nice toner that seems to make my skin feel soft and probably does provide some nutrient benefits. However, it leaves a slight filminess so I don't feel like my products are getting as deep as I'd like. It is nice but for me it is not a necessity. LovelySkin Customer
Verified Purchase
Amazing Smell
I never know how to judge toners, but they are always a must in my beauty regimen. The smell on this is amazing and a little goes a long way! LovelySkin Customer
Verified Purchase
Great scent
I ordered this product after trying the sample. However, after using for a few days I noticed my cheekbone area, in particular, felt coarse and dry. I understand that is an exfoliating toner but was just too harsh for my skin. I'm in my sixties and wonder if this would be more suited to younger age skin. After a couple of days not using it my skin softened up. Afraid to use again. LovelySkin Customer
Verified Purchase
Bad Smell
This product worked really well but I couldn't get past the smell. By morning it was gone but lasted quite a while after I used the toner.