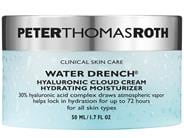 Write a Review - Receive 50 Rewards Points!
Tell us your thoughts about Peter Thomas Roth Water Drench Hyaluronic Cloud Cream so we can help you find the right products. With your review, you'll also receive 50 Rewards Points. Please note that it may take up to 72 hours for a review to appear on site. All reviews are subject to moderator approval.
Write a Review
24 Results
No fragrance, goes on smooth.
A little goes a long way—a pea-sized amount really will cover your whole face. I'm pretty sure this "mini" size will last a couple of months. It has no fragrance and seems hydrating. LovelySkin Customer
Verified Purchase
Moisture, moisture, moisture.
A great product for moisture without greasiness. Good alone or under makeup. Amazing moisturizer!
I am 50 and have always had oily skin. I have been using prescription Retin A for about 30 years. Lately, I have noticed a dryness to my skin when I wake up, which is a new phenomenon. I decided that I might need to add something to my nightly Retin A that would not interfere. It also needed to be light so I did not have a random breakout or wake up with that icky oil slick face. I have tried several samples of hyaluronic acid products and this is the best feeling when I apply it and also when I wake up. I exercise in the mornings with just a little EltaMD on then shower and put on mineral makeup before lunch. I can tell a month into using this that my skin is softer and smoother. My dermatologist even noticed when I was at her office. I would definitely recommend! LovelySkin Customer
Verified Purchase
Loved the sample results
I just started using this after receiving a sample and I remember being impressed. I am waiting to see long term results to see if it will be a product I continue to use over time. shlisab
Verified Purchase
Water Drench
I am using the Peter Thomas water drench and the Cloud Serum, and my wrinkles are not as noticeable! Love it
Gives you skin such a plumed hydrated look!! LovelySkin Customer
Verified Purchase
Light and creamy
I love this product. It's light and creamy and leaves skin feeling hydrated! LovelySkin Customer
Verified Purchase
PTR Water Drench
This has a great cooling effect when I apply this moisturizer. You don't need to use a lot either. It takes time to blend in, and it seems okay on that level. Now for the money and the changes others have mentioned, I didn't see it. It is just a normal one for me. Maybe, this line is not for me, I used the PTR, beta peel pads awhile back, and although I felt some tingling just did't make enough of a difference to repurchase. LovelySkin Customer
Verified Purchase
Turn back the hands of time FOR REAL!
I'm not giving this product a positive review just to give it a positive review. This moisturizer really does turn back the hands of time. I'm in my mid 30s, and I'm that age where skin starts to show it's age. It's winter now and really dry out, and it feels like my skin just can't get enough moisture. Water Drench really PACKS my skin with the moisture it needs WITHOUT being OILY!! Like OMG that's so hard to find for real! This product plumps my skin WITHOUT making it bloated! YAAAAS! It also improves elasticity for a naturally youthful appearance. You hear a lot about collagen, but also don't forget about elasticity! I've used some really expensive moisturizers, and not to say I won't use another moisturizer ever, but this is my favorite DAILY moisturizer. It just gives my skin what it needs, it really benefits my skin, and the cost is reasonable. THUMBS UP!!! best moisturizer
It's not too heavy, not too light, just right. I love it. LovelySkin Customer
Verified Purchase
Super lightweight
I really like this HA cream. It goes on silky smooth and absorbs quickly into the skin. Works very well under makeup. LovelySkin Customer
Verified Purchase
Love it
Really hydrating. Does not clog pores or break me out. After, skin feels very smooth. Cloud Cream
This moisturizer is not greasy. It is very light and absorbs quickly. I put sunscreen on top of it before I leave the house to protect my skin from UVB and UVA. So far, it makes my skin feel hydrated. It doesn't irritate my sensitive skin. I will continue to use. LovelySkin Customer
Verified Purchase
Great humectant!
I really enjoy this product. I've tried a number of gel-cream products recently as they gain popularity, and this is most definitely my favorite. It glides on effortlessly and because of its "slip," a little goes a long way, which makes me feel better about the price, as it's not inexpensive. It leaves my skin feeling soft and hydrated. I will definitely repurchase! LovelySkin Customer
Verified Purchase
This cream really works
Softens and moisturizes for days. For my skin, which is very sensitive, I can only use a small amount every second day or so, otherwise I get redness. LovelySkin Customer
Verified Purchase
Heavenly hydration
This product feels wonderful instantly on the face. Hyaluronic acid is a miracle ingredient that not only holds in the moisture you have, it draws it in from the environment. Lovely moisturizer
This is my second jar, and I really like the product. Not greasy which is a plus. Makes my skin feel very soft. I use it in the am before sunscreen. LovelySkin Customer
Verified Purchase
Great Product So Far
I have been using this cream for about two weeks and loving it so far. I started with a sample that was sent to me with another product, and I really thought I wasn't going to like it. My sensitive skin most of the time doesn't take too kindly to me trying new products on it. But I was pleasantly surprised. I have very oily skin as well as sensitive, and so far this cream appears to be improving my skin, in that there is less oiliness throughout the day, and it feels really comfortable going on. I'm also not having any problems with breakouts either. Thus far, this is the best moisturizer I have used for my skin type. Great moisturizer
This is an excellent moisturizer that really plumps the skin and provides long-lasting hydration. It also absorbs into the skin quickly and wears well under makeup -- no sticky feeling, just very smooth. I love this product
I love hyaluronic acid and have tried different ones. This is my favorite. It is very lightweight and absorbs readily. It feels wonderful going on and sets my skin up for a moisturizer. I've seen some criticism that the product doesn't last long, but I disagree. It only takes a tiny bit to cover your whole face and neck. I've been using it for about a month and am only halfway through the jar. LovelySkin Customer
Verified Purchase
Moderate moisturizer
I feel this new product was moderately effective in its claims as a great moisturizer. Due to the price and moderate effectiveness, I will probably not purchase again. LovelySkin Customer
Verified Purchase
Drenching moisture for skin!
I used it with my Epionce moisturizer. It did the job for these hot, drying summer days. LovelySkin Customer
Verified Purchase
Not for Me
I ordered this product based on the rave reviews I read on various websites and had to wait quite a while just to get it because it was out of stock at LovelySkin for several months. Sadly, it was not worth the wait!! I could tell almost immediately that this cream wasn't for me. Not only did it sting upon application, but also it made me break out with small white pimples. Probably my skin didn't like one or more of the ingredients. Perhaps the silicon? I want to say I read somewhere this was a main ingredient in this cream. I will say the texture was nice, but as I said, this just wasn't for me. LovelySkin Customer
Verified Purchase
Peter Thomas Roth Water Drench Hyaluronic Cloud Cream
Love the product. Have not used it long enough to see real results, but it feels wonderful when I use it. Would recommend it. LovelySkin Customer
Verified Purchase