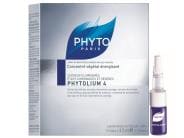 Reviews For
PHYTO Phytolium 4 Thinning Hair Treatment
High quality product
I've used Phyto for years. They are super high quality and at the leading edge of hair loss and maintenance. I've just recently begun trying to use this product more regularly to see how effective it will be this time around. In the past it has been very effective and I have seen some hair growth. LovelySkin Customer
Verified Purchase
Phyto Phytolium 4 Thinning Hair
I really like this product. My hair seems fuller, softer and much easier to style. The only issue I have is the smell. It is a bit strong smelling. But I am ordering it again because it has improved my hair texture. Seems to Work Well
For years now my hair has been going through a shedding cycle from 2-6 months every year. It's terrible but I use this product and feel it really does help with regrowth. I don't have and likely never will have thick hair but this at least keeps it growing back. Seems to be helping with hair loss
I have been using PHYTO Phytolium 4 Thinning Hair Treatment for about a month and i have noticed less hair on my brush, so it seems to be helping. Emerald
Verified Purchase
I think it's working!
I've used the product 3 times a week for the last 3 months and I am starting to see some baby hairs. I like that it is easy to use and it doesn't make my hair look oily or mess up styling my hair after using it. I have just been using it on the top of my head where it is the thinnest so the product lasts longer. I just ordered my second box. LovelySkin Customer
Verified Purchase
Seems good so far
This product seems good so far, but I need to use it for a longer period of time to be certain. I will update this review if I've seen significant change after three months. LovelySkin Customer
Verified Purchase
Is it Rosemary Elixer?
I've been using this product for about a month. It smells really good (like rosemary). However, I'm not entirely sure it's doing anything for my thinning hair. Too soon to tell, but I can say that I've never been disappointed with Phyto product, so I have high expectations. LovelySkin Customer
Verified Purchase