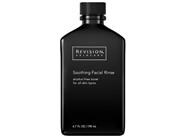 Reviews For
Revision Skincare Soothing Facial Rinse
$33.00
100 Results
Very satisfied
I have been using Revision Soothing Facial Rinse for about two years and have been very satisfied. LovelySkin Customer
Verified Purchase
Love this stuff
It's hard to find a good toner that's not too harsh. This one is perfect...soothes the skin and feels great! Flygirl
Verified Purchase
Came Back to This
I love Revision's products and have used this in this past. I decided to give it another try; honestly, I can't say it does that much for me. I was hoping it would calm my sensitive skin, but it really doesn't. LovelySkin Customer
Verified Purchase
Definite buy!
I love it! Purchasing another! LovelySkin Customer
Verified Purchase
Hydrating
I bought this to add to my regimen for moisture purposes . It works well to balance my skin after cleansing. Unfortunately I don't reach for it that often since I have since purchased other items that provide more moisture. LovelySkin Customer
Verified Purchase
Amazing refreshing toner
Revision is an amazing brand and this is one of my favorite products. It's refreshing and hydrating and doesn't strip the skin. On my third bottle, will definitely repurchase Revision soothing facial rinse
I have giving this product bad review. It did brake me out. I do have very sensitive skin so no hard feelings. I'm glad I tried it. Finally
Finally a gentle toner that is not so astringent. Nice for sensitive skin. I use it as a final step after removing my makeup. Difficult to find. Only in spas. Glad that LovelySkin has it in stock. Thank you. Soothing indeed
Having sensitive skin, I really like this toner. It has never irritated my skin and has many soothing ingredients. I like to use it all over my face just prior to applying the Revision C+ Serum. I can even use this toner when I have reddened post-procedure skin. At those times, I put Revision's Vitamin K / Arnica serum on top of this toner for a calming combination. So good
Such a great product!! Will continue to use!! Love it!! Lovely Toner
I received this as a free gift promotion with a previous Revision order. I am recently re-introducing myself to using toners after cleansing my face. This rinse is soothing, does not dry the skin and is a nice prepping step before I apply tretinoin cream at night. Does a good job of removing any leftover dirt/product from my face, post-cleanse. It is a great product to have on-hand, even as a refresher for the skin. Dry irritated skin
So this definitely helped my dry irritated skin, but it also made me break out. I have mixed feelings regarding this product and wondering if I should give it another go. I used my first bottle until it was empty. I do recommend if you have dry flaky skin like me to purchase this product. Actually, my skin hasn't flaked since I finished this product but I do still have the dryness. Pcaru002
Verified Purchase
Great!!!!
It's not too drying which is my issue with most toners! fogwood
Verified Purchase
It's my go to
This is everything for my skin. I look at others, but always order this no matter what. Hydrating is the best feeling to my face. Great toner
Love this toner to get rid of makeup and gunk before cleansing. Smell is a little weird, but not strong. Love all Revision products LovelySkin Customer
Verified Purchase
Revision Skincare Soothing Facial Rinse
This is a great winter toner, it doesn't strip skin of moisture like some of the toners with alcohol. It has a wonderful light scent as well! New favorite. LovelySkin Customer
Verified Purchase
Really helped soothe my irritated skin!
I have sensitive skin and had used a new product that created significant irritation, leaving me with red and peeling skin. After trying several other products with no success I purchased the Revision Soothing Facial Rinse based upon the reviews. The improvement was immediate! Very pleased with the product! LovelySkin Customer
Verified Purchase
GENTLE & MILD - KEEPS SKIN BALANCED & REMOVES RESIDUAL MAKEUP
This toner is very gentle and so mild that at first it doesn't seem like it does anything. But, it keeps my 59 year old skin balanced. I also like use it for several other reasons—it calms my skin down from using drying products such as Tretinoin-Retinol and any breakout spot treatment products. And, It removes any remaining makeup and/or dirt even after a 2-step cleanse process. SummerTimeGirl
Verified Purchase
Best Toner
Hands town my favorite toner out there. Doesn't dry or irritate my skin and helps a bunch with my redness. Lasts forever too! LovelySkin Customer
Verified Purchase
The Best
This product by Revision is just wonderful. It is not an astringent type of toner at all. It is actually a little bit thicker and leaves your skin feeling so nice! I have used so many toners but this is my go to for here on out. Valarie
Verified Purchase
Soothing Facial Rinse
This is an amazing product. I have been using it for over 4 years and love it. It is very soothing and gentle to the skin. It is the only product I have used since my first purchase. DTSTRINGER
Verified Purchase
Refreshing!
This is a wonderful addition to your skin care routine. It takes off any remaining makeup after cleansing and makes your skin feel refreshed and balanced. Definitely a must have! Facial Rinse
Calms my face down at the end of the day and gets rid of the redness! LovelySkin Customer
Verified Purchase
Soothing
The name says it all...this product is quite soothing and prepares skin nicely for other products. Love it
Let's just say that when you put the sample on and your husband immediately notices the difference, you buy the product. I don't think my skin has ever looked this good. LovelySkin Customer
Verified Purchase