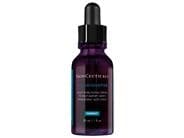 Reviews For
SkinCeuticals Hyaluronic Acid Intensifier Serum
$100.00
Great product!
Just a little bit hydrates and plumps my skin! LovelySkin Customer
Verified Purchase
Great product
I really like this product for the fall season. It does not make my face greasy and it plumps up my skin! I typically have dry skin but this product has helped a lot with normalizing my skin. Kelseydelane
Verified Purchase
Good serum
Good product. Not drying. Can see some changes overall appearance. Will definitely reorder. Excellent moisture
I use this over Vitamin C serum in the am and over retinol in the pm, with moisturizing cream on top. Adding this as a middle step definitely makes my skin feel smoother and more moisturized. It seems to seal in the bottom layer of product, and help with absorption of the top layer. I'm in my middle 40's, and recommend for skin that's beginning to loose elasticity / moisture. Probably not necessary for younger skin. . . yet! EXCELLENT HA SERUM
I received a sample of this product and decided to purchase it after trying. The sample was only enough for a one time use but it gave me a chance to feel the product on. I have purchased so many serums where they dry tacky. This was not the case with this product. It absorbs into your skin without any tacky residue. Very nice product. No strong smell to it. Great for sensitive skin. If you are looking for some extra moisture without any greasy feeling you should try this HA. It works well with the rest of my skincare products. SkinCeuticals is a very reputable company and I feel their serums are the best on the market. LovelySkin Customer
Verified Purchase
A little goes a long way!
This serum goes on smoothly and absorbs quickly. Unfortunately, I followed the directions on the box and viewed the video and they both steered me to using way more serum than, in my opinion, was necessary. It called for spreading 4 -6 drops but I've found that 2-3 drops were sufficient to cover my entire face, neck and decolletage. Using the recommended dosage, my face and neck were a drippy mess and took a long time to dry. It also unfortunately caused me to go through half a bottle in only a little over a month when only about one-third should have been depleted. I have noticed more definition in my jawline and my face seems to be plumping up where it seemed to cave in under the cheek bones. I'm 65 years young and will definitely repurchase this serum. LovelySkin Customer
Verified Purchase
Fabulous HA serum by SkinCeuticals
Love Skinceuticals Hyaluronic Acid Intensifier serum as part of a facial routine to enhance my skin and keep it young and vibrant Pleasantly Surprised
Based on a sample I received in the mail, I didn't think this was going to work as well as it has been. I ordered the full product because it was listed as one of the top hyaluronic acid serums available. I've been using it twice a day as recommended and I am seeing a remarkable difference in my skin! At 40, I am beginning to need more help in moisturization and this product is a great assistant! My face and neck do seem plumper and more youthful. LovelySkin Customer
Verified Purchase
A must have!
Added this to my AM routine and I am obsessed! Skin is super smooth and plump! We all need Hyaluronic!
I use this product every day right before applying my moisturizer. I like it very much. LovelySkin Customer
Verified Purchase
Amazing
I got sample first, than I ordered full size ha intensifier. I liked it but, expensive, out of my budget. Thanks LovelySkin gave us sample with each purchase. LovelySkin Customer
Verified Purchase
Great product!
I really love this! I can see a difference! Love!
This serum is super light weight and soaks right in. It doesn't leave a sticky residue on your skin, one applied it dries immediately and feels like you have nothing on! Highly recommend! LovelySkin Customer
Verified Purchase
My favorite product
I have used many of SkinCeuticals' products, and HA Intensifier Serum is my favorite. I read many reviews before the purchase and even though it is expensive, I purchased it. My skin feels more hydrated and looks better. I use it only at night. In the morning I am always happy with the way my skin looks. You still need a good night's rest, a healthy diet and exercise, but having done all that before using this product, I see the improvement on my skin. This is my second purchase. LovelySkin Customer
Verified Purchase
Incredible!
I use this serum in the winter when my dry skin gets so dry it flakes off. It feels smooth and lovely and sinks in beautifully, I just can't get over how my skin glows when I use it. If it wasn't so expensive I'd use it all the time! SkinCeuticals Hyaluronic Acid Intensifier Serum
This is my 2nd bottle and I love how it makes my skin feel, soft and supple. It absorbs completely without leaving any sticky feeling. RhondaD
Verified Purchase
Fantastic stuff
I love this product. My lines around my mouth and chin have filled in drastically and I feel like I don't have to get filler there. It's also made a difference in the texture and dryness of my skin. No more peeling after retinol. Yay! LovelySkin Customer
Verified Purchase
A must have...!!
I am completely SOLD on Skinceutical skincare. Several months ago I began using Triple Lipid Restore. 2:4:2. I began seeing a noticeable improvement overall in my skin. More recently I tried the Hyaluronic Intensifier Serum. It is the "icing on the cake"! I am amazed at how much difference there is in the texture, reduction of discoloration, reduced lines and smaller pores and overall improvement. Highly recommend adding this to a daily routine! Amazing product
I love this serum. Use alone with a cc cream during the day and with a moisturizer or another serum at night. I'm 65, have wrinkles and adult acne around my temples. Really helps hydrate. Lindaofazchi
Verified Purchase
Great addition to my skin care routine
I added this a few weeks ago to my SkinCeuticals regimen and I am very pleased. My skin feels much more supple and the texture is better as well. A no-brainer to add to your skincare practice. LadyWilder
Verified Purchase
Turned back the clock on my nearly 60 year old skin!
I keep tweaking my skinceuticals regimen and adding the HA intensifier to my skin care has been a game changer. Retin A .04% with 2:4:2 Lipid at night, CE Ferulic in the am, with the HA intensifier, then lipid 2:4:2 again and finish with a good sunscreen. My skin looks better than it's looked in 10 yrs. Bravo! Groovygiftgranny
Verified Purchase
Hyaluronic Acid Intensifier Serum
I bought the full size of this after finishing the sample bottle I received. It works great after applying Retinol and before my nighttime moisturizer. Very soothing and less irritation in the morning. Great addition to nighttime regimen! LovelySkin Customer
Verified Purchase
Not sure I am seeing a difference yet
I use CE Ferulic acid in addition to the Triple Lipid Restore. While I like the way it is applied, I use after the CE Ferulic apply the Triple Lipid after the Hyaluronic Acid. I cannot say I have noticed a difference. I do use it sparingly as it is very expensive and not much in the bottle. Not sure if I would buy it again. Love this stuff!
I love this HA Intensifier. I love the texture and the way it feels on my skin. It does a great job keeping my skin moisturized. I use it along with SkinCeuticals A.G.E. Moisturizer. Twaltersmt
Verified Purchase
Awesome serum
This serum is so hydrating without being greasy at all. It's worth every penny!! LovelySkin Customer
Verified Purchase