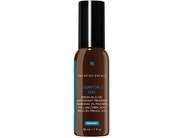 Reviews For
SkinCeuticals Phloretin CF Antioxidant Gel
$166.00
Never start the day without it.
Love this product. My skin tends to break out and Is very sensitive. This formulation works well for me since I can easily breakout. LOVE the GEL
I've been using this product for over 2 yrs! This is the first time I decided to purchase the gel. It's so much easier- Shopittome757
Verified Purchase
Amazing
Best vitamin C I've found! Doesn't cause breakouts and it's soothing! Years of use and still worth it!
I have been using this line for over 20 years and am convinced it is the best line for all skin types. I am 55 and have dry to breakout prone skin. This product warrants its price and will turn you into a staunch supporter if the line! It will diminish lines and discoloration, and create a smother appearance over consistent use. Sebastian
Verified Purchase
Game Changer
This product has been a game changer for me. My skin is smoother and brighter! I've been searching for something for so long that would help with my acne and discoloration and within a week I have seen an amazing improvement on the complexion of my skin. I'll definitely purchase again! LovelySkin Customer
Verified Purchase
Favorite vitamin c
I started using this because I have oily skin and wasn't comfortable with the oil version. Goes on nicely and has helped to even out my skin tone. Amazing Product
I started using Skinceuticals Phloretin CF years ago based on a recommendation from my dermatologist. Now and then I have tried other brands, both less expensive and expensive brands....and even not using it. Nothing compares to this Skinceuticals. I decided to try the gel formation. This is my second bottle of this formulation. My skin is so bright and smooth. I am 56 years old. Yet most people think I am in low 40s! This is a must have staple in my skincare routine. I won't ever be without it! LovelySkin Customer
Verified Purchase
Keep coming back for more
Over the years I have tried several other serums, and while good, I keep coming back to this one. It is effective and works so well with my oily skin. LovelySkin Customer
Verified Purchase
Not a fan
I ordered the gel form of SkinCeuticals Phloretin CF after using the serum for several years. My skin is combination/dry some areas and oily in others. I don't care for this form and will return to the serum. It also seems like there is less in the bottle. LovelySkin Customer
Verified Purchase
SC Phloretin CF Antioxidant Gel
this product was recommended to me by a dermatologist, and I've used it for a few years. It's easy to use, and I have seen improvement in my skin tone. LovelySkin Customer
Verified Purchase
like it but not totally convinced (yet?)
I think it's helping to lighten my dark spots. The strange scent and a financial investment, but the pump/gel seems easier/safer than the glass bottle/liquid version. LovelySkin Customer
Verified Purchase
Great Stuff
I had melasma that I had suffered with for many years with new spots forming. I play sports and am always outdoors. This helped with clearing my melasma after 20 years of trying peels and bleaching agents. Keeps my skin protected and radiant. LovelySkin Customer
Verified Purchase
Not a bad product
At first, I love it. I feel like my skin gets clearer, and my hyperpigmentation from my pimples reduced a lot. But then, after a week or 2, my skin started to have more whiteheads and milia due to clogged pores, so I stopped. I only use it like once or twice a week now. IvyPhuong
Verified Purchase
The gold standard
My dermatologist, actually a couple of doctors, say that this is the gold standard. It costs a fortune, but my skin looks great. LovelySkin Customer
Verified Purchase
Excellent product
New favorite from SkinCeuticals! Gel version of this product makes it so much easier to use. Less waste! LovelySkin Customer
Verified Purchase
Worth the money
I'm always afraid to try new products because I have very sensitive skin and have always been prone to acne. SkinCeuticals is amazing! This product has never made me breakout. This in combination with the acne set has made my skin look amazing! It's never looked so good. LovelySkin Customer
Verified Purchase
The good stuff
I very much like this formulation of SkinCeuticals Phloretin. I find it goes on more smoothly than the liquid and it seems to dry faster. It is a wonderful product. I use it each morning after washing and toning my face and have been pleased with the improvements to my skin texture. LovelySkin Customer
Verified Purchase
Love it! Love it! Love it!
Best serum by far. I was using the c e ferulic, but prefer the texture and pump of the gel. LovelySkin Customer
Verified Purchase
ODD smell
I love SkinCeuticals and was recommended this product by my aesthetician. I liked the idea of the gel over the serum, because the threat of spilling the serum bottles and losing all the product is devastating. But this gel has a very metallic and off putting smell I have not found with the serum version. I also found I didn't like not knowing how quickly I was going through the bottle or how much was left. It did not last as long as the serum for me, but not significantly so. I went back to the serum. LovelySkin Customer
Verified Purchase
Phloretin CF Gel
This is the best product on the market! It is great for people who's skin is oily or sensitive. This is a must use product for anyone wanting to improve and maintain healthy skin. LovelySkin Customer
Verified Purchase
Pleased with product
I have problems with hyperpigmentation across my face, from both the sun and acne scars. I've had several chemical peels and laser treatments done to help with this hyperpigmentation. Over time, I still have some hyperpigmentation that returns. This product was recommended to me by my aesthetician to use on a daily basis to protect against the unevenness in my skin tone. She gave me a sample of the oil serum version first. I used the entire sample but did find that the oil was a little thick on my skin and I had a few breakouts while using it. When I returned to my aesthetician, she told me about the new gel version. Again she gave me a sample and I was much more pleased with the texture of the gel versus the oil. The gel seemed to absorb into my skin more easily, and I have not had any breakouts so far. I've only been using it for a few weeks, but I do think that my skin is more soft and supple now. It does seem to be helping with some hyperpigmentation and overall texture of my skin. So far I'm very pleased with this product and would recommend it to anyone who deals with dry, hyperpigmented skin. I plan to keep this as a part of my daily skin regimen and do plan to buy again in the future. LovelySkin Customer
Verified Purchase
Great Serum!
I've been using this serum almost every morning for 7 years as a part of my strict skincare routine for my sensitive rosacea and acne-prone skin, and it helps my skin feel refreshed in the morning without clogging pores or irritating my skin. Love it! LovelySkin Customer
Verified Purchase
Best Vitamin C for Oily/Acne Skin Type
I have been using this product for a few months now and finally see great improvement in my skin texture and brightness. The first month or two I didn't see much of an improvement so I thought I give it some time before writing a review. It was recommended by my Dermatologist for my oily/acne prone skin, to use in the morning with a moisturizer before sunblock. I mix 3 pumps with very little moisturizer and then applied it all over my face and neck. I also share this product with my teenage son who has acne problem, it helps with fading the scars. LovelySkin Customer
Verified Purchase
Love this product/ love this brand
This is a great brand and Phloretin CF Gel is a great product. This has made a great change in my skin texture and clarity. I'm 55 years old, getting wrinkles, and still have acne! This has helped! I love and endorse the gel, much easier to use than the oil type serums, I don't feel like I'm wasting any product, and absorbs so much nicer. Of course it's crazy expensive, but a little goes a long way, a bottle lasts me quite awhile. Try it! LovelySkin Customer
Verified Purchase
Love this product! Worth the $$$
I first tried this product as a sample that was sent out and could see results after using it only a few times. I have people constantly say I look glowy and how healthy my skin looks. I made the decision to purchase a full sized bottle and am so glad I did. This will be a product I will make sure I continue with, it is definitely worth the cost. LovelySkin Customer
Verified Purchase