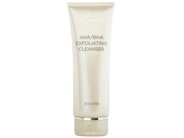 Reviews For
SkinMedica AHA/BHA Exfoliating Cleanser
Caused breakouts
I used to use Vivite and loved the product for exfoliation. Vivite has been discontinued and I went with this product that has similar ingredients. My forehead has been breaking out non stop since I started using this product (only a few times a week). Since the return policy is 30 days, I am now unable to return as I was trying to figure out the reason for the breakouts. This may work wonders for many, but for me, it was an expensive product that I now have to throw away. KoalaPhoenix
Verified Purchase
Irritation
This product was a fail for my skin type. This cleansers exfoliating beads proved to be harsh on my sensitive skin. LovelySkin Customer
Verified Purchase
Break out City!
I was so hopeful and don't consider my skin hyper sensitive, but I used the wash for 5 days twice a day and my face was covered in pimples and whiteheads. Not the look I was going for. Must be a very allergic reaction. LovelySkin Customer
Verified Purchase