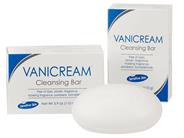 Write a Review - Receive 50 Rewards Points!
Tell us your thoughts about Vanicream Cleansing Bar so we can help you find the right products. With your review, you'll also receive 50 Rewards Points. Please note that it may take up to 72 hours for a review to appear on site. All reviews are subject to moderator approval.
Write a Review
19 Results
Vanicream Cleansing Bar
I love VC Bar. I have actually been using it for well over 15 years. I used to get it by mail and then started buying it at Walgreens but decided to go back to ordering online as it is cheaper and it is not always in stock at Walgreens. I have very sensitive skin and break out from most soaps but I have NEVER had a problem with VC bar soap. As a matter of fact Vanicream soap is the only soap I have not had a problem with. Thank You!
Helps my husband's itchy skin
My husband's skin is very sensitive and will get very itchy. This soap really helps his skin feel better as it doesn't have any fragrance or dye so there is nothing to irritate it. I will continue to order this soap for him.
Great moisturizing soap!
My horribly dry, cracked skin is healing with the use of this soap! Finally, something that really works!!
same as free and clear liquid cleanser
bought this and F&R, after receiving it, i noticed it is the same as F&R liquid so have not used this soap since the liquid is easier and less messy. Surely it works as great as the liquid version though and the bar is actually a good size for small to medium size hands and it is slighty curved for an easier hold.. Someday, i will get sanitary soap tray and try it out, thinking it may lather up a tad bit better than its liquid form (that lathers fine, just requires at least 2-3 pumps).
Best Bar Soap
This is the best bar soap Ive ever used. I use it daily in my shower, and it cleans my body without drying it out or leaving a soapy film. I also appreciate that it is fragrance free so that it does not irritate my sensitive skin. Great product!
Vanicream cleansing bar
The best cleansing bar I have ever used in my life. Makes my skin clean, soft, and smooth. Best for my sensitive skin. Its a little expensive but you get what you paid for. I highly recommend this product.
THE BEST
After i developed an allergy to body wash and soap with fragrance last year, my dermatologist recommended this. I have been using it ever since. It keeps my skin slean and moisturized. I will not use anything else!
Love it
I would never think that bar could stop my itching. but it did I will always use that bar to wash my body.
Great for sensitive/Rosacea skin
I have used this soap for several years and found it to be mild enough for my very sensitve and reactive skin. The bar is nice when traveling -- you don't have to worry about air travel limits on ounces.
daughter soap
i never feel guilty about teaching my daughter the art of femininity with this i feel better using this head to toe bathing and nurturing ourselves thank you
vanicream soap
my son who is 14 mos has skin issues and the doctor recommended this. its great. a little "institutional" smelly but if it works for him its a small non-problem. it last a while also.
Another recommend
Wow, my daddy asks me to post his review. He's a guy with age of 60's. The only cleansing item for a traditional man is soap. He can't stand the other options such as cream base nor gel. For his dry skin , he is satisfied with vanicream cleansing bar. ~ lol
vanicream products
I have very sensitive skin especially. The Vanicream products are unscented and without harsh chemicals. I would recommend to anyone with sensitive skin.
Great Soap for Sensitive Skin
This soap is a must if you have sensitive skin, or just want a soap with no added dyes or fragrance. I tried this soap purely by chance. I had ordered VANICREAM moisturizing skin cream and thought the soap was worth a try. To my surpise, this cleansing bar is creamy and moisturizing and worth every penny!
Great Product
Since I started using Vanicream I do not itch, I do not have those little bumps on my skin. The bar last a lot longer than commercial cleansers.
Not bad at all.
The only problem that I have with the cleansing bar is that it is a bit gritty. Other than that, it lathers very well and has no scent at all, which is the reason I purchased it. Dennis Sheriff
VC BAR
This cleansing bar is the best we have ever used for my 6 year old Grandson. He has skin problems and his DR recommended this product & we have been using it for about a year. Keep up the good work on this product.
Lasts longer
Costs a little more than regular hand soaps, but it lasts longer and cleanses just as well.