Sun Care
A Sunscreen for Every Skin Type: New Sunscreen from Glo Skin Beauty
by LovelySkin
|
June 20, 2018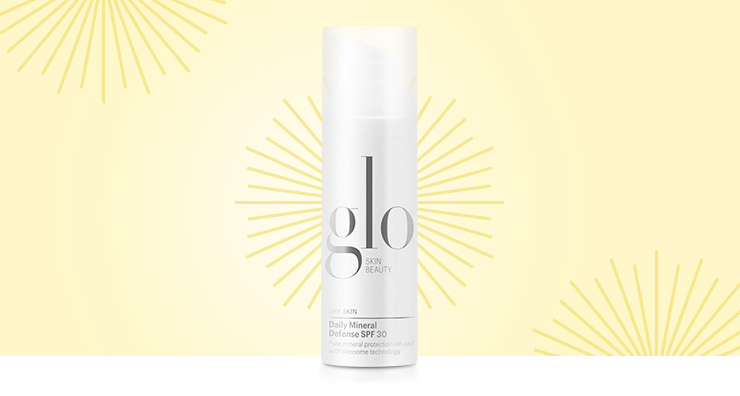 Glo Skin Beauty promotes personalized skin care solutions with face sunscreens for acne-prone, combination, sensitive and dry skin types. Choosing an SPF that complements your skin type is the best way to ensure your sunscreen is comfortable enough to wear every day, which is something we always want to encourage!
If you have dry skin
Daily Mineral Defense SPF 30: The newest addition to Glo Skin Beauty's SPF line, this reef-safe, dry skin superstar uses a unique technology to deliver SPF gradually to the skin while also nourishing with ingredients like sunflower oil. Plus, the zinc oxide formula will prevent irritation that may come from chemical sunscreens.
If you have normal to combination skin
Moisturizing Tint SPF 30+: This sheer, broad-spectrum chemical sunscreen protects skin with a hint of color, making it perfect for use as a primer, base or even wearing on its own. This fan-favorite comes in three lightweight shades to even out skin tone for a more radiant (and protected!) finish.
If you have oily skin
Oil Free SPF 40+: Those with acne-prone skin know that some sunscreens can exacerbate sebum production and cause irritation to the skin. This lightweight, oil-free formula combines physical and chemical blockers to keep skin comfortably hydrated and protected without causing breakouts or irritation.
If you have sensitive skin
Solar Shade SPF 50: Created for anyone with sensitive skin, this reef-safe sunscreen provides all-mineral, fragrance- and dye-free protection. Titanium dioxide and zinc oxide keep even the most delicate skin protected with an invisible blend that won't leave behind a greasy feel.
Pro Tip: Staying protected isn't as easy as applying sunscreen in the morning and going about your day. Protect your skin on the go with Protecting Powder SPF 20, a reef-safe, zinc oxide and titanium dioxide sunscreen that makes it easy to reapply your broad-spectrum protection throughout the day.
What does SPF stand for? Learn more about sunscreen on our blog!
Connect with Us!