Ask the Experts
Is Your Skin Overreacting?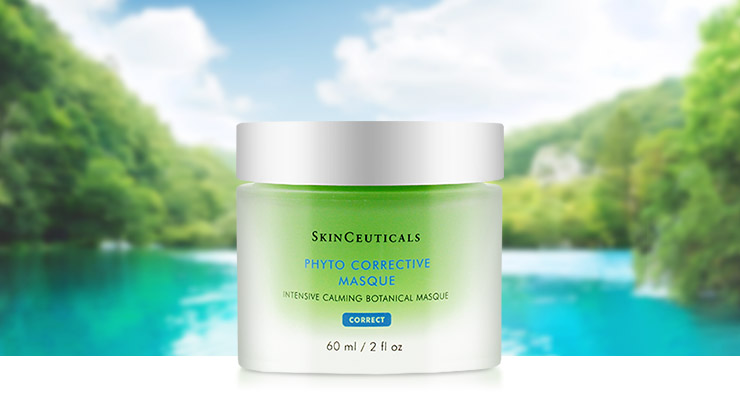 Here is tell us about their newest mask is Nicole Akers, AVP of Education and Development from SkinCeuticals.
Everyone has that friend who tends to overreact—and sometimes our skin experiences a temporary freak-out as well. Environmental factors like a change in climate or weather, in-office treatments (such as lasers, peels and facials) and even your skin care products can make skin irritable. Redness and blotchiness are the most common signs of skin reactivity but dullness, tightness and dehydration can result as well.
SkinCeuticals Phyto Corrective Masque is just what your skin needs to settle down, no matter the cause of reactivity. This intensive botanical calming treatment soothes on contact and revitalizes skin. Formulated with active cucumber, thyme and olive extracts that restore comfort to stressed skin, a calming peptide that decreases the sensation of heat and hyaluronic acid for lightweight hydration, you get instant relief as well as an improvement in the skin's smoothness and radiance over time.
The real beauty of this mask is that there are countless ways to use it, whether at home or on the go. Depending on your skin's needs at a given point in time, you can use it as a mask by leaving it on for 10-15 minutes and then rinsing, you can apply it in the morning and allow it to comfort skin throughout the day, or you can use a thick layer at bedtime for overnight replenishment. Having this mask on hand means you always have a skin-soothing solution at your fingertips. Here are a few more reasons it deserves a space in your medicine cabinet . . .

Quell the redness and heat sensation that results from sun exposure
Replenish moisture during and after flying
Cool skin down after working out
Reduce the appearance of redness and the feeling of heat after a hot bath or shower
Soothe dryness caused by cold weather and wind
Apply after swimming in chlorine or salty water
Use after chemical peels and facial extractions to comfort the skin
Ideal after in-office procedures such as non-ablative lasers, Intense Pulsed Light (IPL) and photodynamic therapy (PDT)
Create a customized, trendy at-home treatment by multi-masking
When used post-procedure, Phyto Corrective Masque was proven to reduce visible redness by 20%, reduce discomfort by 47% and lower the skin's temperature by an average of 5 degrees. Just what your skin needs when it gets temporarily off track, Phyto Corrective Masque cools and comforts reactivity instantly while restoring smoothness, radiance and a sense of calm.
How would you use the new SkinCeuticals Phyto Corrective Masque? Let us know on Facebook, Twitter or Instagram using #LovelySkin!
Shop This Blog
Highlights
Calms and soothes red, reactive skin
Gentle enough for post-procedure skin
Reduces heat sensitivity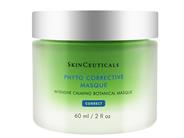 Quick Shop +
Connect with Us!