Skin Care
Just in at LovelySkin: MyChelle Dermaceuticals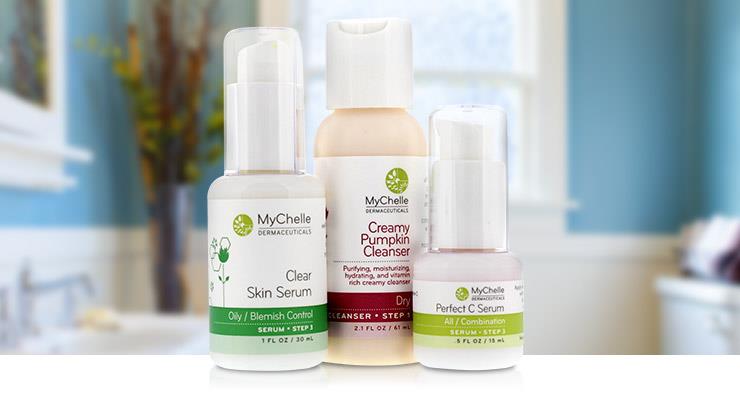 LovelySkin is excited to now carry MyChelle Dermaceuticals, a top natural skin care brand!
Founded in 2000, MyChelle believes that beauty isn't just skin deep, it's self deep. Their philosophy is "Every moment is an occasion to feel beautiful." Emphasis on feel. This is why the company strives to create the purest products possible. MyChelle products are free of chemicals and other unsavory ingredients, and their powerful formulas are designed to deliver fast, visible results.
MyChelle is also committed to going green. A motto they operate under is "Clean science. Professional results." They employ safe, environmentally sustainable practices during the manufacturing process, and even won a 2010 Responsible Packaging Award. MyChelle is proud to be on PETA's certified cruelty-free list, and the company's commitment to animals doesn't end there—they are also partnered with the WILD Foundation, and regularly contribute to the effort of protecting wilderness and wildlife around the world.
All MyChelle products are vegetarian, and the majority are vegan as well. Non-vegan ingredients include yogurt extract from milk, honey and beeswax. Key active ingredients that are featured in the products include plant stem cells, peptides and vitamins A and C, all of which promote brighter, smoother, more youthful skin. You'll find a full range of products for all skin types, plus targeted treatments for anti-aging, dark spots, sensitivity and acne.
Shop some of our favorite MyChelle products at LovelySkin! Here, you'll find everything you need to create a complete natural skin care regimen. Gently wash away impurities with MyChelle Creamy Pumpkin Cleanser. Perfect for normal to dry skin types, this comforting cream cleanser hydrates with honey and fortifies with vitamins, minerals and antioxidants.
Combat signs of aging like fine lines and a dull complexion with MyChelle Perfect C Serum. This clinically proven formula contains 17% L-ascorbic acid, a form of vitamin C, to help strengthen collagen and promote a more even skin tone. It also contains buddleja plant stem cells to protect against sun damage and environmental stressors.
Address oily, acne-prone skin with MyChelle Clear Skin Serum. This all-over face treatment uses Montmorillonite clay to absorb excess oil, clear pores and prevent future blemishes. Retinol helps to resurface skin and encourage healthy cell turnover, and botanically derived Totarol helps to keep skin free of acne-causing bacteria.
Finish off your routine with powerful sun protection. MyChelle Replenishing Solar Defense SPF 30 uses 13.5% zinc oxide to protect the skin against harmful UVA and UVB rays. It also contains a blend of kukui and macadamia oils, plus red algae to help provide antioxidant protection and reduce the appearance of fine lines and wrinkles.
Do you have a question about MyChelle Dermaceuticals? Let us know in the comments section.
Shop This Blog
Highlights
Gently washes away surface impurities, environmental toxins and excess cell build-up while protecti...
Quick Shop +
Highlights
An advanced formula to protect skin's health while combating the signs of aging by ...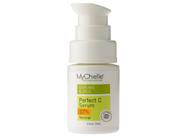 Quick Shop +
Highlights
Potent formula minimizes surface shine while improving the clarity of oily and blemish-prone skin. ...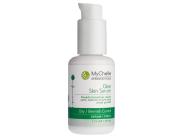 Quick Shop +
Highlights
An advanced sun protection ingredient that helps prevent damage.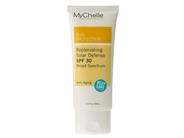 Quick Shop +