Skin Care
See the Lights this Season with Our Favorite LED Light Therapy Devices
by Ashley
|
November 21, 2018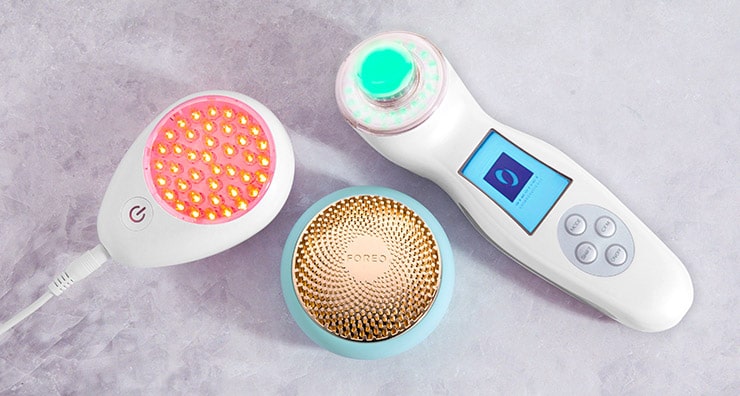 Skin care is constantly evolving. This includes updates to harshly acidic cleansers, not-so-good-for-skin sunscreens and so much more. Even in-office procedures continue to get better with each passing year! Light therapy may not be a brand new technology, but the ability to take it home is. These unique, at-home light treatments have the ability to boost your existing skin care regimen as well as any in-office results.
Since it's the season for gift shopping, holiday parties and time with our loved ones, you need to be looking your very best! Take inspiration from the twinkly lights lining each street, and try an LED light therapy device to smooth, calm and refresh your complexion.
Red Light Therapy
Red light therapy is one of the better-known light therapy colors, and for good reason! This age-diminishing light can help minimize visible signs of aging, such as lines and wrinkles, by promoting collagen and elastin production. It also helps speed up the process of skin cell renewal, thereby improving the time it takes for your skin to heal!
Green Light Therapy
Green light therapy is an excellent option for those with sensitive or sensitized skin. This effective LED light color helps diminish visible skin discolorations by targeting melanocytes and inhibiting the production of melanin. In addition, it can also help calm and smooth the skin while minimizing the appearance of broken capillaries.
Blue Light Therapy
Blue light therapy is best known for its ability to kill acne-causing bacteria. It is a gentle, drug-free and painless treatment that is suitable for those with mild to moderate acne. While it does not replace seeing your dermatologist, when used routinely, it can help diminish blemishes and prevent new ones from forming. We consulted with Dr. Joel Schlessinger, board-certified dermatologist and CEO of LovelySkin.com, for his opinion on the perks of blue light therapy:
"Blue light therapy can be effective for mild or even moderate acne, but there is not a lot of clinical data available to suggest it is suitable for severe acne. I use this treatment in conjunction with my acne treatments in the office or for patients who have allergies or sensitivities to antibiotics. It works fairly well, but if the acne is severe, it usually will need a trip to the dermatologist. When utilized with an effective acne regimen, a blue light device may be very helpful."
Cultivate a more radiant, youthful complexion with some of our favorite light-powered devices:
Osmotics 3-in-1 Ageless Facial Enhancer: This 3-piece kit helps firm, rejuvenate and diminish discoloration. The three-mode device utilizes red, blue and green light to develop a regimen unique enough for your skin type. In addition to providing light therapy benefits, it also has an ultrasonic mode to improve product absorption and an ionic mode to cleanse and firm skin.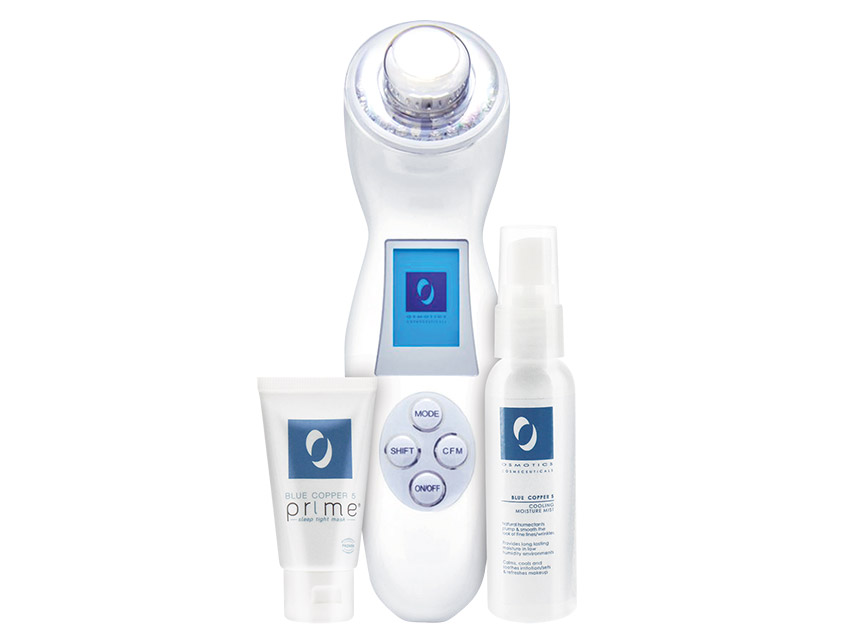 BONUS: This must-have device also comes with two products to boost your results—a Blue Copper 5 PRIME Sleep Tight Mask and a Blue Copper 5 Cooling Moisture Mist! Both the Moisture Mist and the Sleep Tight Mask utilize hyaluronic acid to smooth skin, lock in moisture and fill in fine lines.
Baby Quasar Clear Rayz Anti Acne: Reduce inflammation and diminish acne-causing bacteria with this gentle and powerful device that combines the power of red and blue light to smooth and heal skin. The timed treatment times make this device easily accessible for those of all ages. Clear and smooth skin with this FDA-approved anti-acne device from Baby Quasar!
FOREO UFO LED Thermo Activated Smart Mask: Revolutionize the way you mask with this unique device that boosts the technology of sheet masks with LED light therapy, heat, T-Sonic pulsations and cooling. With seven masks formulated for a variety of skin concerns and an app-enhanced experience, this customizable masking device will ensure your skin maintains its youthful vibrancy.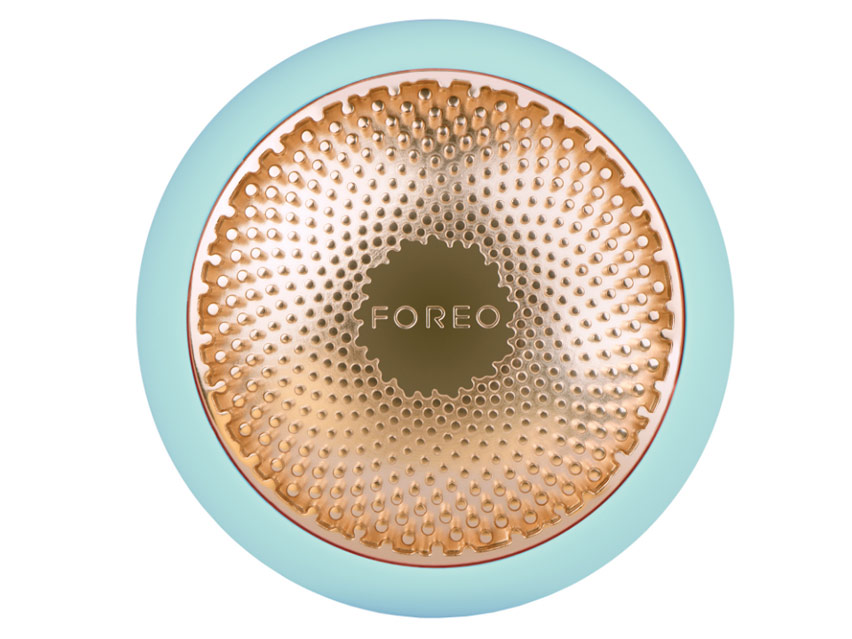 Want to learn more about the pros and cons of different LED light therapy devices? Read more on our blog!
Shop This Blog
Highlights
Reduces the appearance of wrinkles
Three-piece kit
Tightens and firms skin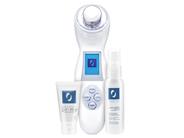 Quick Shop +
Highlights
The Blue Copper 5 PRIME Sleep Tight Mask can help you turn back time while you sleep. This anti-agi...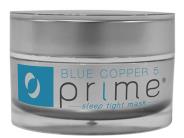 Quick Shop +
Highlights
Calm skin with Osmotics Blue Copper 5 Cooling Moisture Mist. This cool, blue, calming mist increas...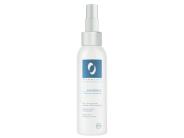 Quick Shop +
Highlights
Clear Rayz reduces blemishes and breakouts. Finally a safe, natural, and easy way to defeat acne! ...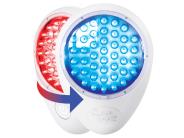 Quick Shop +
Highlights
Easy to use
Easy to clean
Made of medical-grade silicone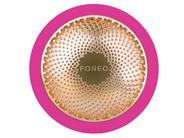 Quick Shop +
3 colors
Highlights
Purifies and unclogs pores
Mattifies the complexion
Balances oil production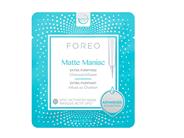 Quick Shop +
Highlights
Brightens a dull complexion
soothes skin with niacinamide
Keeps skin looking dewy and fresh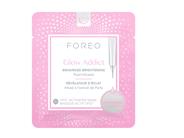 Quick Shop +
Highlights
Calms under-eye puffiness
Brightens eyes
Conditions and smooths skin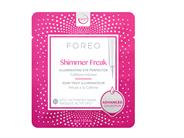 Quick Shop +
Highlights
Hydrates skin with hyaluronic acid
90-second treatment time
Red algae promotes microcirculation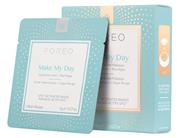 Quick Shop +
Highlights
Diminishes fine lines and wrinkles
90-second treatment time
Nourishes with essential fatty acids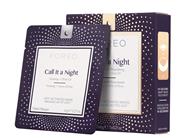 Quick Shop +
Highlights
Diminishes fine lines and wrinkles
Conditions and smooths skin
Fortifies skin with ceramides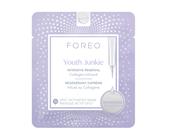 Quick Shop +
Highlights
Calms and soothes with aloe vera
Hydrates skin with hyaluronic acid
Fortifies skin with ceramides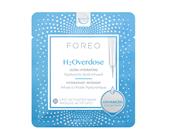 Quick Shop +