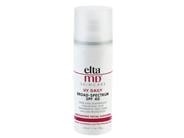 Reviews For
EltaMD UV Daily Broad-Spectrum SPF 40
$29.50
574 Results
BEST sunscreen for faces ever! The tint is a BONUS!
I absolutely LOVE the feel of this sunscreen! It is NOT thick and it just feels glorious! Most days, because I use the tinted one, I just wear this and a cream blush! So easy! And, it really works! I also use the non tint on my kiddos! No breakouts or irritations! Kindlyk
Verified Purchase
Amazing
The perfect amount of tint. LovelySkin Customer
Verified Purchase
Feels great! Looks great! Works great sunscreen!!!
Feels so good on my skin!!! Moisturizing with a little color too! Skin is soft and supple! Best bonus is it protects my skin from the sun. Very important to me because I've had several skin cancers, I'm getting older and I love so many outdoor activities!!! My favorite! Mrstennis
Verified Purchase
Light with purpose
Light. Having the tint allows to eliminate foundation for me. And protection from the sun damage. Excellent product
Living in Florida, I need an effective daily moisturizer with a high SPF. Elta MD was recommended by my dermatologist. It is light, odorless and blends easily into my skin. I would definitely recommend this product. flamingoviv
Verified Purchase
Amazing
This sunscreen goes on lightly and provides nice coverage for a long period of time without making your face feel greasy. AngiecAg
Verified Purchase
Excellent consistency
This sunscreen goes on so easily just like a daily moisturizer. LovelySkin Customer
Verified Purchase
Light but Protective
I have used this sunblock on my face for years. I have sensitive rosacea prone skin and it does not cause breakouts and prevents sunburn when I'm bike riding. Highly recommended. LovelySkin Customer
Verified Purchase
I love this sunscreen!
This sunscreen is great, I love it. I wear it daily. It protects my skin from the sun and also seems like my skin is more clear since I started wearing it. It is non-greasy and goes on great after my moisturizer and before my makeup. This is a must have addition to anyone's skin care routine! LovelySkin Customer
Verified Purchase
My favorite
I have tried many brands of tinted sunscreens. I keep coming back to this brand. Doesn't break me out. It is shiny, but nothing powder won't help. LovelySkin Customer
Verified Purchase
Love this stuff!
This goes on so smoothly and provides great coverage, but you do not feel it on your skin at all. Covers up light imperfections. I will buy this again! The best I've ever tried
Recommended by my dermatologist. I needed a sunscreen and everything I've ever tried makes my skin burn. This doesn't smell or feel like sunscreen at all. Plus it has already made fine lines go away. The tint works as a light foundation for me as well (I have a caramel skin tone). Overall my skin is in better condition than it has ever been using this product. Highly recommend. LovelySkin Customer
Verified Purchase
Excellent
I've been using this as my daily moisturizer for many years and it's never irritated. I love that the pump gives a consistent amount every time and there doesn't seem to be any fragrance. This moisturizes well and leaves a comfortable finish whether you do makeup or not. LovelySkin Customer
Verified Purchase
Tint too dark
I like the texture of this product, but the tint is definitely too dark for my fair skin. It is a reddish-brown, and I have to be very careful to make sure it blends around my hairline. Otherwise, it's very noticeable, like I'm wearing a foundation that's too dark. I would buy again but not the tinted one. LovelySkin Customer
Verified Purchase
Use this no matter what!
I just learned that spf is one of the most crucial products you must use in skin care regimen! This product not only protects you but it also is tinted and makes your skin look smooth and soft! Amazing product, great quality! LovelySkin Customer
Verified Purchase
The best
I have used this sunscreen at least 8 years. It is not chalky or white and blends in perfectly into your skin. I use this on my face and neck only and it is not oily. It is the perfect sunscreen to wear under your makeup. The price point is great and it last about two months. marthaam
Verified Purchase
Great for sensitive skin!
I like it. Especially for the summer because it is super lightweight. Although, I may have to pair it with an additional moisturizer for fall/winter. LovelySkin Customer
Verified Purchase
Big fan of EltaMD
I've been using non-tinted EltaMD sunscreen but after using this tinted type, I will definitely keep buying this one. It is silkily smooth on skin and saves me from buying high end serum infused foundation as EltaMD works just like it. Absolutely the best. LovelySkin Customer
Verified Purchase
Great Protection
Non-greasy, light formula which offers great protection from the sun. I've worn this product on my face while hiking and swimming and have never burned. I have oily skin and have never broken out while using EltaMD. LovelySkin Customer
Verified Purchase
All time favorite daily sunscreen
This sunscreen does it all! It protects your skin and gives you a natural, healthy glow. You can wear it alone or under makeup. It spreads so easily and doesn't sit on top of your skin as some sunscreens do. There is no smell, no greasy or heavy feeling. I have bought this particular EltaMD sunscreen many times and will continue...it is probably my favorite product! LovelySkin Customer
Verified Purchase
Light, transparent sunscreen
This product goes on smoothly and does not leave a white cast. For such a potent formula, it's remarkable how lightweight it feels. No clogged pores or breakouts! Highly effective, versatile sunscreen. I've recommended it to friends who also like it. Evora11
Verified Purchase
Just the best.
This is such a beautiful sunscreen and truly my holy grail! I've lost track of how many times I've come back to this, and will continue to repurchase this again and again. It is perfect for daily use - provides great protection with enough hydration to keep my acne-prone/sensitive/combination skin balanced. Has never caused any breakouts and actually brightens the skin somewhat upon application. Now that I'm wearing a mask everyday, I've been avoiding all makeup and have just been wearing this alone - I continue to get so many compliments on how healthy and dewy my skin looks. So many ladies have asked what I'm wearing. I'm completely in love with the glow this creates. Customer for life! Seriously! LovelySkin Customer
Verified Purchase
Great product!
This does not make my acne-prone skin break out at all. It gives nice sheer coverage. JessiEllie
Verified Purchase
Great product all in one!
I have been using EltaMD UV Daily Broad-Spectrum SPF 40 for a couple years. I enjoy it because it has moisturizer and Sunscreen all in one. I like doing the fewest steps to protect my face. This why this is prefect. I re-apply when I'm going to spend some time in the sun. LovelySkin Customer
Verified Purchase
Awesome Moisturizer!
Light weight, oil free moisturizer that doesn't clog pores. I've been using this product for 7 months now. No breakouts! LovelySkin Customer
Verified Purchase