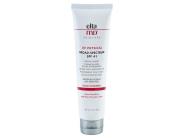 Reviews For
EltaMD UV Physical Broad-Spectrum SPF 41 (Tinted)
$33.00
608 Results
EltaMD Tinted sunscreen
This sunscreen is amazing. It goes on without feeling greasy or heavy. Since it feels so light going on I was worried about how it would work, but I went to the pool and played with my grandkids for a couple hours and didn't get pink at all. Very happy with the tint too! Even and smooth
Minimal coverage but great protection! LovelySkin Customer
Verified Purchase
EltaMD UV Physical Broad- Spectrum SPF 41 (Tinted)
Every morning after facial cleansing I apply a scientifically vetted Vitamin C-Ferulic Acid serum and EltaMD SPF 41 (Tinted) sunscreen. All EltaMD sunscreens are medical grade and clinically tested for effectiveness. Protection from the sun's damaging rays, reduction in age spots, and an elegant, nonsticky application with a satin texture are the benefits of using EltaMD sunscreens. I love EltaMD products and so do both of my dermatologists! Kate3333
Verified Purchase
Excellent tinted sunscreen
My dermatologist recommended this and I could not be happier, great tint and coverage. I live in Florida so it is a must. Love it
I love Elta MD 41 tinted. You can use it alone or under foundation. I've been using it for years. It was recommended by a Dermotologist. Love this
My favorite sunscreen. Wears great under makeup or without makeup. You get 3 oz which is a lot for the price. LovelySkin Customer
Verified Purchase
4.5 stars if I could!
I was finding myself with too much sun after a few weeks of every-morning quarantine walks/runs. My aesthetician recommended this over the lighter-weight formula Elta MD tinted suncscreen that I had been using because this version stays on better for workouts. I like this formula a lot. I think it's working well, too. The only 1/2 star that I'll take off is for the VERY slight paleness that it gives my skin after applying which the lighter-weight Elta MD doesn't do. I know that it's from the physical sunscreen included, but I want to call it out for darker-skinned people who might find it impacts their skin tone more than they want in a tinted sunscreen. See if you can get a sample. I'm a medium/fair skinned Caucasian 43-year old woman and the residual paleness is barely an issue. I'll buy this again. EltaMD Sunscreen
I really like Elta MD sunscreens they are all great. This one is very smooth to apply. Really like Elta sunscreen products. They have a great variety of sunscreens. Chrissie
Verified Purchase
Best tinted sunscreen!
This is a super lightly tinted screen perfect for year round use, creamy and easily applied. I use this as my tinted sunscreen and foundation. It covers lightly, but doesn't feel caked or thick. A bit of a white/ light color so I wouldn't recommend this for darker complexions. Perfect day or night. I have very sensitive skin acne prone (hormonal) and rosacea. This causes no adverse skin issues and is calming. LovelySkin Customer
Verified Purchase
EltaMD UV Physical Braodf-Spectrum SPF 41-Tinted
The tinted sunscreen is easy to apply and blends easily with my skin tone. I use it in the pool and no one knows that I am wearing sun protection. My dermatologist, who originally recommended this product, is very happy that I am using it! Sarasota
Verified Purchase
Excellent Sunscreen
Goes on so easily with no white cast. Looks good under makeup as well. Keeps my skin very protected. The only think I wish were better is the color of the tint. Its a little taup-ey on me as opposed to a light golden brown tint. I have pale white skin naturally and it appears to wash me out a bit. Other than that, I would buy it again or go with no tint as the product is wonderful. LovelySkin Customer
Verified Purchase
All time fave
This is my all time favorite sunscreen recommended to me by my dermatologist. Love that its tinted and easily blends into my skin. Non-greasy, keeps me break out free, and keeps my melasma from darkening. I have been using EltaMD for at least 15 years. This sunscreen is tried and true! LovelySkin Customer
Verified Purchase
Isotretinoin (Accutane)
I have tried 2 other brands of sunscreen while taking Accutane. Both other brands, while claiming to be for sensitive skin, burned and irritated. I saw the Elta MD brand at my Dermatologist office and ordered it here. It truly is gentle to the skin and effective. I do reapply often just to be safe as I am extra sun sensitive right now. LovelySkin Customer
Verified Purchase
Homie
I am always in the lookout of a good physical sunscreen, this is however a bit drying. I am acne prone and it has not given me major issues. This is my third time i repurchase it. LovelySkin Customer
Verified Purchase
Best sunscreen ever!
This is hands down, for me, the best sunscreen ever. I tried other kinds of sunscreen (usually chemical) and they just didn't work on my reactive skin. My eyes would tear excessively and I honestly thought I had dry eye until I realized my chemical sunscreen was the culprit. I started using EltaMD physical sunscreen a couple of years ago and haven't looked back! It also acts as a primer for me under all of my different foundations. It is absolutely fantastic and I highly recommend. Sassenach20
Verified Purchase
Good protection
This physical sunscreen 41 has great Mineral active ingredients, but the tint is not for my skin tone, still shows some white cast. The texture is also a little thick for me. I prefer more natural looking options. LovelySkin Customer
Verified Purchase
Been using for years
I've been using this sunscreen for years. I try others, but always come back to this one. I'm a low maintenance woman, and don't need foundation with this. It can be drying however, that's why I gave it 4 stars. Not Greasy
This has just the right amount of coverage and doesn't cause breakouts. It also blends in beautifully in all seasons - regardless of my seasonal skin tone. LovelySkin Customer
Verified Purchase
Best I have found
This is a great physical protection sunscreen that does not leave your face white like the others I have tried over the last several years. I goes on smooth and doesn't leave you looking white. It not only looks good on my face but offers great protection from the hot Southern sun. Great sunscreen!!
Great sunscreen, goes on light & smooth not heavy feeling. I wear this sunscreen daily underneath my foundation, nicely priced as well when comparing it to other daily sunscreens:)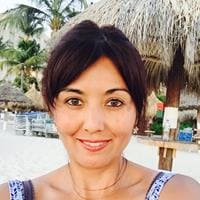 ultrarach
Verified Purchase
My favorite
I love it, second time buying it LovelySkin Customer
Verified Purchase
Great Tinted Sunscreen
I have tried many sunscreens. This one goes on smoothly and doesn't feel greasy. I especially like the tint. It seems to smooth out the unevenness of color of my skin. My dermatologist recommended this one and I have been using it for awhile now and I am very satisfied with it. Great tinted sunscreen.
I use this and set it with a little powder. I love it. Gives a nice glow without giving you an orange look. Kmcohen2
Verified Purchase
Lightweight highly effective sunscreen
I love the EltaMD line. This particular sunscreen has stopped my sun spots from reappearing. I stock up every spring on this one as it has titanium and zinc oxide to provide a physical barrier. The rest of the year I use their UV daily which I also love. I use all the Elta products post peel too. I trust the brand. JenNoel
Verified Purchase
2nd Purchase because it is great
This is my second purchase of this sunscreen. I have very sensitive, dry, light skin. This does not cause any reactions in my skin and for me the light tint is just right. I do a lot of active sports while using it and it does a good job of protecting my skin. It also does not get greasy or shiny at all for me. LovelySkin Customer
Verified Purchase