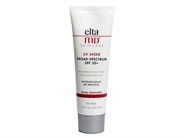 Reviews For
EltaMD UV Sheer Broad-Spectrum SPF 50+
$30.00
EltaMD sunscreen
This sunscreen absorbs nicely and protects my skin without causing irritation or breakouts LovelySkin Customer
Verified Purchase
Lives up to its name
This goes on white but absorbs completely. I got it for my husband to try since he doesn't like sunscreens that make his face white. I've bought several for him and he always complains until this one. He was very happy it didn't leave his face white or greasy Might be my new go-to SPF for face!
I have tried many of the EltaMD SPF products, but this may be my new favorite for my face! I like how it is water resistant, which is why I purchased it for the beach. However, it is light and non-greasy, so I may use it for everyday use! It goes on smooth like the UV clear, but is a thinner consistency. I stopped using the UV clear because I have combination skin and it was too drying for me after a while. It is such a glowy SPF, but does dry down to a natural finish, so you can wear it under makeup well. LovelySkin Customer
Verified Purchase
Great Sun Protection
This EltaMd UV Scheer Broad Spectrum-Suncreen SPF-50 does protect you from the sun but I do feel it whitens your face up a tiny bit. I store the tube flat otherwise there is too much in the cap. I also shake the tube before applying. Four stars for the tiny bit of whitening on the skin or opaque. It is about the same as my favorite UV Clear SPF-46 Untinted. I feel the Clear gives more moisture. I will use the SPF-50 until empty. My favorite remains Clear SPF-46 Tinted. Elta MD 50+
My derm and esthetician always have Elta MD sunscreen in their offices and its the last thing they always put on my face before I leave. This no-nonsense sunscreen is apparently the gold standard for them. I only know that it works very well protecting my face and neck from damaging UV and that it doesn't clog my pores so ... yes. LovelySkin Customer
Verified Purchase
EltaSPF
Light. Goes on very nice. Great coverage. It does leave a little white color. Definitely recommend because of the light consistency. Great sunscreen!
I love the Elta MD products, this new sunscreen is super light with no white residue. Just went to Mexico and this was my go-to sunscreen for face & neck. LovelySkin Customer
Verified Purchase
It's ok
It's not a bad sunscreen but there are better. It's sheer and the spf is high but the finish, feel and wear of it was just ok. The best Elta MD sunscreen is the spray spf 45 which is great for the body. The whole family enjoys that one. So the hunt for the perfect sunscreen continues. Every day!
I love this sunscreen is moisturizing and is great for everyday use. EltaMD Sheer SPF50+
Wow! I am so excited for this new sheer spf 50 formula. It does go on sheer it is like a milky color that disappears on the skin. It leaves your skin soft, it is not at all sticky and it kinda leaves your skin looking a little glowy in a good way it is not greasy at all. Doesn't settle into wrinkles or ball up after moisturizing but I do wait about 10-15 min before the sunscreen application. I am 62, light skinned and I think it works great. I haven't tried makeup over it yet so I am hoping it won't peel but you still would need to wait 15 or so mins before applying any foundation. So far I am very happy with this sunscreen. LovelySkin Customer
Verified Purchase
Love this sunscreen
Love EltaMD! This sunscreen is everything I have been looking for! Great coverage and not greasy! Perfect! LovelySkin Customer
Verified Purchase
Love it!
Great product. Very light and not tacky and greasy like some I've tried. AshleyEC
Verified Purchase
Great for my neck!
I can't use this on my face unless I don't use my retinol moisturizer as it makes my face too greasy. I love it for my neck and décolleté area because it moisturizes and doesn't get on my clothes. I also use it on my hands. Suepac57
Verified Purchase
Sheer and works
This is super sheer and so far works well. marinifan
Verified Purchase
Is it worth it?
Not really sure if this is working. I've never worn lip SPF before, but I've never noticed anything off about my lips. I honestly feel like you could get a chapstick with SPF for much cheaper. Maybe save your money and pass on this Elta MD product. LovelySkin Customer
Verified Purchase
Fun in the Sun
What a great product! It doesn't leave white residue and yet protects me in the sun. Now I can have fun in the sun and not have to worry about damage to my skin. I will definitely purchase this product again. EltaMD sheer sunscreen
Excellent product, sheer coverage with no white cast. I have been using Elta MD for years as my sunscreen protection. Very happy with this product. Rachaelina2000
Verified Purchase
All good!
I love this sunscreen. It's smooth and creamy, rubs in easily and doesn't leave a white cast. It feels good on my skin—moisturizing but not greasy. I wear it every day. LovelySkin Customer
Verified Purchase
EltaMD VU Sheer Broad-Spectrum SPF 50+
This is the best Ella MD sunscreen I have purchased lately. It goes on smoothly and is not greasy. Looks great under makeup. Already has faded some darkish spots I had developed. Ill definitely purchase again. LovelySkin Customer
Verified Purchase
Nice and light weight
At first I didn't think I liked it because it was so thin and almost runny, I questioned if it was supposed to be that way. But as I have worn it, I really like the fact that it is not heavy and greasy. It also does not smell like a sunscreen, which I love! LovelySkin Customer
Verified Purchase
Love EltaMD
Goes on very easy and works well under makeup. It is a really light formula so it blends into the skin really nicely. I like to use this to reapply throughout the day after putting on my tinted UV clear in the morning. LovelySkin Customer
Verified Purchase
Perfect sunscreen
This sunscreen is perfect. I love the ingredients in this sunscreen. I love that it is lightweight and hydrating. Living in Arizona, I need that extra protection and hydration especially with my melasma treatments that can be drying at times. LovelySkin Customer
Verified Purchase
Elta MD Sheer Broad Spectrum
I especially use on the back of hands and neck as these are in the sun always driving shopping etc. irishrose2
Verified Purchase
Huge fan!
I'm already a loyal Elta MD customer, but this maybe their best product ever. It feels so light and smooth on my skin yet still gives me the protection I need. Blondmomof3
Verified Purchase
Perfect
I absolutely love this product. It goes on so easily, absorbs quickly and truly leaves no white residue. I have used so many mineral sunscreens and this is one of the few that did not leave me feeling like I had something "chalky" on my skin and it did not dry my skin out like some do. LovelySkin Customer
Verified Purchase