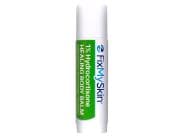 Reviews For
FixMySkin 1% Hydrocortisone Healing Body Balm – Fragrance-Free
$16.00
Love this for skin concerns
I tried this as a free sample from LovelySkin and fell in love with the product! I randomly packed it when visiting some mosquito heavy areas and tried it on a bug bite, and it worked INCREDIBLY well. Purchased the full size as soon as I got back! BEAUTIFULL
It healed my mother's very cracked, itchy hands. It didn't make them completely soft but they are definitely a huge step up from they used to be. LovelySkin Customer
Verified Purchase
Works amazing for feet!
My feet have a lot of red blotches that look similar to eczema and this balm has been a life saver for them!! I have no more peeling skin and red spots. It even has helped with how dry my feet get in the winter. I highly recommend this! Gemmagem
Verified Purchase
Better than prescription
I have very dry skin on cuticles and thumbs. Derm prescribed a steroid cream but this worked better. Thought the rough patch on my left thumb on the knuckle would never go away but it did. My husband a dermatopathologist got several samples at a conference several years ago when you made a wider variety of products including a vanilla scented balm in a big stick. Hope you bring those back and the lip balm. LovelySkin Customer
Verified Purchase
Best lip balm
If you have chapped lips this is the best lip balm that exists LovelySkin Customer
Verified Purchase
Love this stick!
I originally received this as a gift from LovelySkin. I was so impressed I've bought them several times myself. If my face stars to break out, I quickly apply FixMySkin and I notice the breakout is interrupted. I recently gave one to my teenage son to try. I've used it for any number of touch ups on my skin and it is the perfect quick, effective solution. MoniqueA
Verified Purchase
Life saver
This stuff has worked miracles on my super sensitive skin. I rub a little on and the itchy, blotchiness goes away in minutes. A sweater I was wearing cause my skin to break out in a rash and this product saved the day! LovelySkin Customer
Verified Purchase
Eczema and Laser treatment
I bought this product as a night time lip moisturizer. This was the best thing I did! I recently developed eczema on my hands, it inched and burned so bad, I remembered I had this in my drawer so I applied to to the inflamed areas. Instantly soothed them. Then I had an intense laser treatment done on my face. I had no idea what to expect as I was a trial run client for it. Needless to say, I had my window open on my way home while it was 20 degrees outside. My skin was RED, pulsating, and very hot!! That evening I applied the healing balm and applied it twice a day after until my skin healed. It healed in about 5 days with no pain. It was great! I have continued to use it once a day on my face as I live in a cold climate in the winter months. Thus product is now a staple in my life. FixMySkin Healing Balm
I keep this FixMySkin Healing Balm with me wherever I go. I use it anytime my skin seems itchy, dry, or chapped. It works immediately. It is definitely a healing balm just like it says. It is a must have for anyone. I could not live without the balm. I keep it handy at ALL TIMES. It really works. Perfect for eczema and dry spots
Best product I've used for small eczema patches and any itchy, dry spots. I've been using this for a year and this is my 3rd tube. Great product even for mosquito bites. I never want to be without it! LovelySkin Customer
Verified Purchase
Excellent Product
I bought this product to help lessen the itch of my pustular psoriasis between using prescribed topical steroid cream. It has done wonders healing my dry, cracked skin and stops the itch. I bought the lip balm and it is amazing! My lips feel smooth and soft for a long time, especially in the wind and cold. I am celiacs so I am thrilled to find a gluten free product that promotes skin comfort and healing. Totally recommend! LovelySkin Customer
Verified Purchase
Really resolves my skin issue!
I've had this itchy rash that periodically appears at back of neck at my hairline. I received a sample and this stuff is truly magic! Love it! Makes my skin smooth and normal with just periodic application! LovelySkin Customer
Verified Purchase
Elbows love it!
I get very dry elbows and this product has really helped very much. Easy to apply and you can take it with you! Great stuff
A little pricey but it does last a long time and I love it it just works great and everything. Kumabear
Verified Purchase
Works like a charm
This is my family's go-to product for all things skin. It's gentle yet highly effective and soothing. A Panacea for All My Problems
This is, hands down, the single best product I've discovered this year. I have recurring issues with contact dermatitis and psoriasis, and this is the only product I've ever tried that makes itchy red bumps/inflammation nearly disappear. I put it on my hands every night when I see bumps appearing, along with moisturizer, and it's keeping a worse flare-up at bay. Have recommended it to several family members already! Buy this! LovelySkin Customer
Verified Purchase
Medicine cabinet staple
I always make sure I have at least one of these on-hand. With my sensitive and eczema-prone skin, I use this a lot to try to deal with any skin irritations. I keep a large balm in my medicine cabinet and a smaller one in my travel bag. monicam
Verified Purchase
Best balm for atopic dermatitis
I've tried all kinds of cortisone creams and balms to soothe irritated, itchy skin, and this is the best I've found. LovelySkin Customer
Verified Purchase
Works!!
I had an abrasion on my finger and this worked because it didn't rub off and get everywhere but stayed on my finger. Nothing else had worked at all. Cleanser
Verified Purchase
Calms Seborrhea
I get seborrhea on my forehead. The itch is terrible. I had been using Benadryl cream which helped with the itch but was hard on my skin. I cannot believe how well the hydrocortisone balm works and it keeps my skin soft and smooth. I highly recommend for similar skin conditions! LovelySkin Customer
Verified Purchase
Healed Damaged Skin
I was a bit overzealous with my dermaplaning and after my face felt like sandpaper. I used FixMySkin morning and evening for 3 days and my skin is soft, smooth and repaired! LovelySkin Customer
Verified Purchase
Miracle worker
This healed my cracked skin and it has stopped my hands from feeling super rough! scarlet
Verified Purchase
Miracle
My son was in the hospital for 3 weeks taking intravenous antibiotics 4x daily. A reaction to such strong antibiotics for this long caused his face to turn bright red, extremely dry and almost raw in areas. The nurses and doctors tried everything they could think of for this. I just happen to get a sample of this product in the 3rd week of his stay. I ran the stick all over his face and the next morning the redness was going away and after 2 more applications in 2 days, his face was cleared. We had doctors and nurses writing the products name down, they were very impressed with the quick healing. Orangecloud
Verified Purchase
Easy to apply
My teenage daughter and I both have problems with eczema. We like this product because it is like a chubby lip balm. It is easy to keep on our bedside table and apply to my daughters leg and my finger where we often have flare ups. Creams tend to be a little messier and have to let soak in, where this can be rubbed on the skin directly. Also, because it is not a cream, it can be in a carry on bag for airline travel without taking up room in your ziplock bag of liquids. I have been purchasing this for a couple of years now and always grab a sample size when they are available. LovelySkin Customer
Verified Purchase
Fix My Skin 1% Hydrocortisone Healing Body Balm-Fragrance-Free
Amazing product. I received a sample when I ordered another skin product with first order from LovelySkin. I recently ordered this 1% Hydrocortisone product and use it on my skin irritations daily. LovelySkin Customer
Verified Purchase