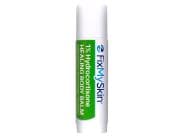 Reviews For
FixMySkin 1% Hydrocortisone Healing Body Balm – Fragrance-Free
$16.00
390 Results
Amazing
This is the only hydrocortisone I will use. It works quickly, too. I found out about it by choosing it as one of the free samples. Now, everytime I see it as a free sample, I choose it as the sample is a great size for traveling. My husband loves this balm, too! LovelySkin Customer
Verified Purchase
Great fix
I ordered this for my husband to use on his eczema after it repaired damage to my fragile skin. He has seen great results too. We both love the product and do not even have to use maximum dosages. LovelySkin Customer
Verified Purchase
Love this stuff for my eczema
I have eczema that is especially bad in winter, and this seems to be the only stuff that works for it. Love it. It's actually a pretty generous sized tube, and a little goes a long way. LovelySkin Customer
Verified Purchase
Immediate Relief
I selected this as a free sample from a purchase, and a friend had persistent, ankle bites that were itchy and red. This took the itchiness away within moments of applying it to the skin, and the bites faded within days. Miracle is what she said! I purchased a normal size one for her. She couldn't be happier. Cathleen
Verified Purchase
Healing balm
FixMySkin products are wonderful, I definitely recommend using this, it has worked well for my eczema and chapped lips. This product lasts a long time, comes in a big sized stick can be applied anywhere. A little bit goes a long way and lovelyskin has this at a really great price! LovelySkin Customer
Verified Purchase
EXCELLENT STUFF!
I had dry irritated skin with wearing a mask in public. It was so irritated that I had a small pimplelike area around my nose. I rubbed this stuff on and it cleared it right up! It works GREAT also on dry flakey skin as well. I've been recommending this item to people that I know. jyflorida
Verified Purchase
We use a lot of this stuff
My daughter uses this for eczema relief and the only problem is that we go through it very quickly. It is good stuff. LovelySkin Customer
Verified Purchase
WOW
Day 2, already itchiness is gone, skin is very smooth, I am very impressed! So happy I got this item. No mess is a plus! LovelySkin Customer
Verified Purchase
Best Healing Product!
Love this! Takes the itch out of bug bites, heals broken skin, heals dry patches. Honestly, we now use this as a cure-all on any and all skin problems we have. JJensen
Verified Purchase
Fixmyskin Hydrocortisone Fragrance Free
I discovered Fixmyskin a few years ago and have not been without it since. I wear permanent lipstick and it is terribly drying. The gloss that comes with it slides off in a very short time. I learned to use fixmyskin as a "topcoat". It keeps my lips moist and dewy and does not effect the performance of the lipstain. I also wear it to bed every night to keep my lips from drying out. beverlygriggs
Verified Purchase
Wonderful product!
I always keep this in my travel bag. It has also worked the best, so far, for me with mosquito bites. Thank you! LovelySkin Customer
Verified Purchase
FixMySkin
Very nice stuff. I bought it for my husbands psoriasis and it seems to help if not cure. Thanks. Great for dry itchy skin!
This little miracle balm immediately relieved a dry itchy area of my scalp, and has come in handy over the summer for mosquito bites. I love it. LovelySkin Customer
Verified Purchase
Brilliant product - Cleared my skin in literally two days!
When I am stressed out (and usually in the winter months) I have experienced really uncomfortable eczema patches on my neck the past couple of years. The only thing in the past that helped was a steroid cream that I got from my dermatologist in NYC. My neck broke out this summer and got so bad that the irritation was leading into my upper chest this past summer. I was so uncomfortable, couldn't sleep through the night, and horrified that it was turning bright red during the day. WIth Covid, my dermatologist office has been closed, and I honestly didn't want to try to find a new one. I tried a sample of this and within two applications (one evening and then the following day) my neck practically cleared! I couldn't order a new one fast enough!!!! The best!
I love this product and so does my granddaughter with ezcema! We call it our itchy stick and use it for relief from bites! You get instant relief! LovelySkin Customer
Verified Purchase
1% Hydrocortisone Healing Body Balm – Fragrance-Free
Loved this product! I had several scaly places on my face I couldn't clear up. I was about to go to a dermatologist, but gave this product a try. It was like a miracle and just about has it gone.... Great product!! LovelySkin Customer
Verified Purchase
Amazing
This stuff is great, I put it on everything! No scent and dries quickly. LovelySkin Customer
Verified Purchase
good hydrocortisone solution
I seldom write reviews of any products. However, I got a sample of this product and very much liked it, so I ordered more, and then I ordered more again. Now I have tubes of it stashed all over, in my bag, office, studio, kitchen, living room, and bathroom for use wherever I find myself. This product works well on face, back, arms, hands, and legs. It stays where you put it and it comes in a small enough container to be easily transported. If you are in need of a cortisone skin product, you should try this. I will purchase more LovelySkin Customer
Verified Purchase
It works for my skin!
I recently got FixMySkin healing balm. Occasionally I have dry skin around my lips.. I put on it in less than 24 hours. Its back to normal. Its magic. So Far So Good...
I have an issue with most "healing/moisturizing' creams/balms...my skin just does not like them. I tried a sample of this product and WOW!! Positive results within just a week. I ordered this to keep up the efforts of getting rid of a dry irritated patch of skin that has been going on and off for a year. So far (4 weeks of twice daily use) and the irritated skin is almost as good as new! LovelySkin Customer
Verified Purchase
Helps with itchy skin
I get welts on occasion that itch from allergies. I ordered a sample of this with a previous order to see if it would help; it worked so well, I ordered the full size. Within a couple minutes of applying this, the welt itching stops and the reaction calms down and sometimes stops altogether. I also have used this on mosquito and chigger bites - it helps relieve the intensity of itching. I find myself using this product often for multiple things - if I notice a dry patch, etc. This does temporarily relieve multiple issues, will buy again! LovelySkin Customer
Verified Purchase
I Love This!
This product is wonderful! The 1% hydrocortisone is in a natural base which contains absolutely no petrochemicals; and the stick form makes it convenient to carry with me everywhere- and I do. This stick is a staple in my purse. LovelySkin Customer
Verified Purchase
I love this product!!!
This product is now a staple in my daily beauty routine. It's simply AMAZING!!!! Will always have in my make up bag and at home!!!! Audreyesque
Verified Purchase
Best Thing Ever
This saved my super dry and chapped lips. I also have eczema around my lips that this helped soothe. If you're on the fence about buying this, do it! Amazing!!!
This product has improved my skin so much, especially with the itchiness and dryness due to eczema.