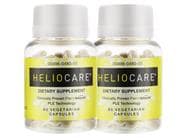 Reviews For
HELIOCARE Antioxidant Supplements - 2 Bottles
$59.98
24 Results
Skin looks & feels better!
My dermatologist recommended this because I have skin cancer history and my skin has never been better! JillAnn928
Verified Purchase
Excellent defense against sun and dark spots
I've been taking this daily for a few years as advised by my doctor. Used in addition with sunscreen, it provides protection from the damaging rays of the sun. My skin is very sensitive and reactive to skin procedures and sun. Also, I've noticed that consistent use has helped diminish dark spots and uneven skin tone. Though it can be taken 2x/day, I generally only need 1 daily dose. sherriann1
Verified Purchase
such an easy way to protect your skin
I use sunscreen every day, but my dermatologist recommended this product for extra protection. An easy way to boost my skin protection. LovelySkin Customer
Verified Purchase
Sun Protection!!!
I love these pills, I have been taking the pills for 3 years, haven't had a sunburn. LovelySkin Customer
Verified Purchase
Skin supplement
Gives me peace of mind that my skin is supported throughout the day from sun exposure. Easy to swallow, no side effects. LovelySkin Customer
Verified Purchase
Nice protection from damaging UV rays
I feel Heliocare gives me extra protection from harmful UV rays. I take it whenever I had to spend a lot of time outdoors. Diane2019
Verified Purchase
Melasma not getting worse
I cannot say this does much because you cannot see it, but y melasma is not getting worse especially when it was really sunny out and that is rare for me. I'm still borderline skeptical but my face is obviously being more protected somehow. Jennamichelle
Verified Purchase
Great sun care
My husband and I have been using Heliocare for several months now and along with sunscreen on the outside are seeing results of fewer age spots. We will definitely keep using especially in the summer months when we're out in the sun more. LovelySkin Customer
Verified Purchase
HELIOCARE
Excellent product. LovelySkin Customer
Verified Purchase
Good supplement
I get burned very easily and so feel this, along with sun screen and wearing a hat in the sun, are important to help keep my skin healthy. LovelySkin Customer
Verified Purchase
Good Research/Physician Referrals
Hard to tell if this works because I wear sunscreen and am rarely ever out in intense sun. I believe in the brand and the ingredients based on all the dermatologist referrals and research. Every little bit helps. I have not found any negative side effects taking this supplement, and I take in the morning before eating for convenience. I also contacted the company and they said it does not take time for this to "build up" in your system for it to work. So if you want, you can add an extra pill later in the day for extra (hopefully) protection. LovelySkin Customer
Verified Purchase
Excellent protection pills
I have been taking HELIOCARE Sun Protection Pills for almost 3 years. I have sensitive skin and pre-cancer. By my dermatologist recommendation, I can not be in the sun for more than 30 minutes. I took this pill every day before I go to work and take another one if I need to be out longer in the sun. It works very well I am able to enjoy more activities outside during summer or hot days with out to be afraid that the sun damage my skin. I have recommend my dermatologist and thank you both of them. No side effect and works very well. I recommend to people who have already have sensitive skin as a sun protection . Great Product
I have been using this for awhile to help put my melasma at bay, and I must say I think it is working. I am also using sunscreen to combat this problem and am hoping it continues to work. LovelySkin Customer
Verified Purchase
HELIOCARE Sun
Previously, I used to think sunscreen was only cream. Last time I traveled, I used a lot of sunscreen but still burned. Up to now, after 6 months of using HELIOCARE combined with sunscreen, I found out it is better than sunscreen and also reduces wrinkles, brightens the skin and reduces freckles on the cheeks. HELIOCARE Sun is an indispensable product in my skin care routine. LovelySkin Customer
Verified Purchase
Heliocare
I take heliocare everyday. If I'm going to be in the sun for a length of time, I take 2. I feel I have better protection from the sun's rays when I take it. I also feel it helps keep me looking younger. LovelySkin Customer
Verified Purchase
Wonderful Product
I have used this product for years-I feel so protected from the sun with this and by applying sunscreen. Thanks LovelySkin for carrying this brand. Extra protection
My husband had a golf ball size melanoma removed 2 years ago. The dermatologist recommended Heliocare to help protect his skin from the sun. It keeps him from getting too much sun. LovelySkin Customer
Verified Purchase
HelioCare Pills
I like them, but I'm not certain what they do, exactly. My dermatologist recommended I take them once a day, and once every two hours when I'm out in the sun. So far I haven't gotten burned. I do use them WITH sunscreen, not instead of sunscreen. I give them 4 stars because they don't upset my stomach and I don't think they''re hurting me at all. I just don't know how to quantify something like "not getting burned or sun damage" as opposed to getting it. If that makes sense... LovelySkin Customer
Verified Purchase
Helping with existing sun damage
I was burned really bad as a child. I really do think this helps my damaged skin and I am less likely (I hope) to receive more damage doing day to day things. I have been using this product for about 2 years. I can tell a difference in my skin. LovelySkin Customer
Verified Purchase
Unsure but no bad reactions
Not sure how I'll be able to tell a difference but I've been taking 1x per day and it's fine. LovelySkin Customer
Verified Purchase
Adds additional protection from the sun.
i am very fair and have had problems with sun burns, and other reactions to the sun for many years. Heliocare provides me with at extra protection for when the lotions have worn off. I have used this product for several years with no reactions or sun damage. HELIOCARE Sun Protection Pills
My doctor recommended Heliocare to me. It seems to have kept my vitiligo under control. LovelySkin Customer
Verified Purchase
Worth it!
Having faithfully taken Heliocare as recommended by our dermatologist, I find that the dark spots on my arm are fading, and my skin appears clearer than before taking the capsules. At this point I find that continuing to take the product is in my best interest. LovelySkin Customer
Verified Purchase
I plan to take this daily forever!
This product really makes a difference for me, and I recommend it constantly to people who compliment me on my complexion (which is a frequent occurrence) and ask me my secrets. Give it a couple of weeks for the results to really kick it and take it consistently, in my opinion. Of course, I also protect my skin every day with high-SPF sunscreen. LovelySkin Customer
Verified Purchase