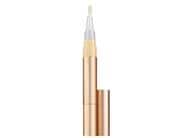 Reviews For
jane iredale Active Light Under-Eye Concealer
Good
I like it but it's too light for my skin tone. LovelySkin Customer
Verified Purchase
Excellent coverage for red spots!
This covers my red spots as well as the dark, under eye circles. I wish it was a bit more moisturizing. Sometimes I need to dab my eye cream back over top after applying as it looks dry & clings to my wrinkles Current second favorite under eye concealer
I like the twist applicator, it is pretty easy to control amount dispensed. After trying a couple of other shades, I settled on #4, the darker peach color, which is good for my fair to medium skin. It's a light, creamy consistency, which does not irritate my sensitive eyes. I took off one star because I think that it gives more of a light coverage, I doubt it would conceal really dark circles. My favorite concealer is the peach color in Jane Iredale's Circle Delete 2. But, this one is nice for days when I don't need or want as much coverage. Awakening!
I love this under eye concealer. It brightens the eye area and blends nicely into foundation using a makeup sponge. It gives a nice final touch and makes me look more well-rested! LovelySkin Customer
Verified Purchase
Nice prodduct
This is a good concealer. It is very light and does not cover everything. LovelySkin Customer
Verified Purchase
Helps hide dark circles
I had someone help me choose the correct shade of the under eye concealer. I have fair skin but I was given a no.4 concealer color to help make my under eye gray color less noticeable. The pinkish color does help to even out the noticeable dark under eye circles. I think this product can be somewhat tricky to apply. I do not use the attached brush. For most of my cream or liquid products, I use a spatula to try not to contaminate the product with my fingers. The store associate showed me how to dial up the concealer into the brush area and use my spatula to scrape along the brush bristles and transfer the product onto the spatula. I use this method all the time now. A little goes a long way and if I do not blend well or use too much, I find myself going over the area to re-smooth the lines that have formed in my eye wrinkles later in the day. I may try an eye primer to help solve this issue. LovelySkin Customer
Verified Purchase
Awesome concealer
I love Jane iredale products they never disappoint. This is a fantastic brightening concealer that does not get cakey and has good coverage! Brightens but not full coverage
I use this frequently. I like that it gives me a rested look and brightens up my under eye area. However, on my worst days, this will not cover the worst of my dark circles. LovelySkin Customer
Verified Purchase
Active Light Undereye Concealer
Nice product. Ususally cant go wrong with Jane Iredale. This is the second one Ive ordered. I order the lightest color. I have fair skin that can burn, but eventually tans. During the winter, absolutely no issue with color. I still use in the summer, because I wear sunscreen and attempt to protect my face from sun. Even with some sun in the summer, Im still happy with the lightest color. That said though, it is definitely too light if you have anything other than fair skin. A little of this product goes a long way, especially with the lightest color. I intend to continue to use. LovelySkin Customer
Verified Purchase
JANE IREDALE ACTIVE LIGHT UNDER-EYE CONCEALER
I like this concealer a lot better than the original concealer for under the eyes. However you still have to be careful to use only a little or it will leave settle into any lines under the eyes. I pat it on gently until it is smooth, wait a while and then with a small make-up brush use a VERY LIGHT COATING of Derma-blend Setting Powder. LovelySkin Customer
Verified Purchase
very good
Great concealer. This will not dry out your eyes. It's very easy to blend and offers great coverage. It's on the lighter side, so if you want a thicker concealer, this might not work for you. Overall, I love it. LovelySkin Customer
Verified Purchase
So far so good!
I've been using this for about 2 weeks and have noticed an improvement in both the brightness and fine lines under my eyes. I like to put it on soon after applying under eye cream so it blends well. Will definitely keep as part of my skin-care routine. LovelySkin Customer
Verified Purchase
Nice Coverage
While it's a bit on the pricey side, it works significantly better than any other brand I've tried LovelySkin Customer
Verified Purchase
Best undereye concealer I have found....
Applies easily and can be smoothed in without pulling at delicate eye area skin and is not oily but a perfect consistency to melt into the skin. LovelySkin Customer
Verified Purchase
Smooth Finish
I like this product. It was recommended to me by a friend and it is light weight and does a good job at concealing the under-eye area. It does have a tendency to crease in very warm weather, but otherwise, very moisturizing. I think it will be perfect for the winter months. LovelySkin Customer
Verified Purchase