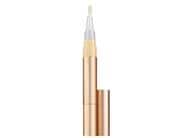 Reviews For
jane iredale Active Light Under-Eye Concealer
$30.00
I think I bought a shade too light...
Overall this is very good, moist concealer. I am still working with it however #3 color might be a little light for me. I set the concealer with a very light dusting of my Jane Iredale mineral foundation in Warm Silk. That keeps it from settling into my fine lines and also adds a little more color. Teresa1955
Verified Purchase
Best undereye concealer ever!
I've tried other under-eye concealers and I keep coming back to this one by Jane Iredale! It does such a nice job of concealing dark circles and really brightens under my eyes! It's also very moisturizing! LOVE it! Great product!
This is a great product - it gives the right amount of coverage to blend well, without being too thick under eyes. Great for re-touches too! LovelySkin Customer
Verified Purchase
Not peachy!
This was supposed to be "light peach" but is more like an off-white. There's nothing peachy about it. I also find the texture to be on the dry, non-spreadable side. I don't like this at all. Good
I like it but it's too light for my skin tone. LovelySkin Customer
Verified Purchase
Excellent coverage for red spots!
This covers my red spots as well as the dark, under eye circles. I wish it was a bit more moisturizing. Sometimes I need to dab my eye cream back over top after applying as it looks dry & clings to my wrinkles Easily Blends
This concealer easily blends and looks natural. The best concealer!
I have been using this for a couple of years and it is great. It helps to cover up my dark circles and makes my eyes look brighter. Will continue to order. AngelaVaitkus
Verified Purchase
Best lightweight concealer/brightener
This has been a staple for me for over 7 years. Even if I don't put on other make-up, I use this light under-eye concealer... especially during allergy season. It helps with under eye puffiness, too. It is lightweight, blends almost too easily, and doesn't irritate my sensitive eyes. I love that it covers and still looks natural. I have fair freckled skin and find that in winter a 3 is the best color match and in summer a 4. I thought it would have been lighter, but the 1 is too white looking for my skin. I don't wear foundation and usually don't wear powder either. LovelySkin Customer
Verified Purchase
Great cover!
This concealer blends in extremely well with my skin and covers my dark shadows really well without settling in my wrinkles. Will continue using once I run out! Great Concealer
I have been using Jane Iredale Active Light Under Eye concealer for over 3 years. The shades are excellent. The best feature is how it looks. It does not settle in fine lines which gives a more youthful appearance of the undereye area. There is only one negative thing. When you twist the bottom of the tube to make sure it is empty, the bottom of the tube comes off. But, then you know that the tube is truly empty. MelissaGL
Verified Purchase
Best under-eye concealer
Once I found the correct color this is an great product for covering up dark spots or under eye use. It blends very well, looks natural and lasts all day. LovelySkin Customer
Verified Purchase
Best under eye concealer
Love Jane Iredale ActiveLight Concealer. I use it under and over my eye area. Really brightens eye areas and conceals dark circles and helps reduce the appearance of those under eye bags. BeachyKeen
Verified Purchase
Current second favorite under eye concealer
I like the twist applicator, it is pretty easy to control amount dispensed. After trying a couple of other shades, I settled on #4, the darker peach color, which is good for my fair to medium skin. It's a light, creamy consistency, which does not irritate my sensitive eyes. I took off one star because I think that it gives more of a light coverage, I doubt it would conceal really dark circles. My favorite concealer is the peach color in Jane Iredale's Circle Delete 2. But, this one is nice for days when I don't need or want as much coverage. Jane Iredale concealer
Loved this concealer. Easy to apply and brightens area around eyes. It help to minimize wrinkles and dark circles under eyes and covers up any imperfections. Would definitely recommend it. LovelySkin Customer
Verified Purchase
Nothing to write home about
I have found Jane's products to be hit or miss. What I like, I really like, and the rest is just ho-hum. There are better under eye concealers out there. stylish
Verified Purchase
Awakening!
I love this under eye concealer. It brightens the eye area and blends nicely into foundation using a makeup sponge. It gives a nice final touch and makes me look more well-rested! LovelySkin Customer
Verified Purchase
Not recommended
I have been trying under eye concealers lately, trying to find one that works. I found this one to be the worst. It is too thick and does not spread out evenly under the eye. Very disappointed. LovelySkin Customer
Verified Purchase
Cover up
This covers well, but it's a bit thick. Difficult to blend. It works though. I mix it with a moisturizer in order to use it LovelySkin Customer
Verified Purchase
Under eye concealer
Best product for concealer that I have used LovelySkin Customer
Verified Purchase
Too visible
I didn't like the concealer very much because it felt heavy on my eyes. Though I'm just in my late 20s, it somehow made me look even older. Maybe I applied this wrongly, but I ended up not using it at all. I wish the texture would be lighter! LovelySkin Customer
Verified Purchase
Jane Iredale Active Light Under-eye Concealer
Love this concealer!! A little goes a long way and has a smooth finish with no flaking or peeling! I would recommend this product and will continue to purchase!!!! LovelySkin Customer
Verified Purchase
Nice prodduct
This is a good concealer. It is very light and does not cover everything. LovelySkin Customer
Verified Purchase
Good, but not the best concealer
This gets a few stars for its healthy, natural ingredients, but it's not my favorite Jane Iredale product. It doesn't irritate the delicate eye area, but the coverage isn't as smooth or as good as I would like. It's a bit too thin, but it does provide a bit of a color lift under the eyes. If you are looking to conceal puffiness or dark circles, this might not work for you. LovelySkin Customer
Verified Purchase
Just what I was looking for
I wanted a full coverage color corrector that blended well and wasn't dry or oily. This works really well and does a great job cover my under eye bags. I don't really need to use my concealer after applying this. LovelySkin Customer
Verified Purchase